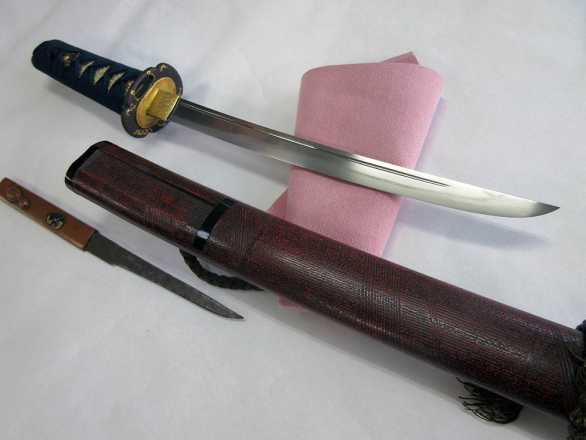 BoJ Tanto # 001: Antique Kanemitsu-saku Kamakura-jidai Dragon Blade 15041

Be the first one to write a review
SOLD

Genuine Antique Japanese made verified blade from the famous Kamekura/Nanbokucho era smith, Kanemistu. 700 years old - a rare find verified personally verified by Kobayashi Yuhibonu from Juho Token Kenkyu Kai (Gun, Cannon, Japanese Sword Research Group, Osaka).
FREE WORLDWIDE SHIPPING: Shipped Directly From Japan and includes all certificates of authenticity.
A verified late period Tanto made by Bizen Kanemitsu - it shows the evolution of the Tanto as the Kamakura period transitioned into the Nanbokucho period, with a markedly long and wide blade that has been polished and sharpened over the centuries - revealing by happy accident the folded Wako steel blade.
A rare find, blades like this attributed to a famous named smith, it features a smooth gunome hamon and Dragon horimono (engraving) and feels most positively ALIVE, having survived intact through some of Japan's most tumulous periods and was clearly treasured and well cared for through the generations to the present day.
The wooden saya is original, with Ishime style finish and the original Kokuza knife still by its side. The seppa, habaki and tsuba are also originals - the seppa and habaki made from a copper core literally wrapped in 12-14K gold.
While the blue silk wrap is recent (in the last 10-20 years) the full rayskin wrap is also original and features prominent, highly desirable emperor nodes.
Historically, the Tanto was classified as a short sword, though most Westernerns would class it as a dagger as it was primarily used as a piercing blade, but was sharp and heavy enough to deliver a lethal cut to the extremities. This particular tanto is classified as 'Hira-zukuri' shape, with a relatively wide blade and steep blade angle to make it easier to cut light targets such as flesh and muscle, though they lack the weight and power generation to continue through bone.
The blade of this particular piece is in surprisingly good condition - the hamon is clearly define and the hada also very clear without the need for Kessho polish due to many polishings over the years revealing the folded steel and wearing down the original Dragon Horimono engraving and is in exceptional overall condition despite its age.
Naturally as this is an antique, only one is available and is shipped directly from Japan to anywhere in the world absolutely free. All of the necessary export paperwork is taken care of at our end, but as it is very detailed and time consuming, please allow approximately 1 month to process and ship the order.
This blade was verified as made by Bizen Kanemistu by Mr Kobayashi Yuhibonu of the Juho Token Kenkyu Kai (Gun, Cannon, Japanese Sword Research Group) Osaka, Japan and comes with this official verification certificate and official registration card (Juho-token-tui-torokusho) issued by the board of education.By Japanese law, this registration paper must accompany the sword at all times unless it is shipped outside of Japan, whereupon it serves as a certificate of authenticity (as only traditionally made blades using Tamahagane can be registered - for more information on the process involved click here).
How to Use
This is a functional antique and you become it's new custodian. While it can certainly still be used for cutting, we recommend it is preserved for future generations and handed down as a family heirloom.
Blade Length (Nagasa): 8.22" (20.9CM), Sori: 0.177" (0.45CM) ", Motohaba: 0.66" (1.7CM), Sakihaba: 0.47" (1.2CM), Weight: 0.17lbs (80g)
Materials and Construction
Antique Tamahagane blade and fittings dating back to the late Kamakura period (1185–1333) made by the famous Smith Kanemitsu from Bizen, Okayama Prefecture. Original Dragon Horimono (blade engraving) - remounted and polished over the centuries. Original copper base wrapped in gold (12-14K) seppa and habaki. Gold embossed tsuba (original). Recently restored blue silk ito, original full rayskin wrap with prominent emperor nodes.
Shipped directly to you by the current owner in Japan. Please note that in rare cases one of the antique blades that we offer may be identified as a national treasure during the export process. In the unlikely event that this happens, we will have no choice but to cancel your order and refund you in full.