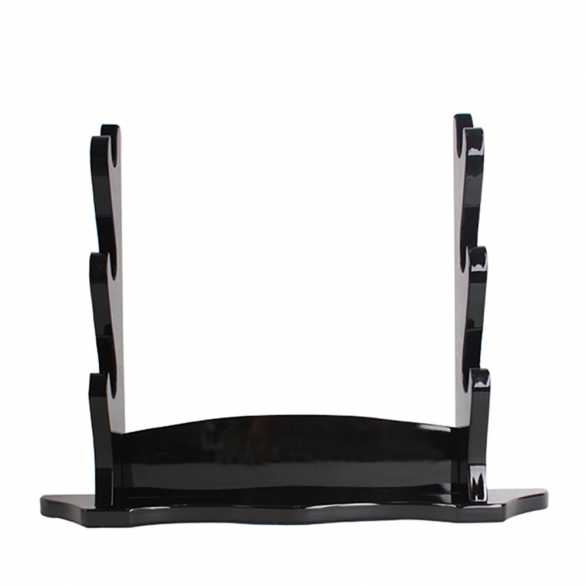 Premium Black Triple Sword Stand

Be the first one to write a review
SOLD OUT

High gloss lacquer table or wall sword stand for three swords or blades (Daisho with Tanto, all Katana or mixed, the choice is yours)
A high gloss finished single sword stand that will accommodate any three Japanese swords from full length Katana and/or Wakizashi and even Tanto. Tabletop, mantlepiece or wall mounting.
How to Use
Double Sword stand for table, mantlepiece or wall mounted display of Daisho set. See below for assembly instructions.

Dimensions: 19" x4" x3", Weight: 2lbs 8oz
Materials and Construction
Wood with high gloss piano lacquer finish
Usually Ships within 1-2 business days by USPS from our LA warehouse. If ordered alone, shipping cost is $5 to the USA. Due to shipping costs far in excess of the value of the item we apologize to advise that this item cannot be shipped outside of US. Ships FREE if ordered with another item at the same time (may ship separately).
Click here for more shipping information