Legacy Arms Black Prince Sword

Be the first one to write a review
IN STOCK
Rarely stocked classics made by Legacy Arms (formerly known as Generation 2/Gen2) - this iconic sword based on the sword believed to have been the personal blade of the 'Black Prince' Edward of Woodstock has evolved over the years to the current form which closely replicates the historical original. A true Legacy Arms Classic.
The Generation 2/Legacy Arms Black Prince Sword is a Late 14th century Hand and a Half Sword (Type: XVa) - The original sword, which rests in a private collection in England, is thought to possibly be the sword of Edward the Black Prince. The Black Prince, son of Edward III and father of Richard II, was known as a great warrior. The sword was removed from its resting place during the English Civil War, Cromwell being blamed for its disappearance.
The blade of this sword is hand forged from 5160 carbon steel and hand tempered. The blade is then securely peened onto the pommel. The contoured handle is wood, wrapped in black leather. This sword also includes a wood scabbard wrapped in black leather with steel accents at throat and tip.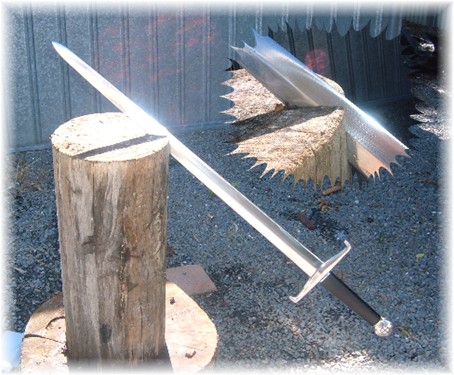 This is the third generation of the Black Prince.
Under the Generation 2 name, the first version (pictured right) was an overbuilt beast of a thing (a true 'beater') but was extremely popular in the early 2000s. The second version came a little closer to the original, but lacked refinement.
However, the current version under the Legacy Arms brand name has the 34" blade flashing through the air and moving faster and more accurately than ever before, weighing just 3.2lbs with a point of balance a mere 2.25" from the cross guard. Light enough to use with one hand, but truly alive when the second hand is brought into play, the Legacy Arms Black Prince is also one of the few sub $300 hand forged swords with distal taper!
Click here to see how this sword has evolved over the years.
ABOUT LEGACY ARMS
Legacy Arms, formerly known as Generation 2, still leads the way in the affordable sword market creating tough, well made items for the Medieval Sword enthusiast. All blades are selectively tempered 5160 steel with a robust apple-seed edge. The tempering is designed to provide a harder edge and softer, shock resistant core so that the sword will bend or deform rather than break in the heat of combat and is faithful to many historical examples.

The hilt construction is typically in steel (passing the magnet test) unless otherwise noted and the grips are leather over wood. The tangs are peened over the pommel the traditional way for maximum overall strength. The fit and finish of these swords from Legacy Arms is quite impressive, and would be at twice the price! Made with pride in the Philippines using anvil, fire and good old muscle power.
How to Use
Suitable for backyard cutting and/or as a display piece (very close to the historical original in appearance). As the blades are selectively tempered they are not designed to be flex tested (actually no sword should really be flex tested, it damages and might actually break a blade - historically swords were tested by pressing them against a solid surface to check its resilience. But NOT its flexibility. Historical Swords were NOT the same as modern sport fencing foils!)
Overall: 44" Blade Length: 34" Handle Length: 6 3/4 Weight: 3.2 Point of Balance: 2 1/4" below chape of hilt
Materials and Construction
5160 Spring Steel Hand hammered, selectively tempered (not spring tempered) appleseed sharpened blade with distal tapering. All fittings hand carved from steel and peened the traditional way for maximum handle strength. Leather wrapped wood scabbard w/steel accents
Shipping the newest stock direct from the manufacturers warehouse in Tennesse within 1-2 business days. $15 flat rate USA shipping for up to 2 swords via UPS ground, FREE shipping if 3 or more swords ordered at the same time.
Click here for more shipping information
Warranty Info
Each sword is guaranteed to be as described and 100% genuine product. Each sword is also covered by in full by the Manufacturers Warranty PLUS our extended LIFETIME Warranty against blade breakage.
Click here for detailed warranty information
Return Policy
Satisfaction Guaranteed.
We proudly stand behind every product we sell. If you are not absolutely pleased with your purchase you can return it to us within 30 days of purchase in original condition for your choice of an exchange or refund (excluding shipping fees).
Click here for more info on our guarantees