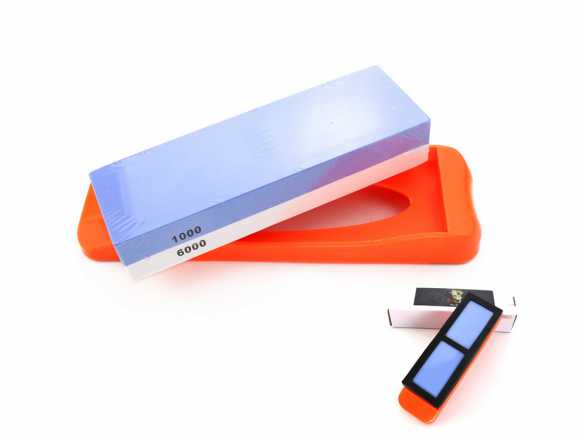 Ryujin Double Sided 1000/6000 grit whetstone 2 in 1

Be the first one to write a review
SOLD OUT

Two in one, 1000 and 6000 grit whetstone for honing and sharpening any blade.

Brought to you by Ryujin, this dual purpose 1000 and 6000 grit whetstone includes a non-slip base, both for safety and to ensure a clean angle when sharpening. The 1000 grit is very course and takes a lot of steel of very fast, while the 6000 grit is highly refined and when used properly, can hone any blade to crazy sharp levels.
To use, just splash it with some water - after use, please allow the stone time to dry before returning to the box to avoid molding and a potential decrease in effectiveness.
How to Use
Splash water (do not soak). For full instructions on many different ways to use a polishing stone,
click here
2" by 8" by 1"
Materials and Construction
Dual 1000 and 6000 Grit Sharpening Polishing Stone with base.
Usually Ships within 1-2 business days by USPS from our LA warehouse. If ordered alone, shipping cost is $5 to the USA. Due to shipping costs far in excess of the value of the item we apologize to advise that this item cannot be shipped outside of US. Ships FREE if ordered with another item at the same time (may ship separately).
Click here for more shipping information