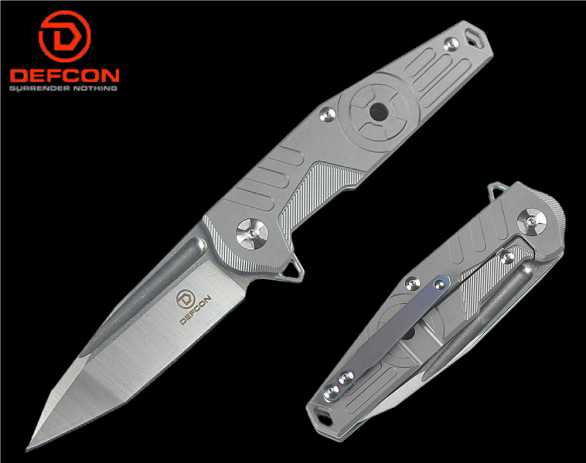 DEFCON "Radioactive" D2 and Titanium Tanto Tip Folding Knife
(1)
IN STOCK
High end folding D2 Steel Tanto tip pocket knife by DEFCON, state of the art manufacture and materials. VERY LIMITED STOCK.

$5 SHIPPING to the USA - FREE SHIPPING if two or more knives are ordered at the same time. Sorry, US Orders Only.
$

69.99
$112.95
You Save $42.96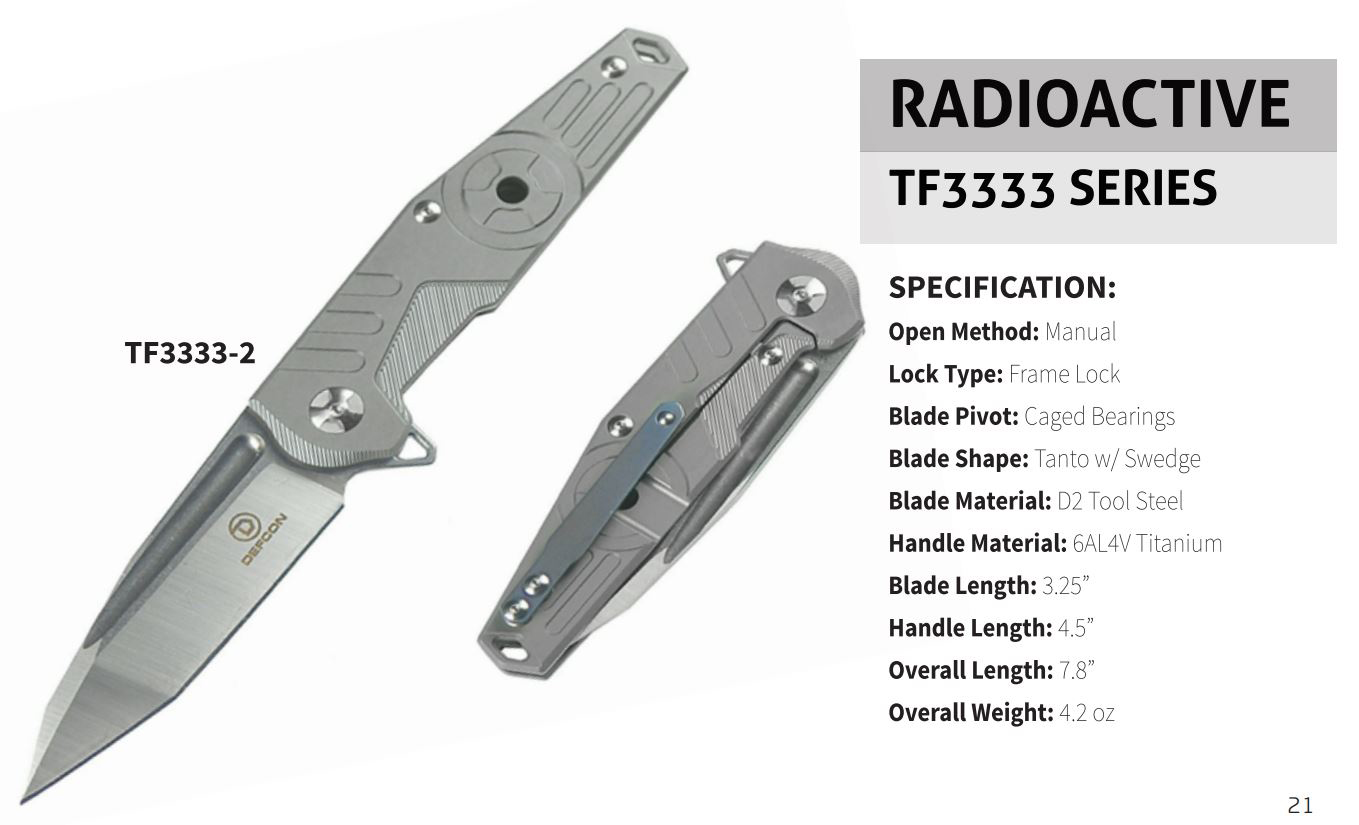 Taking a classic Tanto blade geometry with a reinforced titanium folding handle and D2 tool steel blade and you have one of the best value for money every day carry knives available at this price point (as any knife collector knows, D2 is one of the best steels for knives - period).
In addition to its obvious self defense benefits, its small size makes it a great tool for fishing, farming and camping.
Simply amazing value for money.
ABOUT DEFCON
DEFCON brand is created by founder Sam Sung whom created several trademark and patents during his 20 years career in the swords and knife industry. Their focus is to bring high quality products through research and development with innovating and exciting design (including Ryujin Swords, Sparkfoam, Saber Shogun and many more). With Sam's unique experience in the industry, we are able to improve on the knife manufacturing process as well as building a stronger connection and foundation with our friends and families in the knife industry including many great knife smiths from the American Bladesmith Society.
This spirit of innovation and improvement will continue into the future and will result in new and exciting products such as the products recently released and also new products that are currently being developed.
How to Use
Suitable for EDC (Everyday Carry)
Overall Length: 7.8", Blade Length: 3.25", Handle Length: 4.5", Overall Weight: 4.2 oz
Materials and Construction
D2 Tool Steel Blade, Tanto shape with s/wedge. Blade finished with Satin Accents. 6AL4V Milled Titanium + Forged Carbon handle.
Shipping direct from the DEFCON central warehouse in California within 1-2 business days. Shipping in the USA is $5 for one knife, FREE if two or more or are ordered at the same time. The same deal applies to Canadian customers, though the price for a single knife is $15 and FREE if two or more are ordered at the same time. Sorry, but these items cannot be shipped outside of North America (
Click here
for the workaround)..
Click here for more shipping information
Warranty Info
Each sword is guaranteed to be as described and 100% genuine product. Each sword is also covered by in full by the Manufacturers Warranty PLUS our extended LIFETIME Warranty against blade breakage.
Click here for detailed warranty information
Return Policy
Satisfaction Guaranteed.
We proudly stand behind every product we sell. If you are not pleased with your purchase you can return it to us within 30 days of purchase in
original, unused condition
for a full refund minus shipping and 10% restock fee.
Click here for more info on our guarantees
Featured positive reviews:
A heavier EDC vs Valkyrie
09/14/2022
The handle feels significantly heavier and balance loaded than the Valkyrie. Whereas the Valkyrie feels like it flies in the air as you use it, the Radioactive indeed feels like lead. The names are very good approximations of the design and not just aesthetically. The materials for both knives are great, so it is simply a matter of choosing the method of wielding. A tanto is best held in two hands, gripped to the chest, thrusting with the entire body weight behind it. The valkyrie can be hidden behind your body very naturally while in hand, being extremely small and balanced in the middle.

The steel is also different, D2 vs the more exotic one. The D2 steel doesn't feel as alive to my hand, but that is simply a personal thing. Most people will need to look up the steel qualities and make a choice, although at this price point, it is orders of magnitude better than the 5cr stainless steel bowie or 440 stainless steel. If you have a sheathe and cloth that absorbs moisture, you won't need too much chrome.