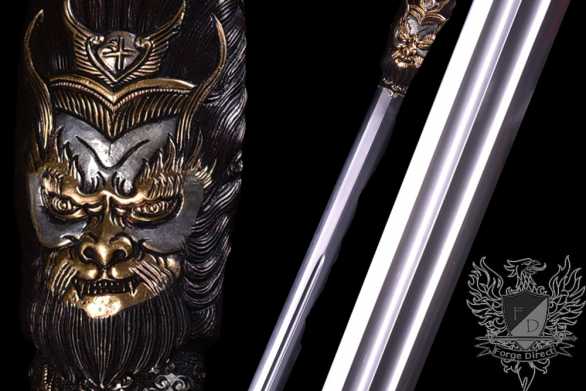 Forge Direct Damascus Windsteel Sword of the Monkey King

Be the first one to write a review
MADE TO ORDER & ON SPECIAL

25% Off Megasale Now On
FREE WORLDWIDE SHIPPING!
Master Michael Ye returns from retirement to create the Sword of the Monkey King. Rare Windsteel blade with your choice of single or twin fullers.
Made to Order, Ships in 6-8 weeks.
$

1,500.00
$2,000.00
You Save $500.00
The great sage - equal of heaven, the stone monkey is a cornerstone of Chinese myth and legend.
Appearing in the 16th century novel 'Journey to the West' King Monkey and famously adapted to the small screen in the Japanese late 1970s TV show and cult classic 'Monkey Magic' - the tale of Monkey is a timeless story of hubris and redemption, for he is both chaotic and yet capable of great compassion (when something is able to actually hold his attention that is!).
This sword is a fitting tribute to the Monkey King and is the creation of Rank 3 Master Smith, Michael Ye - who has returned from retirement to create this amazing work of sword art.
The blade itself is Master Smith forged Windsteel (also known as feathersteel) made from 1095 carbon steel using a unique and specialized method of folding to produce a subtle windswept feather like pattern that ripples across the surface of the blade like water.Combine this with an authentic dual differentially hardened temper line along the edge and you have a blade that is at once amazingly beautiful yet also very functional.

To compliment the beauty of the naked blade, the sword is fitted in work hardened copper fittings decorated with gold and silver depicting the Monkey King himself. Add to this a wood core scabbard with matching fittings and fully wrapped in genuine black rayskin, and you have an instant classic in your hands.
While quite heavy at 3.52lbs - much of the weight is in the thick copper fittings, ensuring the powerful blade can strike and recover for a fast follow up or parry and while it can be used on handed, it is intended to be used in hand-and-a-half fashion, with one hand choked up near the 'face' of the Monkey King and the other on the pommel.
Do not be fooled by cheap and nasty imitations, this sword is the real deal. Almost never seen out of China due to the uncertain market demand and high expense of production. However, with Forge Direct, you have a rare opportunity to order one of your own with FREE worldwide shipping right here at the SBG Sword Store!
How to Use
Designed for frequent cutting practice and/or display. Heirloom quality.
Overall length: 42.12" (107cm), Blade length: 31.4" (80cm), Blade width: 1.41" (3.6cm), Handle length: 7.5" (19cm), Weight: 3.52lbs (1.6kg)
Materials and Construction
Mastersmith Windsteel/Feathersteel Folded, Differentially Hardened and Sharpened 1095 Carbon Steel blade. Work hardened copper fittings with real gold and silver inlay. Premium Black Ebony wooden handle. Genuine dyed black rayskin wrapped wood core scabbard, also with copper/gold/silver fittings.
FREE SHIPPING direct from the forge in Longquan, China via SF Express or UPS, typically within 6-8 weeks (though please allow for unexpected delays)..
Warranty Info
Each sword is guaranteed to be as described and 100% genuine product. Each sword is also covered by in full by the Manufacturers Warranty PLUS our extended LIFETIME Warranty against blade breakage.
Click here for detailed warranty information
Return Policy
Satisfaction Guaranteed.
We proudly stand behind every product we sell. If you are not pleased with your purchase you can return it to us within 30 days of purchase in
original, unused condition
for a full refund minus shipping and 10% restock fee.
Click here for more info on our guarantees