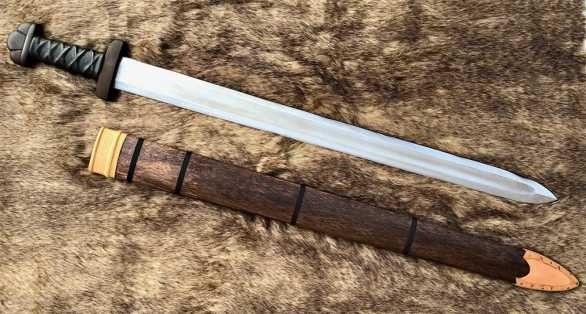 Kingdom of Arms 10th Century Viking Sword
(1)
IN STOCK

FREE SHIPPING IN THE USA
5160 Spring Steel Replica of a typical 10th century Oakeshott Type X Viking Sword.
$

665.00
$760.00
You Save $95.00
10th Century Viking Sword, hand forged by Kingdom of Arms - Oakeshott describes the Type X as: "A broad, flat blade of medium length (average 31") with a fuller running the entire length and fading out an inch or so from the point."
The handmade elite Kingdom of Arms 10th Century Viking Sword features a hand hammered 5160 carbon steel blade as the originals were made, full tang, heat treated and tempered as the originals, for a strong yet flexible blade that will hold a very sharp edge, with a leather wrapped handle with an embossed design and "blackened guard and 3 lobe pommel. Which is one of the 4 styles of pommels typical of the 10th Century. Fully Functional (Battle Ready)! The sword comes with a wooden scabbard with leather accents and with steel loop bracket at the back of the scabbard with a burnt copper finish attached.
How to Use
Fully functional sword designed for frequent test cutting practice
Blade Length: 27.5" Overall Length: 34.25" Handle: 6.5" Grip Length: 4.25" Weight: 2.5 lbs P.O.B.: '' Below Hilt
Materials and Construction
5160 Spring Steel Sharpened Blade. Blackened Steel fittings with leather wrapped handle. Leather covered, wood core scabbard with belt mounting steel loop bracket with burnt coppered finish.. Premium Quality Construction.
FREE SHIPPING in the USA direct from the Kingdom of Arms warehouse in Jackson, Tennessee. International shipping currently unavailable (
click here
for the workaround).
Click here for more shipping information
Warranty Info
Each sword is guaranteed to be as described and 100% genuine product. Each sword is also covered by in full by the Manufacturers Warranty PLUS our extended LIFETIME Warranty against blade breakage.
Click here for detailed warranty information
Return Policy
Satisfaction Guaranteed.
We proudly stand behind every product we sell. If you are not pleased with your purchase you can return it to us within 30 days of purchase in
original, unused condition
for a full refund minus shipping and 10% restock fee.
Click here for more info on our guarantees
Featured positive reviews:
10th Century Viking Sword
02/04/2023
You can read my review following this link and also watch the video I made of the sword on my youtube channel. Thanks.

https://sbg-sword-forum.forums.net/thread/67578/kingdom-arms-century-viking-sword