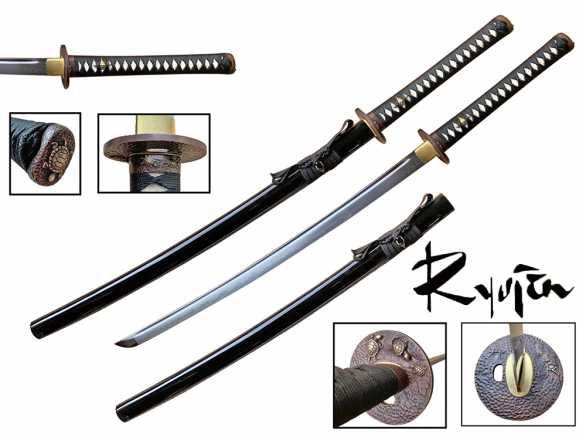 Ryujin 1095 Differentially Hardened 'Kame' Katana'

Be the first one to write a review
SOLD OUT

Differentially Hardened 1095 carbon steel bladed Katana with natural hamon and brass and copper fittings. Perfect for dojos and martial arts applications. Black cotton Itomaki.

$

229.99
$299.99
You Save $70.00
It can be hard to find a solid performing and affordable Katana for under $300 these days. But the Ryujin Kamekatana sets a new standard..
The 28.5" long blade is hand forged from 1095 high carbon steel and differentially hardened to produce a natural and unenhanced notare hamon - the end result of which is a sword that most closely approximates the characteristics of a traditional Japanese Shinken, with a total weight of 2.6lbs and a lively point of balance just 4.5" from the tsuba.
Featuring a cleanly defined bo-hi (fuller/blood-groove), this sword provides feedback on the speed and angle of a cut with it's 'Tachi Kaze' (whooshing sound) and as such, is suitable for both dry cutting and tameshigiri practice.
Not to be let down in the fittings department, the blade is complimented by tightly and evenly wrapped premium cotton itomaki over authentic white rayskin and solid brass fittings inlaid with copper turtle (Kame) themes. The sword is completed by a black lacquered wooden saya with black cotton sageo.
In short, this is an entry level martial arts grade traditional styled Katana that ticks all the boxes and is a natural first choice for anyone looking for a solidly performing cutting and training sword.
How to Use
Suitable for frequent backyard or dojo cutting. Entry Level Martial arts grade.
Overall length (without saya): 40 1/2", Blade length: 28 1/2", Handle length: 11 3/4", Weight: 2.6 lbs, Point of balance (from Tsuba ): 4.5"
Materials and Construction
1095 Hand Forged, Differentially Hardened and Factory Sharpened Blade. Solid Brass with inlaid copper fittings. Tightly wrapped cotton ito over authentic rayskin. Lacquered Glossy Wooden Saya with cotton sageo.
Shipped from the Ryujin workshop in Los Angeles within 2 business days. $20 flat rate USA shipping for up to 2 swords, FREE shipping if 3 or more swords ordered at the same time. International shipping via USPS, $60 to selected international destinations by USPS.
Click here for more shipping information
Warranty Info
Each sword is guaranteed to be as described and 100% genuine product. Each sword is also covered by in full by the Manufacturers Warranty PLUS our extended LIFETIME Warranty against blade breakage.
Click here for detailed warranty information
Return Policy
Satisfaction Guaranteed.
We proudly stand behind every product we sell. If you are not pleased with your purchase you can return it to us within 30 days of purchase in
original, unused condition
for a full refund minus shipping and 10% restock fee.
Click here for more info on our guarantees