APOC Double Mukk Hatchet

Be the first one to write a review
IN STOCK
Ultra durable 9260 Spring Steel Camp Hatchet with Viking inspiration. A must have item in any 'bug out' bag.. MSRP $109.00
New from APOC Survival Tools is the Double Mukk - a small go-anywhere hatchet that is a modern reimagining of the small axe in Nessmuk's famed trio of wilderness tools, with a little Viking DNA thrown in for the grins. This full tang hatchet is only 12" in length but the thick 9260 spring steel head packs a punch for limbing and shelter prep.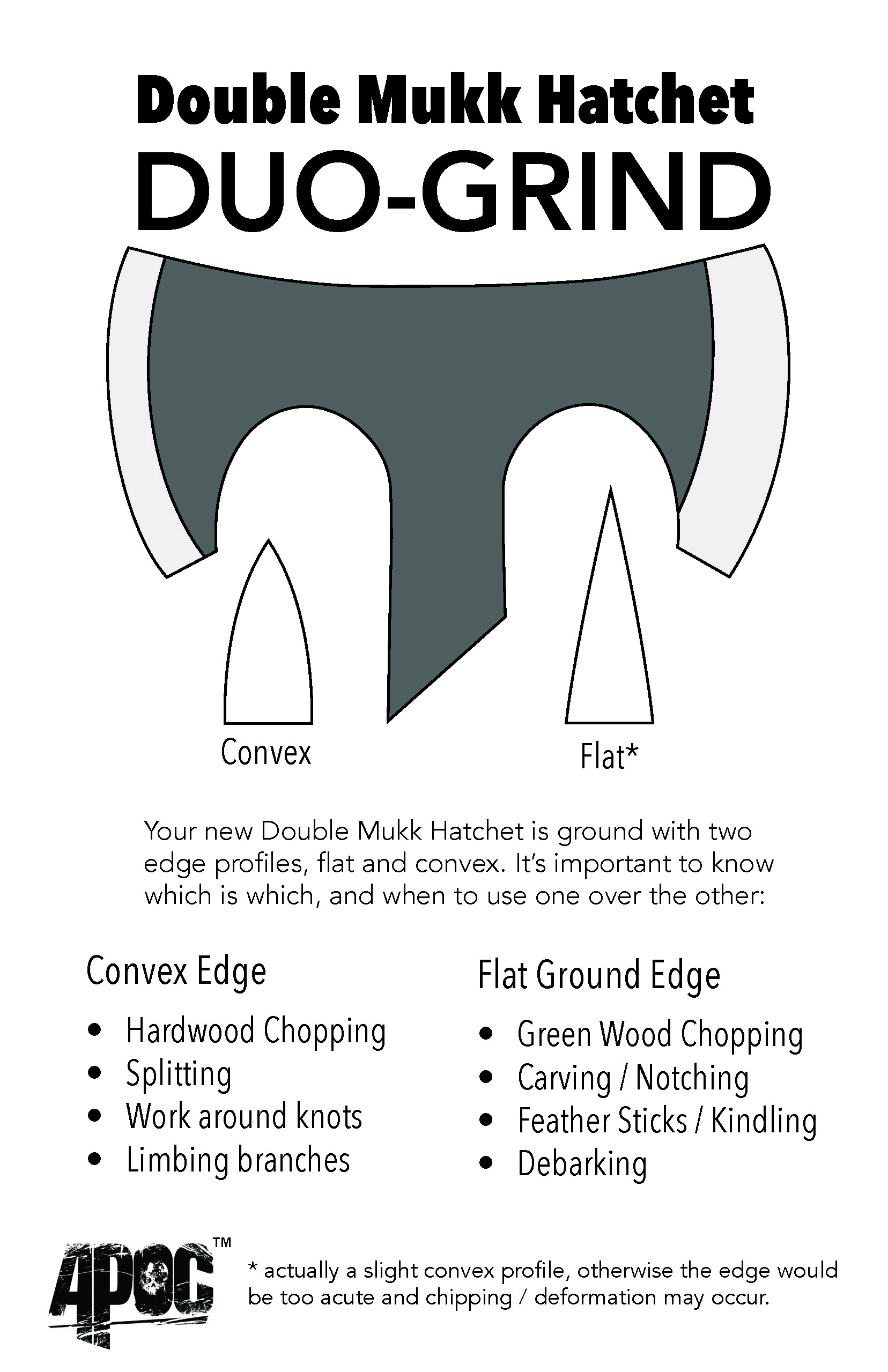 Perfectly concealable in a bug-out bag or under the seat of your truck with the belt, lashing and MOLLE compatible sheath. The Viking-style bearded head lets you choke up to easily make feather sticks, prep some kindling or whittle notches for traps.
A unique feature of the Double Mukk is the duo-grind - one head is flat ground for carving and fine work while the other has a heavy convex grind for limbing and splitting. The whole hatchet is milled from a single piece of 9260 spring steel that's tempered to the low 50's HRC. Handle scales are solid milled G10, contoured for comfort with a swell at the end to keep it in your hand.
The Double-Bit Downfall? - How to Drive Stakes

While my camp hatchet gets used plenty for making kindling it's the poll that sees just as much use around our camp-outs driving in stakes that have been left 6" out of the ground by well-meaning Scouts. With a double-bit you can simply use the flat of the blade to do the same task, but how to get the stake started and keep your hand out of the way? We extended the butt of the handle on the Double Mukk enough to serve as a striking surface. A couple of starting taps from the handle and you're good to go.
How to Use
In case of Zombie Apocalypse, Break Glass.. Designed for frequent and abusive chopping, hacking and cutting
Overall: 11 3/4" Blade Length: 2 3/4" Handle Length: 8" Weight: 1 lbs 8 oz Thickness at Guard: 6mm Thickness at Tip: 6mm
Materials and Construction
Monotempered 9260 Spring Steel sharpened blade with black oxide coating. Full tang, triple riveted G10 handle. Multi-carry sheathe included.
Shipping direct from the distributors warehouse in Tennessee within 1-2 business days. Shipping in the USA is $5 for one knife, FREE if two or more or are ordered at the same time. Sorry, US orders only (
click here
for the workaround).
Click here for more shipping information
Warranty Info
Each sword is guaranteed to be as described and 100% genuine product. Each sword is also covered by in full by the Manufacturers Warranty PLUS our extended LIFETIME Warranty against blade breakage.
Click here for detailed warranty information
Return Policy
Satisfaction Guaranteed.
We proudly stand behind every product we sell. If you are not pleased with your purchase you can return it to us within 30 days of purchase in
original, unused condition
for a full refund minus shipping and 10% restock fee.
Click here for more info on our guarantees