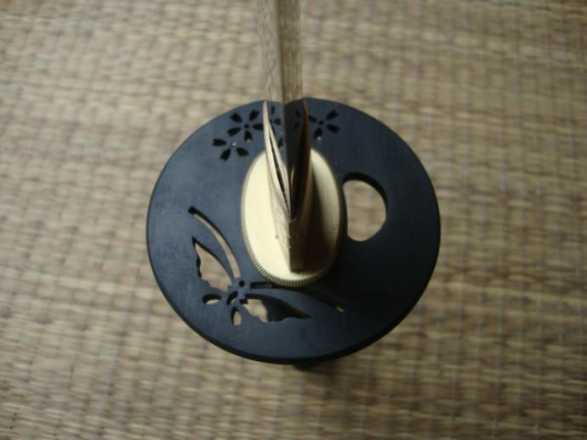 Ronin Dojo Pro Wakizashi model # 1
(1)
IN STOCK
Wakizashi, Matches Katana #2
This is the matching Wakizashi for the Katana Model 2, the Samurai companion sword with a 6" handle and 21" blade.

Otherwise, the fittings are exactly the same as the Ronin Model 2 - same iron tsuba, same iron fuchi/kashira, silk ito, real rayskin and a powerful, no nonsense through tempered hand made 1060 carbon steel blade.
How to Use
Designed for heavy cutting practice and frequent dojo use.
Nagasa: 21" blade Weight: 1.8 lbs Tsuka: 6 inches Point of Balance: 3 1/2 inches inches from tsuba
Materials and Construction
Thick, expertly tempered, hand forged and sharpened Monotempered 1060 carbon steel blade. All IRON Tsuba, Fuchi and Kashira. Genuine Silk Ito Wrap, Real Rayskin and Brass Menuki handle ornament. Single pegged mekugi. Hand cut and polished buffalo horn Kurikata, Koguchi and Kojiri on Saya with high quality synthetic sageo.
Shipping from the Ronin Katana Warehouse in Texas within 1-2 business days. $20 flat rate USA shipping for up to 2 swords via USPS, FREE shipping if 3 or more swords ordered at the same time. International shipping currently unavailable Sorry, US orders only (
click here
for the workaround).
Click here for more shipping information
Warranty Info
Each sword is guaranteed to be as described and 100% genuine product. Each sword is also covered by in full by the Manufacturers Warranty PLUS our extended LIFETIME Warranty against blade breakage.
Click here for detailed warranty information
Return Policy
Satisfaction Guaranteed.
We proudly stand behind every product we sell. If you are not pleased with your purchase you can return it to us within 30 days of purchase in
original, unused condition
for a full refund minus shipping and 10% restock fee.
Click here for more info on our guarantees
Featured positive reviews:
Great short sword
08/11/2015
Good saya black with black bone, nice tight tsuba, fittings and wrap, very nice flawless blade.
Sharp and nicely polished. I have several Ronin katana and am very pleased with their quality and craftsmanship. This little one zipped though two mats without any difficulty whatsoever, another nice Ronin.