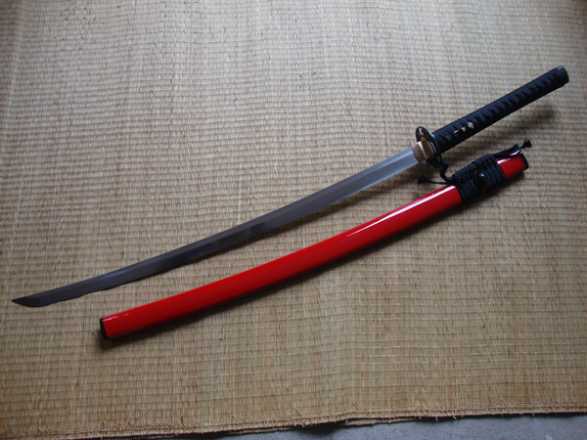 Ronin Dojo Pro Katana #14
(9)
IN STOCK

Longer 30" Dotanuki Blade, Demon Theme
14 is a number of death and all things scary in Japan, so it is only fitting that the legendary "Trapped Oni" Katana should own this particular model number..
Originally the concept for this design was a spoof thread on the SBG sword forum against overhyped ebay selling. You can read the
thread itself here
- but here's a few highlights from the 'official' description:
Using authentic, Japanese, powdered, folded, Nipponese, +3 to dexterity, nihonto, tamahagene steel made a piece of the asteroid that killed the dinosaurs, we have created the perfect SAMURAI KATANA NIHONTO SWORD. How did we come to possess this rare metal? That is a trade secret known only to the two hundred Chinese workers who operate our authentic Japanese forge, and can not be disclosed due to fears ebay dealers will quickly replicate it.
All kidding aside though, the actual sword inspired by this spoof is actually something quite special - Trapped Oni inside or not..!

Like all the fittings of these swords, the Oni themed tsuba is solid iron – but so is the fuchi (band at the top of the handle) AND the kashira (end cap) – all acting in harmony to strongly reinforce the structural integrity of the entire handle in a way that is almost never seen on other swords under the $500 price point (nevermind on swords under $300!).

The tsuka/handle assembly itself is exceptionally tight and well put together, double pegged with black silk ito wrapped over REAL black rayskin, wrapped around a quality wooden core in the traditional alternating style to ensure it remains tight despite frequent usage.

Furthermore, as you can clearly see from the picture above, the handle is also properly ergonomically 'shaped' to follow the curve of the blade AND fit comfortably into the hand, creating a safe and firm grip - another rarity at this price point.

The saya (sheath) itself thick and made from quality wood - laquered a deep and rich blood red which - along with the Kurikata and Kojiri, are made of hand cut and polished buffalo horn, finished off with a hard wearing length of black synthetic silk sageo (cord) so it can be secured to your obi (belt).

The strength of the fittings ALONE are head and shoulders above any other sword maker anywhere near this price point, but the 30" blade, which is especially comfortable for users taller than 6', takes it to a whole new level again..

These 1060, through tempered, no-nonsense monosteel blades are exceptionally HONEST and RELIABLE.

Hand forged and solidly built, there is not a trace of pretentiousness about them – no fake hamon, no bo-hi and no BS.

They are quite simply just extremely practical, utilitarian blades made according to the Dotanuki forging tradition – a school of sword making that made simple 'maru' lamination blades with a reputation for being plain, practical and to the point (speaking of which, the kissaki tip of the blade is reinforced with a diamond shape for added durability and transitioned much nicer than most other hand made monotempered blades at this price point).

Weighing 2.65lbs with a point of balance 4.75" from the tsuba these swords are designed for the CUT, not fluffing around with. In short they are serious blades with serious fittings designed as SERIOUS dojo workhorses..!
Click here for a hands on review of the Dojo Pro Katana, models 2 and 5
How to Use
Designed for heavy cutting practice and frequent dojo use.
Nagasa: 30 inches from tsuba Weight: 2.65lbs Tsuka: 11 inches Point of Balance: 4.75" from tsuba
Materials and Construction
Thick, expertly tempered, hand forged and sharpened Monotempered 1060 carbon steel blade. All IRON Tsuba, Fuchi and Kashira. Genuine Silk Ito Wrap, Real Rayskin and Brass Menuki handle ornament. Double pegged mekugi. Hand cut and polished buffalo horn Kurikata, Koguchi and Kojiri on Saya with high quality synthetic sageo.
Shipping from the Ronin Katana Warehouse in Texas within 1-2 business days. $20 flat rate USA shipping for up to 2 swords via USPS, FREE shipping if 3 or more swords ordered at the same time. International shipping currently unavailable Sorry, US orders only (
click here
for the workaround).
Click here for more shipping information
Warranty Info
Each sword is guaranteed to be as described and 100% genuine product. Each sword is also covered by in full by the Manufacturers Warranty PLUS our extended LIFETIME Warranty against blade breakage.
Click here for detailed warranty information
Return Policy
Satisfaction Guaranteed.
We proudly stand behind every product we sell. If you are not pleased with your purchase you can return it to us within 30 days of purchase in
original, unused condition
for a full refund minus shipping and 10% restock fee.
Click here for more info on our guarantees
Featured positive reviews:
Awesome sword here!
07/03/2019
This sword is worth the money no doubt!

Starting with the package/shipping, The shipping was extremely quick, I was expecting it 2 days later actually, no complaints there and when it got here there were two boxes, a typical outer brown shipping box and an inner box housing the sword itself. Very tight packaging, actually took me a while to get it out. Inside is polystyrene foam encasing the sword along with a black sword bag, which moves me onto the sword, and wow, it is great.

The katana itself is very well constructed, from the habaki to the kashira, everything is nice fit and firm, the genuine silk ito is decently firm and feels rather nice in the hands, the tsuka's length is another thing I really love as it is the longest out of all of my swords, it gives a lot of room to work with. I love the tsuka's black overall theme and it really does complement the rest of the sword giving off a demonic theme feel while not overdoing it. The blade is sharp, cuts bottles just fine, and although I do not plan on doing too much heavy cutting with it, I'd assume it would handle tatami no problem, and I trust the blade would hold up (given RK's reputation for their cutters, as well as how the sword has been so far) The weight is also fine imo, some people don't like that it is a bit heavier, but personally I'm glad, as it does supplement its cutting ability. The polish is appealing and pretty, Mune is pronounced and thick with a diamond like shape at the kissaki, which I'd imagine would aid in piercing of a target, and overall the blade itself is high quality.

The saya is one of the reasons I got this model, and it surely does not disappoint. The glossy deep red finish is truly spectacular looking and really does appeal to the eye, the polished buffalo horn fittings (kurigata, kojiri, koiguchi) Complement the tsuka's demon theme well, the transition between the saya itself and the kojiri + koiguchi fittings feels smooth and they really do feel one with the scabbard. The sageo, though synthetic silk, feels alright, firm and long if you need to untie it, though I don't plan to. The sword fits snug in the saya and when I rattle it upside down, it doesn't fall out (though probably will become loose with use)

Moving onto the bad, I really don't have too much to say as far as cons/negatives go. I'll have to be nit picky here because so far there have been no real big cons with the sword that I've come across, but regardless, my nitpicks would be:

The ito, while it IS tight, does have a few notches revealing the wooden tsuka core underneath, but that will happen regardless due to use. Not a real con.

The inside of the saya is waxy, which I've read is common with Ronin Katana. While certainly not a bad thing, as it does preserve the sword in shipping, does prove difficult to remove when maintaining/cleaning the blade.

Another thing with the saya is that inside, when returning the sword to the scabbard, there is a thick, plastic wrap like sound/substance 3/4's of the way in, which proves very difficult to actually fully lock the habaki into the koiguchi, It's most likely the wax inside so I'll chalk it up to that but who knows, maybe its the oni demon in the sword resisting me not letting me fully lock it in place. Who knows.

I will, however, not deduct any stars due to those being very minor and the rest of the sword makes up for the few nit picks entirely.

Overall, I would say that the Dojo Pro mod. #14 is definitely worth a buy, slightly longer blade, beautiful fit finish polish and saya, great for cutting and if you're on the fence about this sword, I'd say get it. It is certainly a great addition to the collection and hey, even if you somehow end up not liking it, you'll still have a working quality piece that will cut for you and with that in mind, for 315$ you can't really go wrong. Special thank you to SBG and RK for this quality sword, Definite recommend from me.