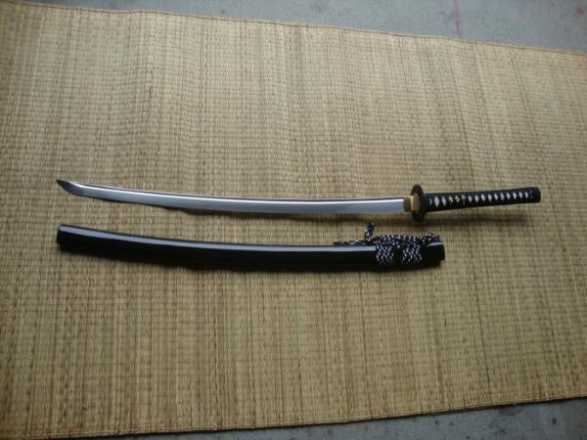 Ronin Dojo Pro Katana # 7
(2)
IN STOCK

Standard Dotanuki Blade
Introducing model Seven from the Dojo Pro bo-hi series, this particular design is characterised by its lotus shaped tsuba and black and whites sageo.
In all other respects the swords in the bo-hi series are exactly the same as the classic solid bodied blade Dotanuki Katana. They have the same solid iron fittings and REAL silk ito wrap for maximum handle strength and integrity. They also have the same buffalo horn reinforced saya and hard wearing, super thick sageo wrap and in short, the only difference is the addition of a bo-hi (also known as a fuller or blood groove) but what makes it so special is that this is no ordinary bo-hi.
At considerable expense, the Dojo pro bo-hi series have a properly channelled, hand made bo-hi instead of the usual "shortcut" method.
While it may not seem like a massive difference, the reality is that this upgrade gives the sword an authentic Tachi Kaze (sword wind sound - i.e. the wooshing sound the blade makes as it cuts the air) unlike any other sword in this price range and of course, provides an option for anyone who wants a Dojo Pro Katana with a little more speed and responsiveness than the solid bodied blade classic model.
How to Use
Designed for heavy cutting practice and frequent dojo use.
Weight: 2.5 pounds POB: 4 1/2- 5 inches Length in saya: 42 inches Tsuka: 11 inches Blade: 28 inches Habaki to tip: 27 inches
Materials and Construction
Thick, expertly tempered, hand forged and sharpened Monotempered 1060 carbon steel blade. All IRON Tsuba, Fuchi and Kashira. Genuine Silk Ito Wrap, Real Rayskin and Brass Menuki handle ornament. Double pegged mekugi. Hand cut and polished buffalo horn Kurikata, Koguchi and Kojiri on Saya with high quality synthetic sageo.
Shipping from the Ronin Katana Warehouse in Texas within 1-2 business days. $20 flat rate USA shipping for up to 2 swords via USPS, FREE shipping if 3 or more swords ordered at the same time. International shipping currently unavailable Sorry, US orders only (
click here
for the workaround).
Click here for more shipping information
Warranty Info
Each sword is guaranteed to be as described and 100% genuine product. Each sword is also covered by in full by the Manufacturers Warranty PLUS our extended LIFETIME Warranty against blade breakage.
Click here for detailed warranty information
Return Policy
Satisfaction Guaranteed.
We proudly stand behind every product we sell. If you are not pleased with your purchase you can return it to us within 30 days of purchase in
original, unused condition
for a full refund minus shipping and 10% restock fee.
Click here for more info on our guarantees
Featured positive reviews:
Great katana
11/11/2018
I have been practicing kenjutsu for 8 years. This is my third Ronin Dojo Pro #7. I gave away the previous two as gifts. You have to rate for me to give you one of my katana from my collection. I keep replacing this katana because I like it so much. I do quite a bit of cutting, and as advertised it can take a beating and still keep its edge. Each #7 has been consistent in that there virtually were no differences between them except I think the third one is sharper than the previous two. I think it speaks well of their quality control. The blade shows no signs of wear or scratching compared to some of my more expensive, differentially heated blades, from tatami-omote mats. It speaks greatly about quality, cost, and mono-tempering. Also the fit of the koiguchi is just right and will hold the katana when held upside down. A great beater and cutter, high quality materials, and very tight assembly. I highly recommend it.