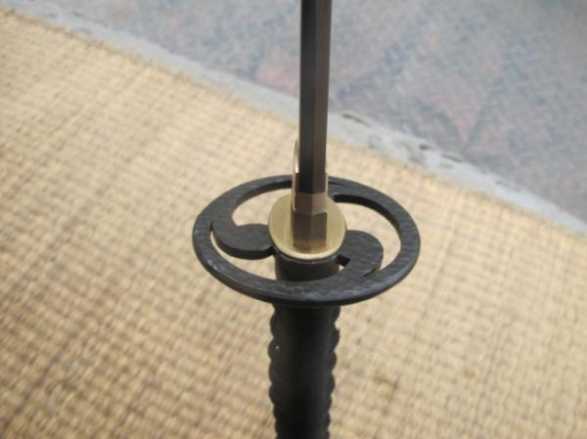 Ronin Dojo Pro Katana # 30
(1)
IN STOCK

Standard Dotanuki Blade
Model 030 of the Dojo Pro has a classic tomoe iron sukashi tsuba and black ito on white rayskin handle wrap.

Like all the fittings of these swords, the tsuba is solid iron – but so is the fuchi (band at the top of the handle) AND the kashira (end cap) – all acting in harmony to strongly reinforce the structural integrity of the entire handle in a way that is almost never seen on other swords under the $500 price point (nevermind on swords under $300!).

The tsuka/handle assembly itself is exceptionally tight and well put together, double pegged with black silk ito wrapped over REAL rayskin, wrapped around a quality wooden core in the traditional alternating style to ensure it remains tight despite frequent usage.
Furthermore, as you can clearly see from the picture above, the handle is also properly ergonomically 'shaped' to follow the curve of the blade AND fit comfortably into the hand, creating a safe and firm grip - another rarity at this price point.
The saya (sheath) itself thick and made from quality wood - clear lacquered which - along with the Kurikata and Kojiri, are made of hand cut and polished buffalo horn, finished off with a hard wearing length of black sageo (cord) so it can be secured to your obi (belt).

The strength of the fittings ALONE are head and shoulders above any other sword maker anywhere near this price point, but the 28" blade takes it to a whole new level again..
These 1060, through tempered, no-nonsense monosteel blades are exceptionally HONEST and RELIABLE.

Hand forged and solidly built, there is not a trace of pretentiousness about them – no fake hamon, no bo-hi and no BS.

They are quite simply just extremely practical, utilitarian blades made according to the Dotanuki forging tradition – a school of sword making that made simple 'maru' lamination blades with a reputation for being plain, practical and to the point (speaking of which, the kissaki tip of the blade is reinforced with a diamond shape for added durability and transitioned much nicer than most other hand made monotempered blades at this price point).
Weighing 2.6lbs with a point of balance 5" from the tsuba these swords are designed for the CUT, not fluffing around with. In short they are serious blades with serious fittings designed as SERIOUS dojo workhorses..!

Click here for a hands on review of the Dojo Pro Katana, models 2 and 5
How to Use
Designed for heavy cutting practice and frequent dojo use.
Nagasa: 27 inches from habaki, 28 from Munemachi (most blades measured from Munemachi) Weight: 2.67 lbs Tsuka: 11 inches Point of Balance: 5 inches from tsuba Motohaba: 1.2 inches Sakihaba: 1 inch Motokasane: @ 7mm Sakikasane: @5.5mm
Materials and Construction
Thick, expertly tempered, hand forged and sharpened Monotempered 1060 carbon steel blade. All IRON Tsuba, Fuchi and Kashira. Genuine Silk Ito Wrap, Real Rayskin and Brass Menuki handle ornament. Double pegged mekugi. Hand cut and polished buffalo horn Kurikata, Koguchi and Kojiri on Saya with high quality synthetic sageo.
Shipping from the Ronin Katana Warehouse in Texas within 1-2 business days. $20 flat rate USA shipping for up to 2 swords via USPS, FREE shipping if 3 or more swords ordered at the same time. International shipping currently unavailable Sorry, US orders only (
click here
for the workaround).
Click here for more shipping information
Warranty Info
Each sword is guaranteed to be as described and 100% genuine product. Each sword is also covered by in full by the Manufacturers Warranty PLUS our extended LIFETIME Warranty against blade breakage.
Click here for detailed warranty information
Return Policy
Satisfaction Guaranteed.
We proudly stand behind every product we sell. If you are not pleased with your purchase you can return it to us within 30 days of purchase in
original, unused condition
for a full refund minus shipping and 10% restock fee.
Click here for more info on our guarantees
Featured positive reviews:
Great
06/09/2015
Just bought a Katana from SBG and I have to say that the communication is perfect and they are ready to help in any way possible I'm impressed keep it up guys.

Regarding the Katana.. it's amazing I like it very much and worth the price..

Thanks a lot SBG team and I will not hesitate to buy again in the future.

Regards,
Chris.