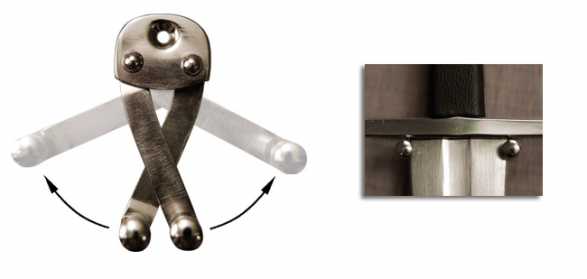 Medieval Sword Display Hanger

Be the first one to write a review
IN STOCK

Wall mounted hanger for medieval swords, hung by the cross guard
This Broadsword hanger is designed for the wall display of any medieval style sword. Its scissor-type action allows the retaining pins to grip the blade of the sword at the crossguard, with the weight of the sword providing the gripping force. The retaining pins are internally threaded and adjustable, to allow for different guard/grip thicknesses, and are grooved to provide a positive blade stop for blades with or without ricassos. The nickel finish blends well with any blade to provide an unobtrusive means of display.
How to Use
Adjusts to fit any width medieval sword, displayed with the crossguard laterally.
Usually Ships within 1-2 business days by USPS from the Hanwei Tennesse warehouse. $5 if shipped alone, FREE shipping if combined with another item. USA addresses only.