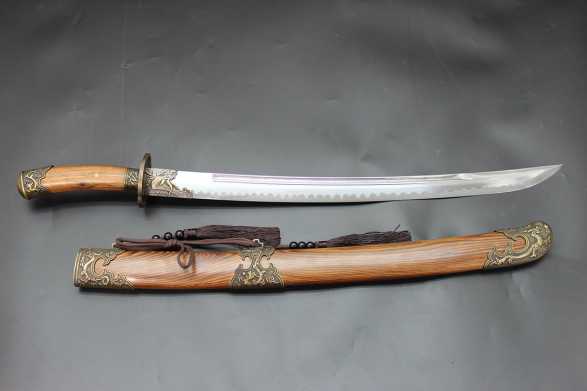 Forge Direct Laminated Duan Dao
(2)
MADE TO ORDER & ON SPECIAL

25% Off Megasale Now On
FREE WORLDWIDE SHIPPING!
Tradition melds with science in this modern interpretation of the ancient technique of the qiangang Dao style of sword making. Made by 2nd rank Master Smith Jiang Xiaolong.
Made to Order, Ships in 6-8 weeks.
$

622.49
$829.99
You Save $207.50
Tradition melds with Science...
The Forge Direct Laminated Duan Dao is one of the most unique and revolutionary swords ever produced - utilizing the purity of modern steel to create a blade with a hard edge and shock resistant spine and core in a way that the ancient smith could have only ever dreamed of..
The wild pattern on the steel is created through metal extraction. It's achieved by grinding through the jacket layer of 1065 steel until the middle layer of T-10 is reached. The color of the steel is the natural unpolished look of the steel.
The five layer composition from side to side is: 1065, T-10, 1045, T-10, 1065.
Because the steel is placed in layers and welded together, they blend differently down both sides of the blade. The entire blade is then given a polish before the extraction on the edge. The reveal of the lamination is going to be different every single time, as the blend of the steels is never going to be the same, resulting in unique waves and patterns and making every blade in this series a true one off.
The process provides an edge hardness of 62-64, a spine in the mid 40's, and a medium carbon core that is very good at diffusing shock and is based on the ancient qiangang Dao making tradition, that is to say, an insert of hard steel supported by a softer shock resistant jacket so that the harder steel protrudes from the rest of the steel to maximize the hardness of the actual cutting edge. But by modifying this technique and using modern sword steels, the end result is a superior cutting sword that takes this ancient sword making method firmly into the 21st century..
The blade is hand made by 2nd rank Master Smith Jiang Xiaolong and fitted out with only the best components at his forge in Longquan, China - one of the biggest and most respected forges in the region.
History and Use of Duan Dao
Also known as a 'Short Dao', the Duan Dao is a compact, fast and very powerful type of cutting sword and is technically a sub-class of the Liuyedao or Willow leaf saber. First appearing in the Ming Dynasty and in frequent military usage up until the late Qing dynasty, it was characterized but its focus on speed and raw one handed cutting power. This modern steel version takes this historical design to unprecedented new levels.
How to Use
Designed for frequent cutting practice and/or display. Heirloom quality.
Blade Length: 19.8" (50.5cm), Handle: 6.2" (16cm), Blade Width: 1.29" (3.3cm), Blade Thickness: 0.27" (0.7cm), Weight: 2.09lbs (0.95kg)
Materials and Construction
Master Smith Hand Forged, Laminated (1065, T-10, 1045, T-10, 1065) and Sharpened blade. Rosewood handle and scabbard with brass fittings.
FREE SHIPPING direct from the forge in Longquan, China via SF Express or UPS, typically within 6-8 weeks (though please allow for unexpected delays)..
Warranty Info
Each sword is guaranteed to be as described and 100% genuine product. Each sword is also covered by in full by the Manufacturers Warranty PLUS our extended LIFETIME Warranty against blade breakage.
Click here for detailed warranty information
Return Policy
Satisfaction Guaranteed.
We proudly stand behind every product we sell. If you are not pleased with your purchase you can return it to us within 30 days of purchase in
original, unused condition
for a full refund minus shipping and 10% restock fee.
Click here for more info on our guarantees
Featured positive reviews:
magnificent sword
06/12/2020
This is the 4th sword I have ordered from Forge Direct with one more yet to be delivered. So far it would be difficult to determine which one is my favorite; so let's just say they all are. But I have to say, in all honesty, this is a magnificently beautiful sword. Detail is superb. It came very well packaged and was unbruised. I know a lot of folks are down on knives from China. I remember when China first broke into the American market; and the quality left something to be desired much like those from Pakistan back then. But both of them have been turning out some great products the past several years. This is no exception. I just want to hold it and admire it. Someday my grandson will enjoy it as he does already with 3/4th of my collection in his possession. Get this sword. You will not be sorry. The blade needs a final sharpening which I am able to do; so don't complain about the sharpness. There is probably good reason for not sending it razor sharp; and it doesn't bother me that it isn't. This is a functional fighting weapon that will likely remain in the display box. I certainly wouldn't want to bleed all over it. I have others suited to that purpose. The point of balance is about 5 inches forward of the guard (hushou); and the handle (jianba) is roughly hand-and-a-half. The blade is of a design that makes a nice slicing cut but can stab as well. The woodwork and ornamentation is flawless. I am very pleased since I had been concentrating on Japanese swords before this one arrived. Looking forward to the next delivery of another Chinese design.