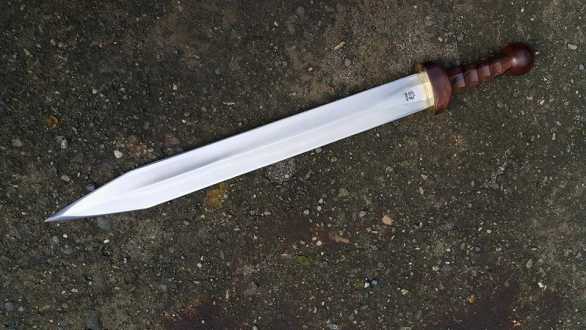 BCI Roman Gladius

Be the first one to write a review
SOLD OUT AND NO LONGER AVAILABLE

5160 Spring Steel Gladius with ornate wooden scabbard with brass reinforcements. A powerful cutter and devastatingly effective in the thrust.

The Roman Gladius was the sword that conquered the known world, and this exceptionally detailed fully functional replica is so well made and strong that if the Romans had owned THESE swords, their Empire may never have fallen..
This particular style of Gladius with parallel cutting edges and a wickedly pointed triangular tip for armor penetration is known as the Pompeii Gladius and was by far the most common (it was called the 'Pompeii' Gladius because the main surviving examples were later found in Pompeii). While it was capable of hacking and cutting, this design is optimized for stabbing deeply into vital organs and was believed to be more effective than the cut as explained by a historian writing in the 4th century who stated:
They were likewise taught not to cut but to thrust with their swords. For the Romans not only made a jest of those who fought with the edge of that weapon, but always found them an easy conquest. A stroke with the edges, though made with ever so much force, seldom kills, as the vital parts of the body are defended both by the bones and armor. On the contrary, a stab, though it penetrates but two inches, is generally fatal. Besides in the attitude of striking, it is impossible to avoid exposing the right arm and side; but on the other hand, the body is covered while a thrust is given, and the adversary receives the point before he sees the sword. This was the method of fighting principally used by the Romans, and their reason for exercising recruits with arms of such a weight at first was, that when they came to carry the common ones so much lighter, the greater difference might enable them to act with greater security and alacrity in time of action.
-- Flavius Vegetius Renatus. De Re Militari Book I: The Selection and Training of New Levies, 390 A.D
The BCI version is made from the highest quality natural materials, with a modern monotempered 5160 Spring Steel blade many times stronger and more effective than the originals that were actually used in battle. The handle is made from three pieces of the highest quality wood with an ergonomic grip and pommel designed to ensure that the sword will never accidentally fly from the hand in the heat of combat. It is complimented by a beautiful and traditional wooden scabbard, reinforced with brass chape, side rings and fittings.
As BCI is a traditional sword forge, they do not mass produce their blades - so the time between restock can be many months. As these swords are in very limited supply and priced well below usual industry markups, it is highly recommended that if you want to secure one and they are in stock, you order as soon as possible to avoid disappointment.
How to Use
Designed for frequent backyard cutting - fully functional historical replica
Blade Length: 21.1" (54cm) Handle Length: 7.75" (20cm) Point of Balance: 4.75" (12cm) from guard Weight: 1.88lbs (855g)
Materials and Construction
5160 Spring Steel Sharpened Blade. Kamagong Wood Handle and Mahogany Scabbard with brass reinforcements. Threaded handle construction. Premium Quality Construction.
Shipped from the BCI warehouse in Connecticut, USA. USA $20 Flat rate shipping for up to 2 swords and FREE shipping for 3 or more. $30 shipping to Canada (flat rate, per sword). $60 to selected international destinations by USPS.
Click here
for additional information on shipping.
Warranty Info
Each sword is guaranteed to be as described and 100% genuine product. Each sword is also covered by in full by the Manufacturers Warranty PLUS our extended LIFETIME Warranty against blade breakage.
Click here for detailed warranty information
Return Policy
<
Satisfaction Guaranteed.
We proudly stand behind every product we sell. If you are not pleased with your purchase you can return it to us within 30 days of purchase in
original, unused condition
for a full refund minus shipping and 10% restock fee.
Click here for more info on our guarantees