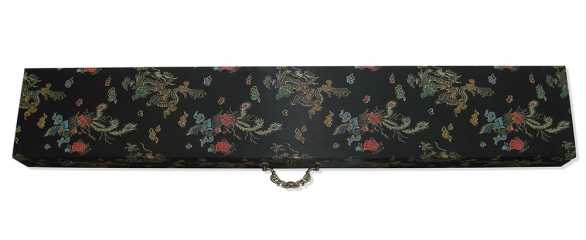 O Katana Case

Be the first one to write a review
IN STOCK

Dragon pattern faux silk and gold/orange lining for a standard length Katana. Designed for longer O-Katana blades.
Especially good to add that extra special touch to a gift sword, this is the Dragon themed, orange lined sword case to give your O-Katana an extra touch of class. Closes shut with two hinged clasps.
How to Use
Suitable for storing an O-Katana while not in use or for presentation purposes. 51" x 6 3/4" x 3 1/2"
51" x 6 3/4" x 3 1/2"
Materials and Construction
Dragon themed, lined case carry handle and simple clasp locking mechanism. Orange Faux silk lining over polystyrene form fitting padding.
Shipping from Chino, California - $20 by itself to the USA, $30 to Canada and $60 Internationally. SHIPS FREE if ordered at the same time as a Ryujin Custom Katana.
Click here for more shipping information