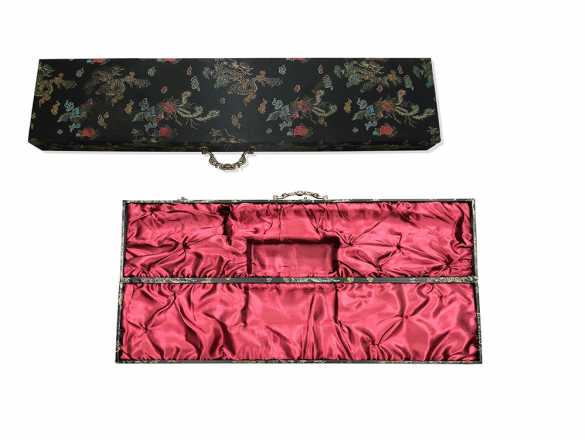 Wakizashi Case

Be the first one to write a review
IN STOCK

Dragon pattern faux silk and gold/orange lining for a standard length Katana. Designed for Wakizashi.

Especially good to add that extra special touch to a gift sword, this is the Dragon themed, purple lined sword case to give your Katana an extra touch of class. Closes shut with two hinged clasps.
How to Use
Suitable for storing a sword while not in use or for presentation purposes.
29 1/2"x6 3/4"x3 3/4" S
Materials and Construction
Dragon themed, lined case carry handle and simple clasp locking mechanism. Purple Faux silk lining over polystyrene form fitting padding with space for cleaning kit.
Shipping from Chino, California - $20 by itself to the USA, $30 to Canada and $60 Internationally. SHIPS FREE if ordered at the same time as a Ryujin Custom Katana.
Click here for more shipping information