Legacy Arms Brookhart Hospitaller Sword

Be the first one to write a review
LOW STOCK

Rarely stocked classics made by Legacy Arms (formerly known as Generation 2/Gen2) - designed by Bruce Brookhart and quite a historically plausible tribute to the other Crusading Order, the Black clad, white cross emblazoned on the chest insignia of the Knights Hospitaller.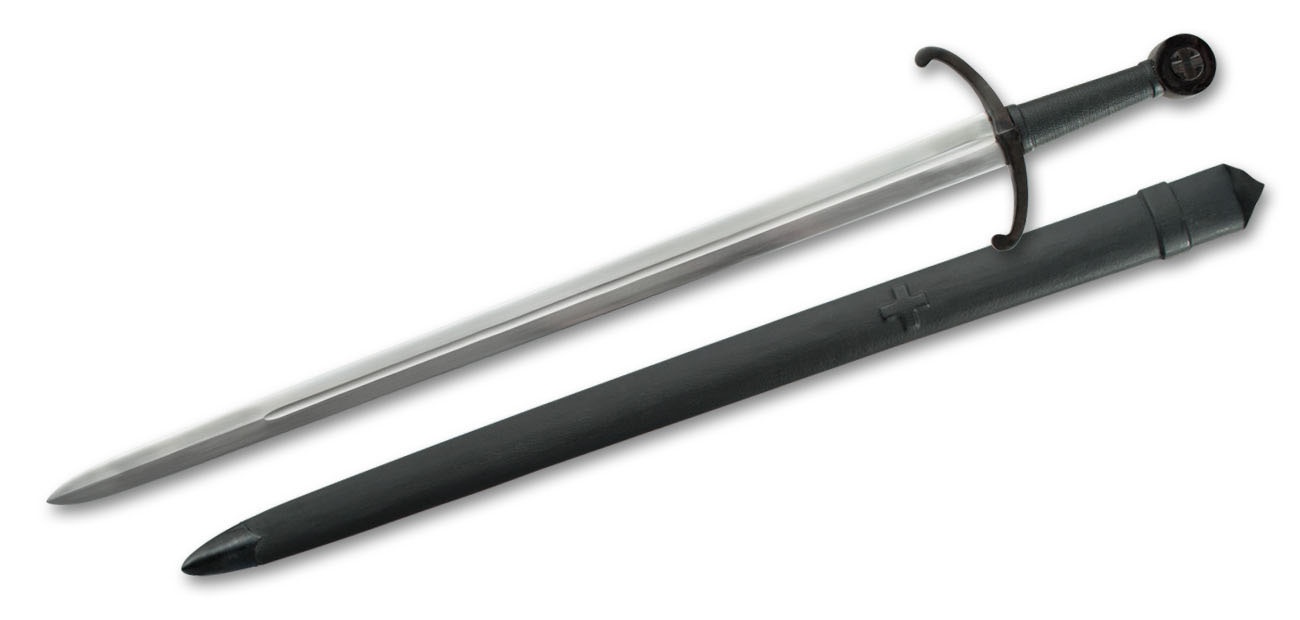 Reminiscent of a time when honor, courage and loyalty along with vows, oaths and duty were bound to flesh and enforced in steel. Hold the Brookhart Hospitaller Sword and Dagger in your hands and allow your spirit to be whisked away to Jerusalem in the 11th century. The embossed cross on your sheath shows your pledge to the Hospitaller knights donning a black surcoat with a white cross on the chest.
Well balanced, the 33 1/4" high carbon steel blade thrusts easily on foot or from horseback while the fuller lightens the blade for swift cuts while weaving your blade in combat. Counter balanced by the solid round steel pommel, the textured leather handle becomes one with your body and extension of your will. The arched hilt and quillons are classic in design of this type of cruciform sword and appropriate for kneeling in prayer.
ABOUT LEGACY ARMS
Legacy Arms, formerly known as Generation 2, still leads the way in the affordable sword market creating tough, well made items for the Medieval Sword enthusiast. All blades are tempered 5160 steel with a robust apple-seed edge. The hilt construction is typically in steel (passing the magnet test) unless otherwise noted and the grips are leather over wood. The tangs are peened over the pommel the traditional way for maximum overall strength. The fit and finish of these swords from Legacy Arms is quite impressive, and would be at twice the price! Made with pride in the Philippines using anvil, fire and good old muscle power.

How to Use
Suitable for backyard cutting and/or as a display piece.
Overall: 40 1/2" Blade Length: 33 1/4" Handle Length: 4 5/8" Weight: 3lbs 2oz Point of Balance: 6 1/2"
Materials and Construction
5160 Spring Steel Hand hammered, tempered and sharpened blade. All fittings hand carved from steel (blackened) and peened the traditional way for maximum handle strength. Leather wrapped wood scabbard w/steel accents
Shipping the newest stock direct from the manufacturers warehouse in Tennesse within 1-2 business days. $15 flat rate USA shipping for up to 2 swords via UPS ground, FREE shipping if 3 or more swords ordered at the same time.
Click here for more shipping information
Warranty Info
Each sword is guaranteed to be as described and 100% genuine product. Each sword is also covered by in full by the Manufacturers Warranty PLUS our extended LIFETIME Warranty against blade breakage.
Click here for detailed warranty information
Return Policy
Satisfaction Guaranteed.
We proudly stand behind every product we sell. If you are not absolutely pleased with your purchase you can return it to us within 30 days of purchase in original condition for your choice of an exchange or refund (excluding shipping fees).
Click here for more info on our guarantees