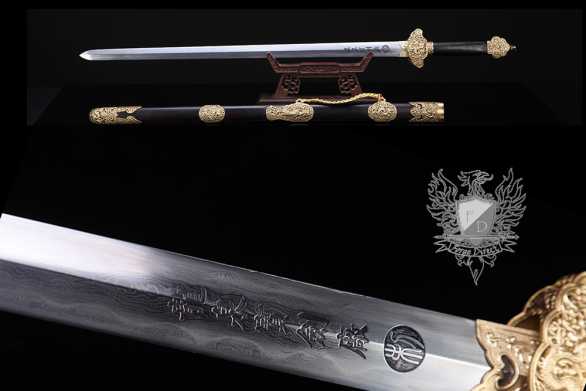 Forge Direct Nine Dragon Jian

Be the first one to write a review
MADE TO ORDER & ON SPECIAL

25% Off Megasale Now On
FREE WORLDWIDE SHIPPING!
Qing Dynasty DanJian (single handed scholar sword, for Taiji and Kung fu) with Dragon themed antique styled finish from the Baojian Forge.
Made to Order, Ships in 4-6 weeks (Baojian Forge is large, so production and shipping is faster than most of our other partners).
$

975.00
$1,300.00
You Save $325.00
A late period Qing Dynasty Sword - the Nine Dragon Sword is a fine example of a high quality Jian typical of the period and commonly used in martial arts such as Tai-Chi and other internal arts that use the sword to focus their internal energy or 'chi'. While each system has an 'ideal' weight and balance point, this sword is graceful - weighing merely 2.3lbs with a point of balance just 3.9" from the guard - and so should suit the vast majority of sword students looking for a practical training sword as well as a work of functional sword art.
Historically, The Qing Dynasty was the final imperial dynasty in China, lasting from 1644 to 1912. It was an era noted for its initial prosperity and tumultuous final years, and for being only the second time that China was not ruled by the Han people (in this case, it was the northern Manchurians who took control of the country, with their shaved heads and distinctive long braided ponytails).
With both edges of the blade differentially hardened - the blade can cut with ease with wide, sweeping arcs that can turn into a deadly piercing thrust in the blink of an eye. To achieve optimum balance, the brass handguard and pommel are hollowed out and much lighter than they appear (for if they were solid, the blade would lose its cutting power and be hard to handle).
There are two versions of this sword - one that has been artificially aged to give it the appearance of an antique and this version, which is how it would have looked new during the actual historical period.
Do not be fooled by cheap and nasty imitations, this sword is the real deal. Almost never seen out of China due to the uncertain market demand and high expense of production. However, with Forge Direct, you have a rare opportunity to order one of your own with FREE worldwide shipping right here at the SBG Sword Store!
OPTIONAL ENGRAVING: Select in the dropdown menu if you wish for the sword to have the makers mark and name of the sword engraved on each side or if you would prefer it unadorned. Please note that swords with the makers mark ship much faster as they are generally available from stock.
ABOUT THE FORGE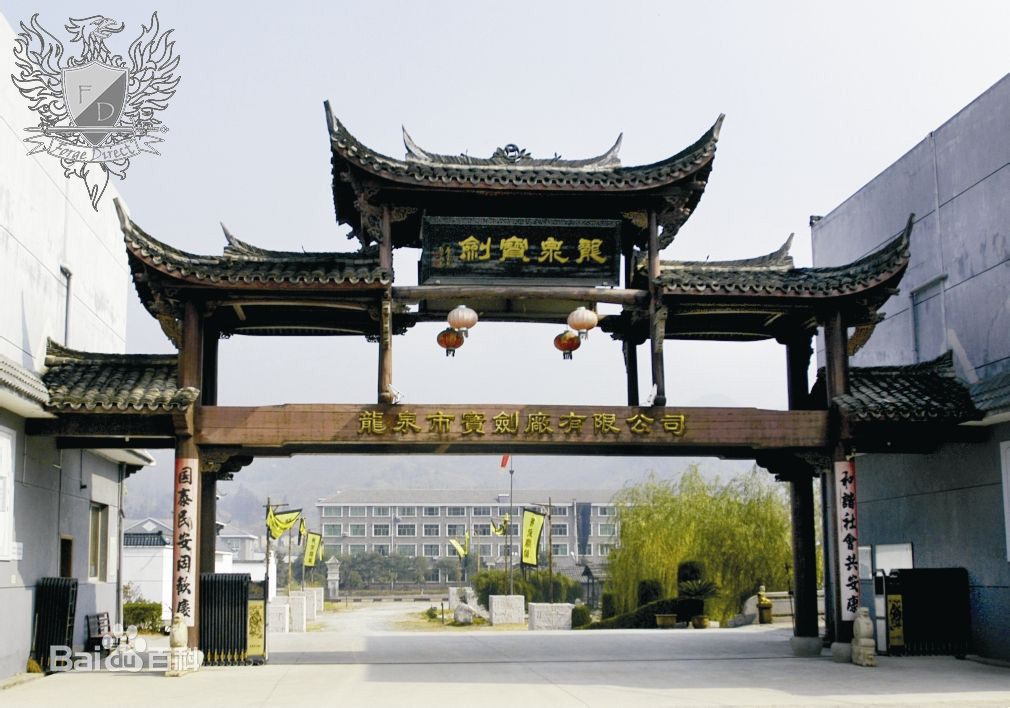 One of the biggest and most famous forged in China dedicated almost exclusively to producing historical, functional replicas of genuine Chinese Swords - the Baojian (precious sword) Forge joined Forge Direct in late November 2019 with many of the more expensive blades being personally forged by the current owner, level 2 ranked Master Smith Zhangshu Ji.
Established in 1956 with over 50 smiths (including several rank 1 Master Smiths) and 200 workers, this forge was selected in 1972 to produce 4 swords that were gifted to President Nixon during his historic visit to China and is renowned throughout the country as one of the best quality suppliers of premium quality traditional Chinese swords and ancient weaponry.
How to Use
Designed for frequent cutting practice and/or display. Heirloom quality.
Overall length: 39.3" (100cm), Blade length: 29.5" (75cm), Blade width: 1.29" (3.3cm), Handle length: 9.8" (25cm), Weight: 2.3lbs (1.05kg), Point of Balance: 3.9" (10cm) from guard
Materials and Construction
Mastersmith Forged, Folded and Differentially Hardened, Sharpened 1095 Carbon Steel blade with art finish polish. Premium black ebony and hand sculpted brass fittings with antiqued style finish.
FREE SHIPPING direct from the forge in Longquan, China via SF Express or UPS, typically within 4-6 weeks (though please allow for unexpected delays)..
Warranty Info
Each sword is guaranteed to be as described and 100% genuine product. Each sword is also covered by in full by the Manufacturers Warranty PLUS our extended LIFETIME Warranty against blade breakage.
Click here for detailed warranty information
Return Policy
Satisfaction Guaranteed.
We proudly stand behind every product we sell. If you are not pleased with your purchase you can return it to us within 30 days of purchase in
original, unused condition
for a full refund minus shipping and 10% restock fee.
Click here for more info on our guarantees