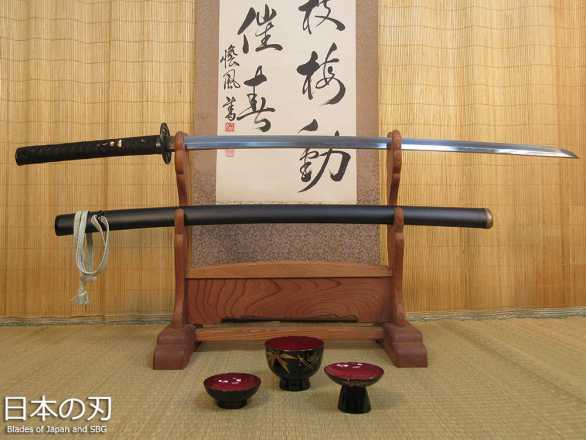 BoJ Katana #003: Antique Kamata Masanori 62064

Be the first one to write a review
SOLD
Genuine Antique 19th century Katana made and signed by the Smith Kamata Masanori during the troubled Bakumatsu period of the late Edo period/early Meiji era. Very lightweight due to frequent polishing. Original fittings partially restored - a practical Nihonto made for a time of conflict and war.
FREE WORLDWIDE SHIPPING: Shipped Directly From Japan and includes all certificates of authenticity.
Made in turbulent late Edo/early Meiji period - this 19th century antique blade's tang is signed by Kamata Masanori with a Sanbonsugi, Togari Gonome Hamon creating a fine hard edge and supple ioiri spine. Partially refurbished and restored, it follows the original designs emphasis on strength and practicality and the 2shaku, 4sun, 5bu (74.2CM or 29.21") nagasa bladed sword is as always available at the fairest, best price we can possibly muster.
Featuring the original blade with fittings that have never been significantly changed or remounted, only refurnished, the tang is an ubu nagako (in it's original position and unchanged) and the copper habaki, seppa and iron tsuba are all in original condition (with an additional seppa added later to secure the assembly over a century after it was made). The Honoki wood tsuka core is also original - as is the full black rayskin wrap, but the hishigami silk ito wrap, war fan brass menuki and iron fuchigashira are all later additions.
The blade has been polished many, many times and is much lighter than when it was first made with an estimated 8.8oz (250 grams) of weight having been polished away in a relatively short period of time. Combined with the era in which it was made, and it is highly probable that this sword was used in at least one of the major battles of the Bakumatsu period, though this is just speculation (the end of the Tokugawa period was marked by many conflicts, wars, rebellions and societal chaos - so any sword made for this period is going to be made relatively quickly and optimized for fighting).
The current polish is a basic low grade finish some leftover rust and stains from use (most probably training on Tatami mats - if it was used in combat, any blood stains it may have once had have long since been polished off).
There are no indications of battle damage, though this does not mean that it was never raised in anger, only that there are no visible marks indicating that it had made contact with another blade or damaging target of any type.
Under normal circumstances a papered antique blade fully mounted in its original fittings like this one would sell for close to $7-8K but due to tough economic conditions negatively effecting antique sword prices in Japan, the heavy discount available to us is passed on to you - allowing you to pick it up for a fraction of its full value.
How to Use
This is a functional antique and you become it's new custodian. While it can certainly still be used for cutting, we recommend it is preserved for future generations and handed down as a family heirloom.
Blade Length (Nagasa): 29.21" (74.2CM), Sori: 0.43" (1.1CM), Motohaba: 1.22" (3.1CM), Sakihaba: 0.86" (2.2CM), Weight (bare blade): 1.19lbs (540g)
Materials and Construction
Antique late Edo period Tamahagane blade made by Kamata Masanori with a Sanbonsugi, Togari Gonome Hamon. Original 19th century fittings including ornate copper habaki, gold (12-14k) wrapped copper seppa, solid iron hand carved and shaped tsuba, original tsuka core with full rayskin wrap. Restored silk ito (hishigami wrap) with new iron fuchigashira and brass war fan tessen menuki. Original honoki wood saya with black ishime style textured finish.
Shipped directly to you by the current owner in Japan. Please note that in rare cases one of the antique blades that we offer may be identified as a national treasure during the export process. In the unlikely event that this happens, we will have no choice but to cancel your order and refund you in full.