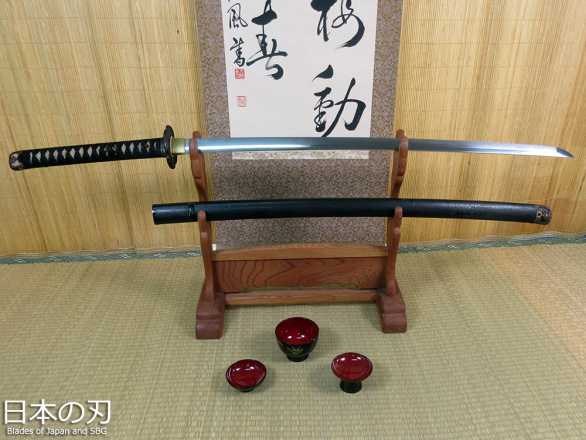 BoJ Katana #004: Antique Echizen Kanetane 085144

Be the first one to write a review
ONLY ONE AVAILABLE
Genuine Antique Japanese made Edo period partially restored Katana made by Echizen Kanetane. Recent restoration work including a Japanese machine polish (normally costing an additional $750).
FREE WORLDWIDE SHIPPING: Shipped Directly From Japan and includes all certificates of authenticity.
Made in the mid Edo period when swords often had ornate, copper fittings and were as much a status symbol as a fighting mans blade, this splendid example of a typical Samurai Sword from the era was made and signed on the tang by the Smith Echizen Kanetane of modern day Fukuoka prefecture.
The blade is quite long at 2 shaku, 5sun, 5bu (77.2CM or 30.39") and is very suitable for taller practioners of the Japanese Sword Arts wishing to take their training to the next level with a genuine antique fully mounted Katana. The fittings are original, with gold (12-14k) wrapped copper base seppa, the original brass habaki (including a slight cosmetic crack), original honoki wood tsuka (also cosmetically damaged from time and use) wrapped in the original full rayskin jacket with prominent emperor nodes.
It has, however, been partially restored - most notably the blade, which has had a 600grit Japanese machine polish valued at $750. But the handle has also been re-wrapped in silk using traditional wrapping methods and some additional new seppa have been added to reinforce the fit after over 200 years of use and training - but it remains in ubu nagako condition (has not had additional holes drilled nor modified in any major way).
FREE MACHINE POLISH VALUED AT $750 ALREADY INCLUDED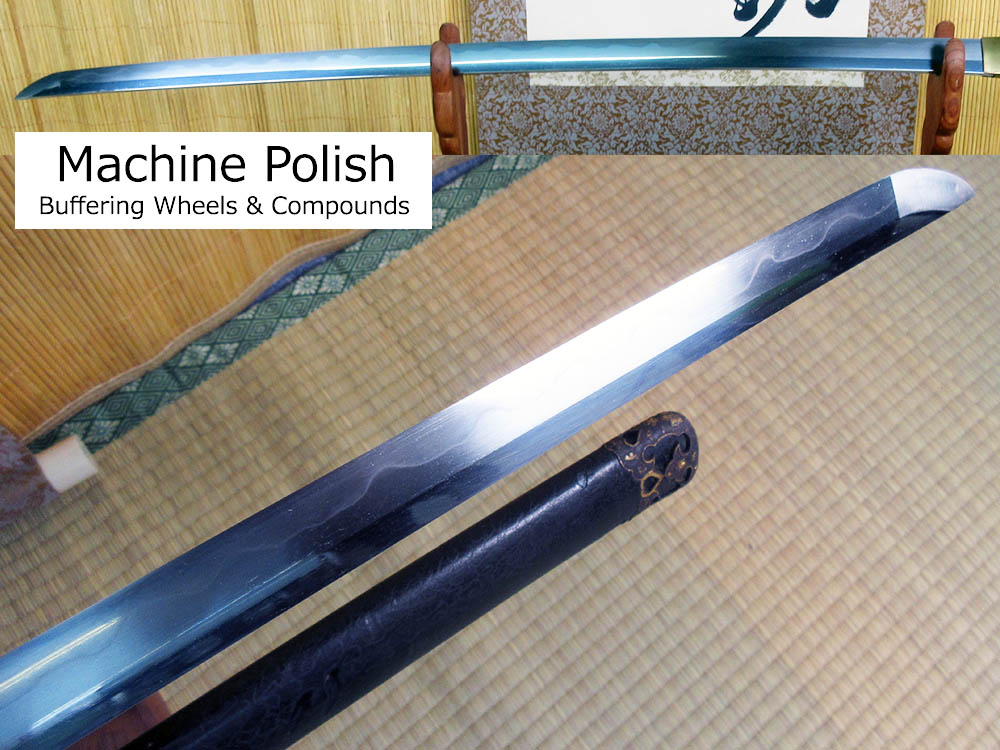 (The picture we use for an example of this polish is from THIS very sword!)
While not necessary for this sword, a hybrid machine and hand polish service is available for an additional fee and will take up to 6 months to be completed, but will show both the hamon and the hada more clearly and refine the blades surface to reveal more of the detail than the current 'Tameshigiri' polish. Much better for this partiucalr piece - other than accepting it as is - is to have it sent away to a professional Togishi (Japanese Sword Polisher). This is the premium option, using Japanese finger stones to delineate and further enhance the beauty of the hada and the hamon. Price is per inch and may take up to 1 year to complete - select this option after you have contacted us to receive a quote.
Additionally, instead of using our in-house service, you can have the sword restored in the USA using the services of a professional such as the Fred Lohman Company (Japanese-Swords.com) - they have various restoration packages available starting at just $995 - click here for more information on this service.
The saya has what appears to be some kind of battle damage from three strikes to the saya, most likely when the sword was still inside. The incident that provoked this damage and the story behind it, however, has been lost in the mists of time but was most likely the prelude to a violent armed confrontation, though the blade itself has no chips, cuts or scratches previous to the restoration polish the blade had several rust spots from an unknown source. One can only speculate, but it would appear that whichever Samurai or Ronin was attempting to start a fight by rapidly and repeatedly striking at the sheathed blade with his own may well have gotten more than he bargained for.. (this is of course, pure speculation and does not effect the price or value in any way).
This blade comes with no additional information or certification other than the official registration card (Juho-token-tui-torokusho) issued by the board of education. By Japanese law, this registration paper must accompany the sword at all times unless it is shipped outside of Japan, whereupon it serves as a certificate of authenticity (as only traditionally made blades using Tamahagane can be registered - for more information on the process involved click here).
Under normal circumstances blade mounted in its original fittings like this one would sell for close to $10,000 but due to tough economic conditions effecting antique prices in Japan, the heavy discount available to us is passed on to you allowing you to pick it up for a fraction of its full value (nearly half price).
Official NHBKT (Nihon Bijutsu Token Hozon Kyokai) papers are not included, but are available for an optional $1000 if so desired and will add up to 3 months to one year to the delivery time. It is a process not to be taken lightly, but may (or may not) significantly increase the value of the sword in question.
In rare cases during the export process a given blade may be identified as a priceless national treasure. In the unlikely event that this occurs, we will cancel and refund your order in full. Thank you for your understanding.
How to Use
This is a functional antique and you become it's new custodian. While it can certainly still be used for cutting, we recommend it is preserved for future generations and handed down as a family heirloom.
Blade Length (Nagasa): 30.4" (77.2CM), Sori: 0.35" (0.9CM), Motohaba: 1.22" (3.1CM), Sakihaba: 0.78" (2CM), Weight (bare blade): 1.76lbs (800g)
Materials and Construction
Antique Tamahagane blade and fittings dating from the mid Ero period, made and signed on the tang by the Smith Kanetane from Echizen, Fukuoka Prefecture. Upgraded with Japanese machine polish (600grit polish valued at $850 due to the longer blade). Original copper base wrapped in gold (12-14K) seppa. Unique Tachi style copper kashira with full rayskin wrap and prominent large emperor nodes rewrapped in Japanese black silk. Brass, slightly cracked habaki - slightly cracked honoki wood original wood core handle (cosmetic damage only). Original honoki wood saya with some battle damage.
FREE WORLDWIDE SHIPPING. Shipped directly to you by the current owner in Japan. Please note that in rare cases one of the antique blades that we offer may be identified as a national treasure during the export process. In the unlikely event that this happens, we will have no choice but to cancel your order and refund you in full.