Forge Direct Warring States Brass Dragon Han Sword

Be the first one to write a review
MADE TO ORDER & ON SPECIAL

25% off Autumn Megasale, October 1-14
FREE WORLDWIDE SHIPPING!
Clean lines of the blade and hand made brass fittings results in a simple yet brutally effective fighting mans sword from the warring states period. Stunning folded 1095 carbon steel Master Smith crafted Jian by the artisans at the Baojian Forge.
Made to Order, Ships in 4-6 weeks (Baojian Forge is large, so production and shipping is faster than most of our other partners).
$

877.50
$1,170.00
You Save $292.50
The Warring States period (475–221 BC) was a time of great turmoil and rapid advancement in military technology for the Chinese and there can be little debate that towards its end, Chinese Swords made 2200 years ago were far ahead of their time and arguably the most advanced swords of the era. Having discovered the secrets of steel by the 3rd century BC, the later period Warring States swords were typically big two handed war swords - and of these - it was said that those of the Han, who would soon after unification go on to rule China for over 400 years and establish a golden age of peace, were the best weapons. Indeed, they are mentioned in the ancient book 'Strategies of the Warring States' (the Zhan Guo Ce) as the "capable of cleaving through the strongest armor, shields, leather boots and helmets" - and this replica is a fitting tribute to the blades of this era.
Stripped of all ornamentation, this is clearly a fighting mans sword - with the emphasis on simple, clean lines and the strength and cutting power of the steel blade. As a fully functional replica, this blade is a powerful cutter with an armor piercing tip - but weighing in at 2.93lbs with a point of balance 4.72" from the guard, is both fast and agile when wielded with two hands, yet light enough to gain extra reach with a single handed swipe of the 27.5" blade.
With a stunning Damascus pattern playing on the steel and strong hexagonal cross section geometry, it is complimented by austere hand made solid brass fittings over a core of black ebony - the only ornamentation, a few black Chinese characters engraved on each side of the blade and on the scabbard suspension system.
Do not be fooled by cheap and nasty imitations, this sword is the real deal. Almost never seen out of China due to the uncertain market demand and high expense of production. However, with Forge Direct, you have a rare opportunity to order one of your own with FREE worldwide shipping right here at the SBG Sword Store!
ABOUT THE FORGE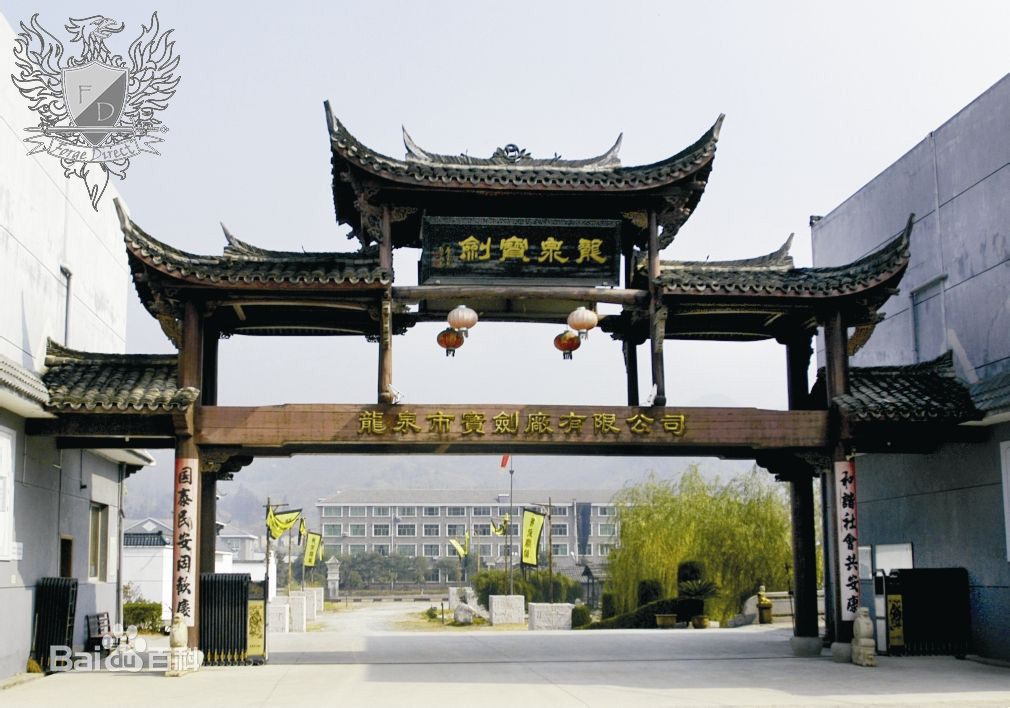 One of the biggest and most famous forged in China dedicated almost exclusively to producing historical, functional replicas of genuine Chinese Swords - the Baojian (precious sword) Forge joined Forge Direct in late November 2019 with many of the more expensive blades being personally forged by the current owner, level 2 ranked Master Smith Zhangshu Ji.
Established in 1956 with over 50 smiths (including several rank 1 Master Smiths) and 200 workers, this forge was selected in 1972 to produce 4 swords that were gifted to President Nixon during his historic visit to China and is renowned throughout the country as one of the best quality suppliers of premium quality traditional Chinese swords and ancient weaponry.
How to Use
Designed for frequent cutting practice and/or display. Heirloom quality.
Blade length: 27.5" (70CM), Blade Width: 1.6" (4.2CM), Hilt (guard and handle, excluding pommel): 8.66" (22CM), Weight without sheath: 2.93lbs (1.3KG), Point of Balance from Guard: 4.72" (12CM)
Materials and Construction
Mastersmith Forged, Folded and Sharpened 1095 Carbon Steel blade with art finish polish. Premium black ebony with hand made solid brass fittings.
FREE SHIPPING direct from the forge in Longquan, China via SF Express or UPS, typically within 4-6 weeks (though please allow for unexpected delays)..
Warranty Info
Each sword is guaranteed to be as described and 100% genuine product. Each sword is also covered by in full by the Manufacturers Warranty PLUS our extended LIFETIME Warranty against blade breakage.
Click here for detailed warranty information
Return Policy
Satisfaction Guaranteed.
We proudly stand behind every product we sell. If you are not pleased with your purchase you can return it to us within 30 days of purchase in
original, unused condition
for a full refund minus shipping and 10% restock fee.
Click here for more info on our guarantees