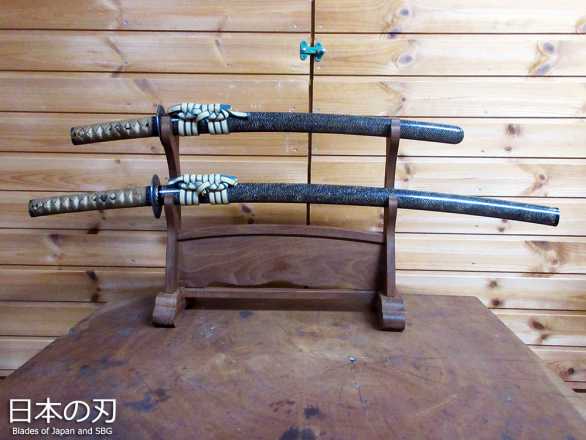 BoJ Daisho Set #001: Antique Mid Edo Period Katana and Wakizashi 33041/3040

Be the first one to write a review
ONLY ONE SET AVAILABLE
Genuine Antique Mid Edo Period Samurai Daisho Set. Both Swords with official certification - the Katana was made by one of the Togugawa Shoguns own smiths, the Wakizashi at the same time by a Seki-city based artisan with complete and original Koshirae (sword fittings). A rare opportunity to own a genuine matching Samurai Daisho set in almost complete and original condition.
FREE WORLDWIDE SHIPPING: Shipped Directly From Japan and includes all certificates of authenticity. Cannot be sold separately.
Rarely is a single sword found with all components intact and in original condition. Even rarer still, a complete matching Daisho set with fittings and blade so well cared for it is at hard times to believe that this authentic Samurai Sword set was made around 200 years ago..
But this set comes with the paperwork to prove it - the Katana proudly made by Yasutsugu, a smith in direct service to none other than Togugawa Ieyasu, from whom the smith was permitted to take part of his name. And the Wakizashi, first certified in 1955 as made around the same time as the Katana, but by the mid Edo period local Seki city sword smith, Kanesu.
Now two centuries later, the blades and the fittings are ready to find a new home on the other side of the world..
The fittings are almost entirely complete and original, with highly detailed hand made copper base seppa wrapped with a (12-14K) gold jacket, beautifully weathered full rayskin wrap with prominent emperor nodes, original rayskin wrap of the entire length of the honoki wood saya, stunning pure silver habaki, even a complete Kozuka knife that fits into the side of the Wakizashi - only the sageo (cord used to tie the saya to the obi belt) is a new addition (yes - the silk ito wrap is 200 years old as well!).
Two complete sets of Edo period fittings - two masterfully made Shirasaya mountings (white saya, in other words plain wooden temporary housing for storage and shipping) and even two fine inserts made from Honoki wood called 'tsunagi' designed to allow the fittings to be displayed while the treasured blades are safely stored elsewhere.
Speaking of the blades, the blade of the Katana is stated as having its blade proudly made by 'nanban' steel (imported European steel) - which was prized for its strength and purity compared to local Japanese sand iron steel. It has held up very well over two centuries and is in its original polish condition with a prominent suguha hamon, a few spots here and there where the hada has been polished a little excessively and some minor patina here and there, but otherwise is in exceptional condition for its age.
The Wakizashi, by which time one may speculate that having spent a small fortune commissioning a blade by one of the Tokugawa Shogun's favorite smiths and decking it out in lavish fittings, his commissioning of the Wakizashi was a little more humble, hiring a local Seki city smith of good reputation to make a companion sword that was at least worthy of the Shogun Smiths Katana..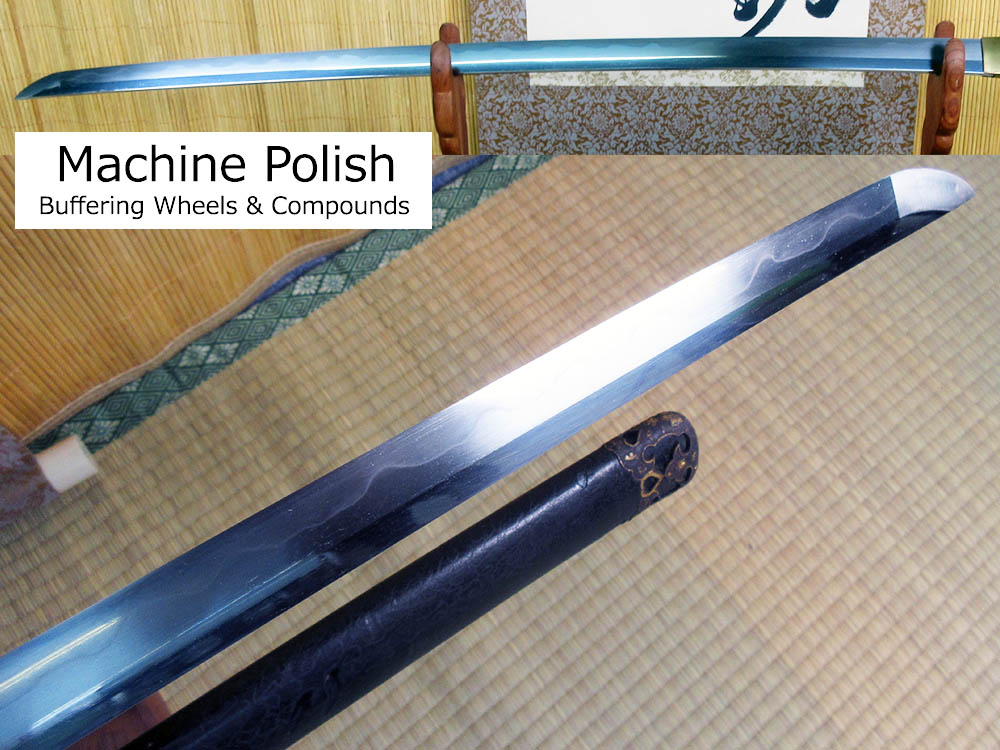 POLISHING OPTIONS
Neither of these blades are in urgent need of a new polish - both will be given a complete wipe down and cleaning with uchiko and choji oil before shipping. However, for those of you who wish to have it further polished, there are several available options. Select which one you would like via the dropdown menu (or leave it on default for the blade in its current state).
The most affordable - if non traditional - method is to have the blade sent away to be polished using a buffer wheel with a variety of polishing compounds (machine polish). This will bring out the detail of the hamon and clear away any and all rust, surface scratches and patina - costing a flat rate of $650 and taking approximately one month to complete (adding to the processing time accordingly). For an example of what level of polish this will restore the blade to, see an blade that has already been polished to this level here. WE DO NOT RECOMMEND THIS POLISH FOR THESE BLADES.
The second level of polish is a hybrid machine/hand polish. In addition to the basic machine polish, the hamon is hand polished to further bring out its details and to smooth the surface of the ji to reveal the hada beneath. Still not as desirable as a full hand polish restoration, it is a better option than the basic machine polish, though costs a flat rate of $1,250 and adds up to 6 months to the processing time.
The third option is to have the sword sent away to a professional Togishi (Japanese Sword Polisher). This is the premium option, using Japanese finger stones to delineate and further enhance the beauty of the hada and the hamon. Price is per inch and may take up to 1 year to complete - select this option after you have contacted us to receive a quote.
Additionally, instead of using our in-house service, you can have the sword restored in the USA using the services of a professional such as the Fred Lohman Company (Japanese-Swords.com) - they have various restoration packages available starting at just $995 - click here for more information on this service.
---
There are no indications of battle damage, though this does not mean these blades were never raised in anger, only that there are no visible marks indicating that they had made contact with other blades or damaging targets of any type.
This Daisho set can only be purchased complete, the parts and swords should stay together to preserve what is a rare complete Samurai's Daisho set.
Both blades come with an official registration card (Juho-token-tui-torokusho) issued by the board of education and Tokubetsu Kicho certification.
The normal price for a papered a set of this kind of quality in both blade and fittings is usually between $35-38K - but due to the poor condition of the domestic Japanese sword market, our contacts were able to secure it at a heavy discount, passing on the savings to you and only marking it up enough to cover our risk and expenses.
While both swords come with Tokubetsu Kicho paperwork, this older system is not as trusted or as foolproof as having it examined and certified by the NHBKT (Nihon Bijutsu Token Hozon Kyokai). While NHBTK papers are not included, they are available for an optional $2000 ($1000 each) if so desired and will add up to 3 months to one year to the delivery time. It is a process not to be taken lightly, but may (or may not) significantly increase the value of the sword in question.
In rare cases during the export process a given blade may be identified as a priceless national treasure. In the unlikely event that this occurs, we will cancel and refund your order in full. Thank you for your understanding.
How to Use
These are functional antiques and you become their new custodian. While they can certainly still be used for cutting, we recommend these blades are preserved for future generations and handed down as a family heirloom.
KATANA - Blade Length (Nagasa): 27.5" (69.6CM), Sori: 0.7" (1.8CM), Motohaba: 1.25" (3.2CM), Sakihaba: (0.98") 2.5CM, Weight (bare blade): 1.6lbs (730g) WAKIZASHI - Blade Length (Nagasa): 19.5" (49.7CM), Sori: 0.39" (1.0CM), Motohaba: 1.1" (2.8CM), Sakihaba: 0.8" (2CM), Weight: 0.74lbs (340g)
Materials and Construction
A set of two antique blades and original fittings dating from the mid Edo period. The Katana was made and signed on the tang by the Shoguns Smith Yasutsugu from high quality imported 'Nanban' steel. The Wakizashi, made in Seki by Kanesu from Tamahagane. Original copper base wrapped in gold (12-14K) seppa. Silk wrapped ito (original) over a full rayskin wrap with prominent large emperor nodes. Solid Silver Habaki. Stunning Honoki Wood Saya set, both wrapped the full length with rayskin. Only non-original modification is new (premium grade) sageo - otherwise everything else is 100% original. Blades come in high quality Honoki wood Shirasaya, fittings assembled on a tsunagi (light wood sword base).
FREE WORLDWIDE SHIPPING. Shipped directly to you by the current owner in Japan. Please note that in rare cases one of the antique blades that we offer may be identified as a national treasure during the export process. In the unlikely event that this happens, we will have no choice but to cancel your order and refund you in full.