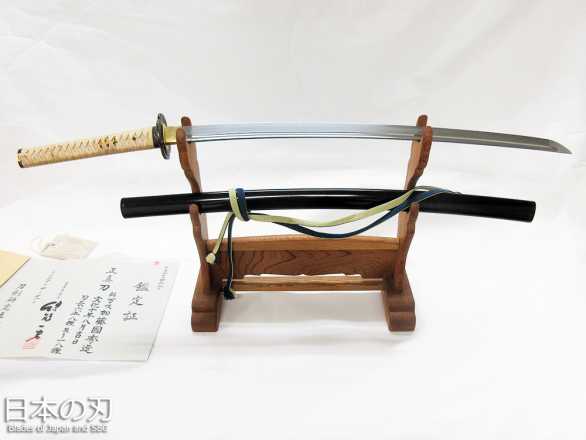 BoJ Katana #001: Antique Banzai Kato Kunihide 32193

Be the first one to write a review
ONLY ONE AVAILABLE
Genuine Antique 19th century Katana made and signed by the Smith Kato Kunihide. Original fittings partially restored - exceptional overall condition.
FREE WORLDWIDE SHIPPING: Shipped Directly From Japan and includes all certificates of authenticity.
With both the date (a day in August 1813) and the name of the smith (Kato Kunihide) engraved on the tang for prosperity, this sword was verified by the Token Kenkyu Rengokai (Japanese Sword Research Alliance) and includes the original 'Origami' Tokubetsu Kicho (Certification Papers #02004012) as well as the 'Juho Token Tui Torokosho' Police License # 32193.
The majority of the components, such as the tsuba, gold wrapped seppa and habaki are original while the silk ito wrap over the original full rayskin wrap handle and the fuchigashira were replaced in the last 40 years or so - but the sword itself is still very close to its original appearance.
The blade has a bo-hi (fuller) starting just above the tsuba and terminating close to the kissaki tip and is a standard Shinogi Zukuri geometry with chu-kissaki. While quite clear, there is a little black patina on the spine of the sword that would require a new polish to remove.
---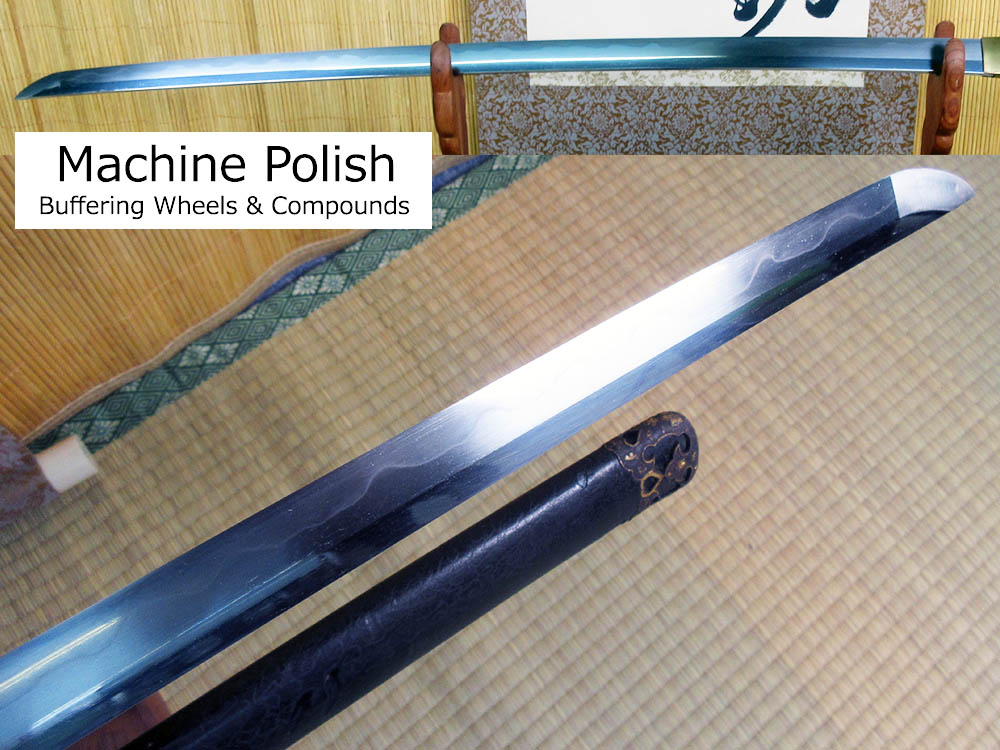 POLISHING OPTIONS
There is little rust or deep scrathing to this blade so it is not really neccessary to have it polished any further. However, if so desired, there are three levels of polishing available. Select which one you would like via the dropdown menu (or leave it on default for the blade in its current state).
The most affordable - if non traditional - method is to have the blade sent away to be polished using a buffer wheel with a variety of polishing compounds (machine polish). This will bring out the detail of the hamon and clear away any and all rust, surface scratches and patina - costing a flat rate of $650 and taking approximately one month to complete (adding to the processing time accordingly). For an example of what level of polish this will restore the blade to, see an blade that has already been polished to this level here.
The second level of polish is a hybrid machine/hand polish. In addition to the basic machine polish, the hamon is hand polished to further bring out its details and to smooth the surface of the ji to reveal the hada beneath. Still not as desirable as a full hand polish restoration, it is a better option than the basic machine polish, though costs a flat rate of $1,250 and adds up to 6 months to the processing time.
The third option is to have the sword sent away to a professional Togishi (Japanese Sword Polisher). This is the premium option, using Japanese finger stones to delineate and further enhance the beauty of the hada and the hamon. Price is per inch and may take up to 1 year to complete - select this option after you have contacted us to receive a quote.
Additionally, instead of using our in-house service, you can have the sword restored in the USA using the services of a professional such as the Fred Lohman Company (Japanese-Swords.com) - they have various restoration packages available starting at just $995 - click here for more information on this service.
---
There are no indications of battle damage, though this does not mean that it was never raised in anger, only that there are no visible marks indicating that it had made contact with another blade or damaging target of any type.
While this sword comes with Tokubetsu Kicho paperwork, this older system is not as trusted or as foolproof as having it re-evaluated and certified with the current modern certification system by the NHBKT (Nihon Bijutsu Token Hozon Kyokai). While newer NHBTK papers are not included, they are available for an optional $1000 if so desired and will add up to 3 months to one year to the delivery time. It is a process not to be taken lightly, but may (or may not) significantly increase the value of the sword in question.
In rare cases during the export process a given blade may be identified as a priceless national treasure. In the unlikely event that this occurs, we will cancel and refund your order in full. Thank you for your understanding.
How to Use
This is a functional antique and you become it's new custodian. While it can certainly still be used for cutting, we recommend it is preserved for future generations and handed down as a family heirloom.
Blade Length (Nagasa): 25.8" (65.7CM), Sori: 0.62" (1.6CM), Motohaba: 0CM, Sakihaba: 0CM, Weight (bare blade): 1.32lbs (600g)
Materials and Construction
Antique late Edo period (made 1813) Tamahagane blade by Kato Kunihide. Original 19th century habaki, gold (12-14k) wrapped copper seppa and tsuba - recently (in the past 40 years) refitted with new Fuchigashira, silk wrap over the original full rayskin wrap with prominent emperor nodes. Original Honoki wood saya with glossy black finish and buffalo horn components.
Shipped directly to you by the current owner in Japan. Please note that in rare cases one of the antique blades that we offer may be identified as a national treasure during the export process. In the unlikely event that this happens, we will have no choice but to cancel your order and refund you in full.