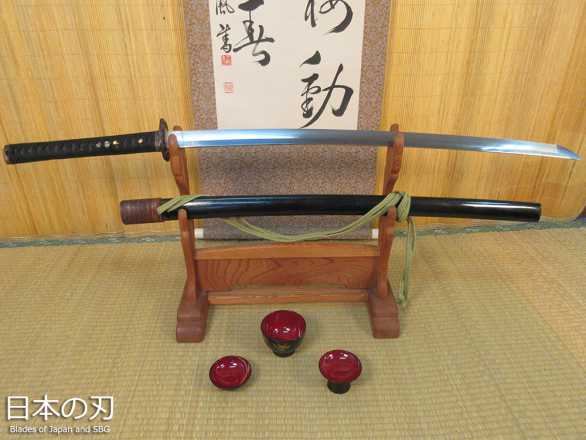 BoJ Katana #005: Gendaito by Shohei 68660

Be the first one to write a review
SOLD
Gendaito (recently made) Nihonto by Shohei of Mino Kojuku. Made in 1994 and being sold off at a previously impossible price. Almost as new condition - normally would cost over $10K to commission it from new.
FREE WORLDWIDE SHIPPING: Shipped Directly From Japan and includes all relevant certificates of authenticity.
Made from Tamahagane steel in 1994 "on a good day in spring" (as written on the tang '6th year of the Hesei era on a lucky day in Spring') this Gendaito (modern era sword) is being offered to one lucky person at less than half the usual asking price..
Lovingly hand crafted by the late Mino Kojuku (Gifu prefecture) smith known simply as Shohei for iai and tameshigiri practice, this practical Shinken is ready to go out of the box - fully mounted in all black fittings, Japanese cotton over a full black rayskin wrap, black glossy saya with rattan, silk sageo, solid silver habaki - you name it, it has it, and simply drips and oozes class and refinement.
It is very rare that you could even pick up a bare blade in Shirasaya for this price, never mind a sword that has been fully mounted up in new custom made Koshirae. To commission such a sword now would easily cost $10,000+ (usually a Gendaito is more expensive to commission than buying a comparable antique) - but such is the state of the Japanese economy that it is a buyers market, and this sword is now available for pennies on the dollar of what it's real value is.
Only a standard Juho-token-tui-torokosho is included with this sword as it is not an antique and the smith who made it is only relatively recently deceased. Truly amazing value for money - a recently made premium quality Japanese Shinken at a lower price than most antiques - this one is certain to be snapped up fast..!
How to Use
This is a recently made, genuine Japanese Nihonto and you become it's new custodian.
Blade Length (Nagasa): 29" (73.6CM), Sori: 0.6" (1.5CM), Motohaba: 2.25" (3.2CM), Sakihaba: 1" (2.5CM), Weight: 1.76lbs (800g)
Materials and Construction
Genuine Japanese Tamahagane blade made in 1994 (Length: 2 shaku, 2 sun). Mounted in custom made Koshirae including black cotton ito over a full black rayskin wrap. Iron tsuba with copper Fuchigashira set. Brass menuki, solid silver habaki. Glossy black saya with rattan wrap and green silk sageo.
FREE WORLDWIDE SHIPPING. Shipped directly to you by the current owner in Japan.