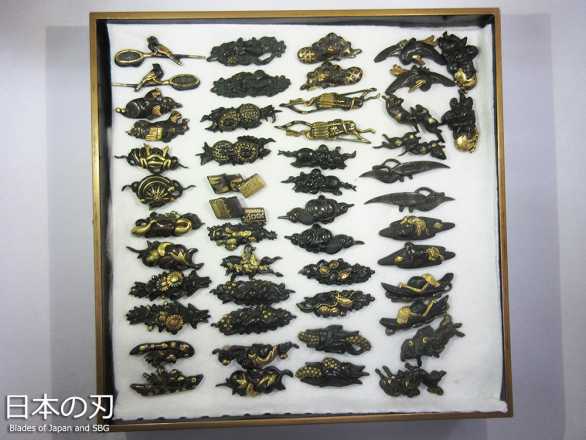 BoJ Menuki Collection #001: 25pcs Antique Edo Period

Be the first one to write a review
ONLY ONE AVAILABLE
Genuine Antique 25pc mid Edo period hand made (not cast) copper menuki collection. Each pair is valued at $530.67 for a total value of $13,266.00 but you can get the entire lot for half price plus an authentic Edo period Urushi lacquered display box.
FREE WORLDWIDE SHIPPING: Shipped Directly From Japan and includes all certificates of authenticity.
A large collection of 25 pairs of hand made (not cast or copied, these are 100% original) handle ornaments known as menuki - these small decorative items sit under the ito wrap of a Katana or Wakizashi's handle and help to tighten the ito wrap as well as mark the hand position relative to the handle without referring to it visually.
Each one of these menuki is a one off original - and being hand made rather than cast - each one is totally unique.
Our best price to sell each menuki individually would be $530 per pair, making this entire collection worth nearly $14,000. But for one lucky collector or investor, it is possible to pick up the entire collection at half price - plus you also receive a free Urushi lacquer Edo period display box.
How to Use
This is a functional antique and you become it's new custodian. While it can certainly still be used for cutting, we recommend it is preserved for future generations and handed down as a family heirloom.
Hand made (not cast) antique Edo period menuki collection.
Shipped directly to you by the current owner in Japan. Please note that in rare cases one of the antique blades that we offer may be identified as a national treasure during the export process. In the unlikely event that this happens, we will have no choice but to cancel your order and refund you in full.