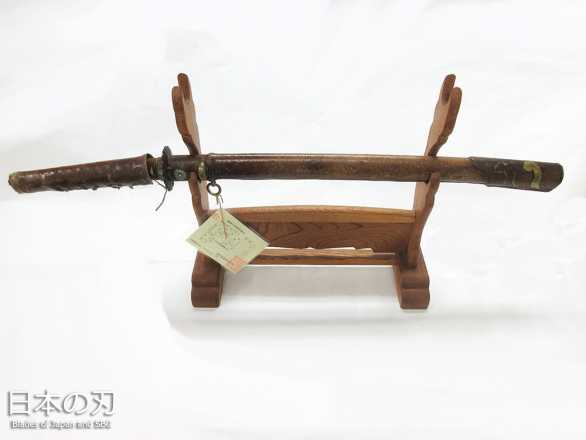 BoJ Gunto #001: Antique Shin-Gunto O-Wakizashi 83747

Be the first one to write a review
SOLD
A unique and very affordable late Edo/early Meiji period O-Wakizashi blade with O-Kissaki mounted in Type 98 Gunto Fittings for WWII. Available at what is truly a bargain price.
FREE WORLDWIDE SHIPPING: Shipped Directly From Japan and includes all certificates of authenticity.
There were essentially two types of swords used by Japanese officers during World War II - mass produced machine made blades and older blades mounted in Shin Gunto style fittings. This sword is one of the treasured latter - the original blade that of a long O-Wakizashi with extra long tip (O-Kissaki).
Mounted up in Type 98 fittings, and covered with a leather combat sheathe to protect the hilt against rain and the elements - this is one classy looking piece, unrestored and in original condition.
The blade itself is signed on the tang by Yamato Daijo, Fujiwara Ujistugu, and was made sometime within the end of the Edo period and the start of the Meiji (19th century) - which was a turbulent and troubled time for Japan as it suddenly found itself thrust headlong into the modern period.
One of those swords that evaded capture and returned safely to Japan, it was kept hidden away by its original owner until he passed away, whereupon his secret sword was re-discovered when settling the man's estate.
The blade has a basic low grade polish and some leftover rust and stains of unknown origin.
There are no indications of battle damage, though this does not mean that it was never raised in anger, only that there are no visible marks indicating that it had made contact with another blade or damaging target of any type.
This blade comes with no additional information or certification other than the official registration card (Juho-token-tui-torokusho) issued by the board of education. By Japanese law, this registration paper must accompany the sword at all times unless it is shipped outside of Japan, whereupon it serves as a certificate of authenticity (as only traditionally made blades using Tamahagane can be registered - for more information on the process involved click here).
How to Use
This is a functional antique and you become it's new custodian. While it can certainly still be used for cutting, we recommend it is preserved for future generations and handed down as a family heirloom.
Blade Length (Nagasa): 55.1CM, Sori: 0.6CM, Motohaba: 1.29" (3.3CM), Sakihaba: 1" (2.6CM), Weight: 1.32lbs (600g)
Materials and Construction
Antique late Edo period Tamahagane blade made by Fujiwara Ujitsugu and mounted in Shin Gunto fittings. All original fittings with leather combat sheathe, cotton ito over full rayskin wrap. Iron tsuba with chrysanthemum theme. Lockable wooden scabbard with leather cover. Unique two piece habaki.
Shipped directly to you by the current owner in Japan. Please note that in rare cases one of the antique blades that we offer may be identified as a national treasure during the export process. In the unlikely event that this happens, we will have no choice but to cancel your order and refund you in full.