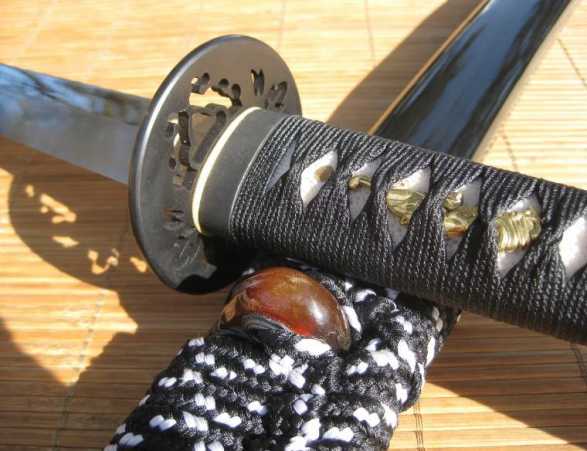 Ronin Dojo Pro Katana # 4
(3)
IN STOCK
Standard Dotanuki Blade
Model 004 of the Dojo Pro series is the 'Satori' - the Japanese word for enlightenment - called so because of the Lotus flower themed tsuba – an exact copy of an actual edo era antique and tribute to Zen Buddhisms impact on the way of the Warrior (Bushido).

Like all the fittings of these swords, the tsuba is solid iron – but so is the fuchi (band at the top of the handle) AND the kashira (end cap) – all acting in harmony to strongly reinforce the structural integrity of the entire handle in a way that is almost never seen on other swords under the $500 price point (never mind on swords under $300!).

The tsuka/handle assembly itself is exceptionally tight and well put together, double pegged with black silk ito wrapped over REAL rayskin, wrapped in the traditional alternating style to ensure it does not loosen with useage, and tightly bound to a quality wooden core.

Furthermore, the handle is also properly ergonomically 'shaped' to follow the curve of the blade AND fit comfortably into the hand, creating a safe and firm grip - another rarity at this price point.
As you can see from the picture, these swords feature high end brass seppa (spacers), hard wearing synthetic black and white interlaced sageo to tie the saya to your belt.
The saya (sheath) itself thick and made from quality wood, after all you don't put hand cut and polished buffalo horn Kurikata, Koguchi and Kojiri detailed in a rich chocolate brown that illuminates red in direct sunlight.

The strength of the fittings ALONE are head and shoulders above any other sword maker anywhere near this price point, but the 28" blade takes it to a whole new level again..
These 1060, through tempered, no-nonsense monosteel blades are exceptionally HONEST and RELIABLE.

Hand forged and solidly built, there is not a trace of pretentiousness about them – no fake hamon, no bo-hi and no BS.

They are quite simply just extremely practical, utilitarian blades made according to the Dotanuki forging tradition – a school of sword making that made simple 'maru' lamination blades with a reputation for being plain, practical and to the point (speaking of which, the kissaki tip of the blade is reinforced with a diamond shape for added durability and transitioned much nicer than most other hand made monotempered blades at this price point).

Weighing 2.6lbs with a point of balance 5" from the tsuba these swords are designed for the CUT, not fluffing around with. In short they are serious blades with serious fittings designed as SERIOUS dojo workhorses..!

Click here for a hands on review of the Dojo Pro Katana, models 2 and 5
How to Use
Designed for heavy cutting practice and frequent dojo use.
Nagasa: 27 inches from habaki, 28 from Munemachi (most blades measured from Munemachi) Weight: 2.67 lbs Tsuka: 11 inches Point of Balance: 5 inches from tsuba Motohaba: 1.2 inches Sakihaba: 1 inch Motokasane: @ 7mm Sakikasane: @5.5mm
Materials and Construction
Thick, expertly tempered, hand forged and sharpened Monotempered 1060 carbon steel blade. All IRON Tsuba, Fuchi and Kashira. Genuine Silk Ito Wrap, Real Rayskin and Brass Menuki handle ornament. Double pegged mekugi. Hand cut and polished buffalo horn Kurikata, Koguchi and Kojiri on Saya with high quality synthetic sageo.
Shipping from the Ronin Katana Warehouse in Texas within 1-2 business days. $20 flat rate USA shipping for up to 2 swords via USPS, FREE shipping if 3 or more swords ordered at the same time. International shipping currently unavailable Sorry, US orders only (
click here
for the workaround).
Click here for more shipping information
Warranty Info
Each sword is guaranteed to be as described and 100% genuine product. Each sword is also covered by in full by the Manufacturers Warranty PLUS our extended LIFETIME Warranty against blade breakage.
Click here for detailed warranty information
Return Policy
Satisfaction Guaranteed.
We proudly stand behind every product we sell. If you are not pleased with your purchase you can return it to us within 30 days of purchase in
original, unused condition
for a full refund minus shipping and 10% restock fee.
Click here for more info on our guarantees
Featured positive reviews:
Expected a better finish than received
04/09/2014
Commenting on it purely as a display piece.

The blade itself came in already scuffed up. All along the spine there are scratches in spots up and down the blade. At the tip, the kissaki, is actually marred by a very noticeable burr on one side of the bevel. The polish is very rough and noticeably uneven 1/3 up the blade. The finish is just disappointing.

I had expected a razor sharp blade but the edge is sharp enough i guess. This being my first practical cutting sword I know not what to actually expect.

On the upside, all the fittings are very tight, the grip is wonderfully wrapped.

Scabbard/Saya interior is extremely waxy, to the point where no matter how carefully you put the freshly cleaned and oiled sword back into it, when it is drawn, it will always have chunks of wax residue all along the blade. However, this was mentioned in the review of the blade. So it was to be expected.

Externally the saya is very good looking and had no visible blemishes of any kind. Which is fantastic if the sword serves mainly as a display piece.

Have not had the chance to cut with it so i cannot comment of edge retention or functionality. It feel good in the hand.

Overall I believe my expectation were set too high, maybe what I wanted only exist with the blades $800 and up. Its a good looking display piece.