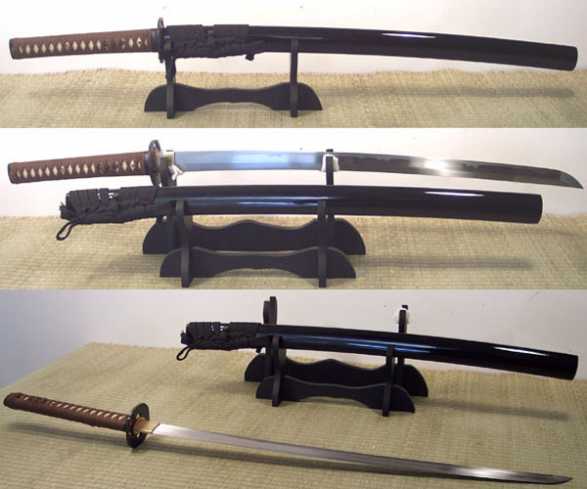 Cheness SGC Yamakami 9260 Spring Steel Katana
(2)
DISCONTINUED
SOLD OUT & UNAVAILABLE
Specialized Goza (Tatami Mat) Cutter with Extra Wide Blade. A Beast of a Sword.
The heaviest and downright meanest cutters in the Cheness Cutlery range – the SGC (Specialized Goza Cutters) are designed specifically for cutting extra thick rolls of Tatami Omote (Goza), but also does extremely well against Bamboo (and practically anything else you want to put in front of them!).

Forged from through hardened 9260 Spring Steel, the lateral strength of these massive blades is just as strong (if not stronger) than a normal 9260 Spring Steel Katana due to the additional material in the blades height.

Surprisingly light (2lbs 15oz) and with excellent handling for a sword of this breadth (with a point of balance still fixed at 6" from the tsuba) the most common impression when picking this sword and looking at the extra broad blade is 'what a beast!'.

Perfect for the dojo, and a backyard cutters dream...

Click here for the full review and destructive test results on SBG
MUST READ NOTE REGARDING CHENESS CUTLERY SWORDS
Cheness Cutlery Swords are designed by Martial Artists for Martial Artists. Their goal is and always has been to simply offer an affordable entry level practice sword to beginners in iaido and iaijutsu and when first released in 2005 truly revolutionized the sword market for until that time, there were few to no entry level Katana.
Cheness swords were never meant to be collectors pieces, display pieces, or art sword quality. There are numerous other manufacturers and individual smiths in the industry that serve those needs (click here for our full selection of Japanese swords). The reason being the same as with all other hobbies, refinement will come with a price.
Because of this, certain shortcuts must be taken in the manufacturing process and are NOT considered to be defects. Because of this, we will not accept returns on any swords that have the following features:
The polish of each sword is a working polish known as a 'Tameshigiri' polish and is somewhere between 400 to 600 grit. As they are handmade and subject to extensive handling, they do get scuff marks and minor stains on the blade and components.
Each blade is hand hammered, shaped to the eye, and then tempered and quenched. This process causes all types of steel to contract, twist and warp to some degree -with 9260 being one of the hardest steels to keep straight - so you should not expect the blade to be perfectly straight like a lazer. Even if slightly off center or imperfect, it will still cut perform for Tameshigiri and you can be confident in the tempering.
The blades have considerable hira-niku (meat) on them for heavy cutting and will generally feel somewhat dull to the causal observer. It will not slice paper or shave hair off your arm. It WILL cut tatami mats or bamboo or other targets that were traditionally used to simulate human limbs. With only a little work however, it is quite possible to sharpen it to any degree desired.
The cotton ito wrap is tight enough for use, but is not going to be as tight as silk or leather. Habaki, Seppa, Fuchigashira, etc are free floating and pinched into place by friction forces like a traditional Katana, but some minor adjustments may be necessary out of the box.
Mekugi pegs are angled by design to create a wedge and optimize the double mekugi configuration. The bottom peg is made of brass, the top, bamboo which results in an overall stronger design and was recommended by a senior Japanese JSA Sensei.
Please read this article about Cheness Cutlery to ensure you completely understand what to expect before you purchase.
In short, you should not expect an art sword or something perfect out of the box. You will almost certainly need to make some adjustments or even a complete DIY overhaul (we have many free tutorials on how to do this right here on the main SBG website). But for those of you who don't mind a rough and ready sword, or who wish to take it to a higher level, you will find these blades to be extremely long lasting, tough and worth every penny.
In summary, Cheness puts it like this:
The issues can all be addressed by the end user if they so choose. After receiving the sword, you can adjust the components, add a high-grit diamond paste polish, deburr the blade to slice paper, polish the components, etc. to make it as refined as you choose. However, these are not the features we strive for and should not be expected of the sword out of the box. If a highly refined sword is what you are after, you will either need to be prepared to perform these refinements yourself or should purchase a higher end sword from a different manufacturer.
Please note, as to be expected issues like cracked blades, broken handles, etc are of course subject to our standard warranties and return policies.
How to Use
Cheness Cutlery Swords are designed for tameshigiri in a dojo setting and are very much 'diamonds in the rough' and are not generally attractive enough to be used for decorative display purposes.
Blade Length: 28" Handle Length: 11" Overall Length: 42" (includes Saya) Weight: 2lbs 15oz
Materials and Construction
Monotempered 9260 Spring Steel sharpened blade. Cotton ito wrap over authentic rayskin handle. Brass Fittings.
Shipping from the Cheness Cutlery Warehouse in California within 1-2 business days. $20 flat rate USA shipping for up to 2 swords via UPS ground, FREE shipping if 3 or more swords ordered at the same time. International shipments currently unavailable due to local shipping regulations (for the workaround,
Click here
for the workaround. Please note due to lack of integration with the carriers, tracking is not automatically provided with Cheness Cutlery orders.
Click here for more information
Warranty Info
We guarantee if you keep it well oiled and maintained, the blade of any sword sold from the SBG sword store will hold up to a LIFETIME of reasonable usage without breakage. If it breaks during the course of reasonable and intended usage we will replace it with either the same (or if unavailable, a similar) model completely free of charge. If you abuse it, like try to cut down a tree, attempt to replicate the destructive testing vids on you tube or otherwise use it in any way outside of traditional cutting techniques, we will do our best to help but the warranty is void. This warranty applies to the original purchaser (proof of purchase required) and remains in effect for as long as SBG is around to honor it.
Return Policy
Cheness Cutlery Swords have an extremely strict return policy that we too must enforce.
Please read carefully about what to expect before purchasing as refunds will not be granted on any issues listed in the product description. Additionally the restock fee is 20%. Otherwise,
Click here for more info on our guarantees
Featured positive reviews:
better than expected
04/15/2014
First, be patient when ordering. No tracking meant a nailbiting time for a first order from an unfamiliar website. But, the sword arrived in a timely manner, expertly wrapped and in an attractive display box as well. This sword, the SGC Yamakami, was worth every second of the wait. It is also easily worth two times the asking price for a functional beginners blade.

From previous reading and research I was expecting a functional, sturdy blade with less than attractive fittings and a mediocre polish particularly at the tip. What I received was the opposite of everything I thought i'd have to accept in a work blade.

The sword is solid, beautifully polished, built like a tank and the fittings are bulletproof. This is no toy or display piece, it was bought with rough use in mind, and it inspires every bit of confidence that it will withstand everything I intend to put it through. The edge came paper-cutting sharp, no tearing. Blade geometry is perfect and straight, balance point is six inches out on the blade as advertised. The sword is heavy, and may not be perfect for everyone, but it is the particular reason I decided to purchase it.

This sword was bought for destructive testing, with the intent to purchase a second one if it proved to be worthwhile. In one month I will be purchasing a companion piece from the SBG-store.