Darksword 1340 – Two Handed Templar* (sharpened)

Be the first one to write a review
MADE TO ORDER

FREE SHIPPING IN CANADA AND THE USA!
Two Handed Oakeshott Type XIIIa Warsword of the Knights Templar. Engraved blade, brown leather finish. Made to order, typically ships in 6-8 weeks.

Classified as type Xa or XI, this 14th c. two handed sword presents one of the most significant war tool of the medieval period. Numerous two handed swords with slight variations were found throughout Europe, establishing a general conformity and a pattern of influence among smiths of the time. Various two handed swords are found in the Royal Armoury of Turin also known as the L'Armeria Reale, in the Imperial Treasury of Vienna, in the Royal Armoury of Madrid and in the Hermitage, Petrograd.

This particular sword is based on a 12th century original found in the Schweizerishches Landesmuseum, Zurich. The massive 36" blade is given some additional character with an attractive etching – "Militaris Templi" (the Knights Templar) – along the central fuller.The hilt itself is extremely attractive and authentic, with a mild steel crossguard and genuine leather wrap handle.

This sword has a type I1 Octagonal faceted pommel, a common feature on sword of this type and age.

As you can see from the picture above, the pommel is also PEENED to the hilt for maximum durability.

For fans of medieval swords OR for those interested in the Knights Templar (a very popular group in historical fiction these days!) this is an ideal sword.

Weighing around a pound more than the historical original, the balance of this sword (at approx 5" from the cross guard) is surprisingly good considering – and once sharpened, is more than capable of generating enough speed to cut even the lightest targets such as pool noodles (see review).

Click here for the review of this sword on SBG
Unlike Darksword blades we sold in the past, the sword is automatically also given a thorough sharpening until it is paper cutting sharp (normally costing an extra $35) and is also shipped FREE in North America - giving you the very best deal possible.
This sword comes with a wood core scabbard as standard with the option to upgrade it to include a premium quality sword belt with suspension system - allowing it to be worn or for an extra flourish when not in use hung on the wall (see below for a comparison).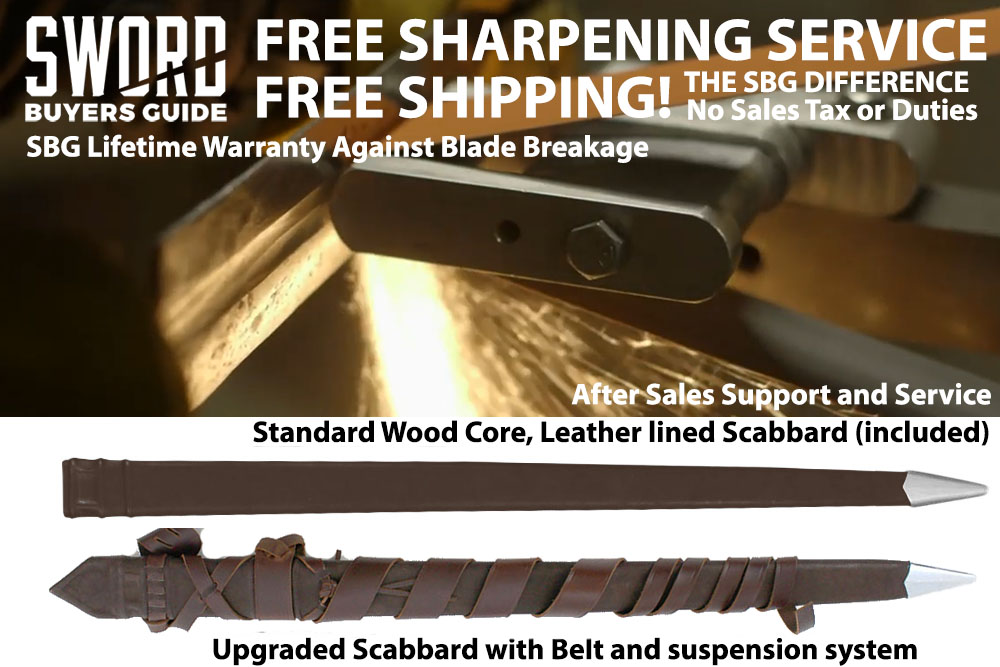 How to Use
Sharpened and Battle Ready - suitable for heavy duty backyard cutting and display.
Blade Length: 36" Handle Length: 10" Weight: 4lbs 8oz
Materials and Construction
5160 Hand Sharpened Spring Steel Blade, Dual Tempered with an edge HRC of 60 and core HRC of 50. Mild Steel Fittings. Wood core leather wrapped handle and scabbard with optional upgrade to wearable belt and suspension system.
IMPORTANT NOTE: Made to order, typically ships in 6-8 weeks
FREE SHIPPING to the USA and Canada from Manufacturers warehouse in Quebec, Canada via Fed Ex. We apologize for the inconvenience, but due to the extreme shipping costs Darksword Armory swords can no longer be shipped outside of North America (USA and Canadian Orders only)
Warranty Info
Each sword is guaranteed to be as described and 100% genuine product. Each sword is also covered by in full by the Manufacturers Warranty PLUS our extended LIFETIME Warranty against blade breakage.
Click here for detailed warranty information
Return Policy
Satisfaction Guaranteed.
We proudly stand behind every product we sell. If you are not pleased with your purchase you can return it to us within 30 days of purchase in
original, unused condition
for a full refund minus shipping and 10% restock fee.
Click here for more info on our guarantees