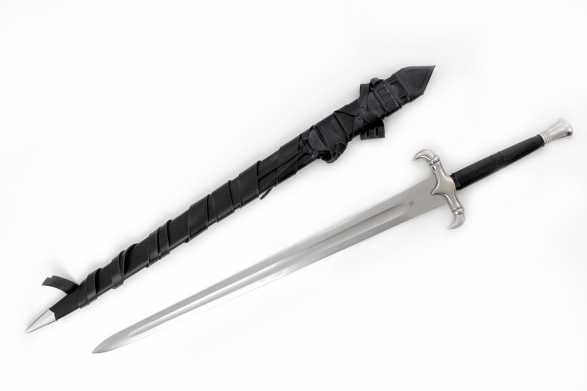 Darksword 1523 - The Guardian* (sharpened)
(1)
MADE TO ORDER

FREE SHIPPING IN CANADA AND THE USA!
Original, fully functional fantasy sword of the Forest Guardians. Designed by Jason Woodard. Made to order, typically ships in 6-8 weeks.

One of the most unique and imposing swords in DSA's lineup, this sword was dreamed up by Jason Woodard, former "Factory X" sword designer (See Jason test this Fantasy Sword and put it through its paces here).

Forged from 5160 Spring Steel, the Guardian has a massive 2.5" wide blade that is Dual Tempered with an edge hardness of 60 and core HRC 50. The downward facing Dragon Claw guard, or quillions are made from high quality mild steel for an overall durable and sturdy package.

"Woodard" was originally derived from the Old English words "wode", meaning wood, and ward, meaning "Guardian". A name given to a forester, a guard, or a protector. An historical usage of the name goes back to the Battle of Hastings, where one Commander "Woodard", was granted lands by King William for his assistance during the battle. The name of "protector" inspired Jason to create this imposing fantasy piece.

The hilt is extremely attractive, with a mild steel curved crossguard and genuine leather wrap handle, and the whole assembly PEENED together for maximum hilt integrity and durability.

This fantasy two-handed sword is very unique, and would stand out noticeably in any collection as a display piece, or solid heavy-duty cutter.

Click here for the review of this sword on SBG
Unlike Darksword blades we sold in the past, the sword is automatically also given a thorough sharpening until it is paper cutting sharp (normally costing an extra $35) and is also shipped FREE in North America - giving you the very best deal possible.
This sword comes with a wood core scabbard as standard with the option to upgrade it to include a premium quality sword belt with suspension system - allowing it to be worn or for an extra flourish when not in use hung on the wall (see below for a comparison).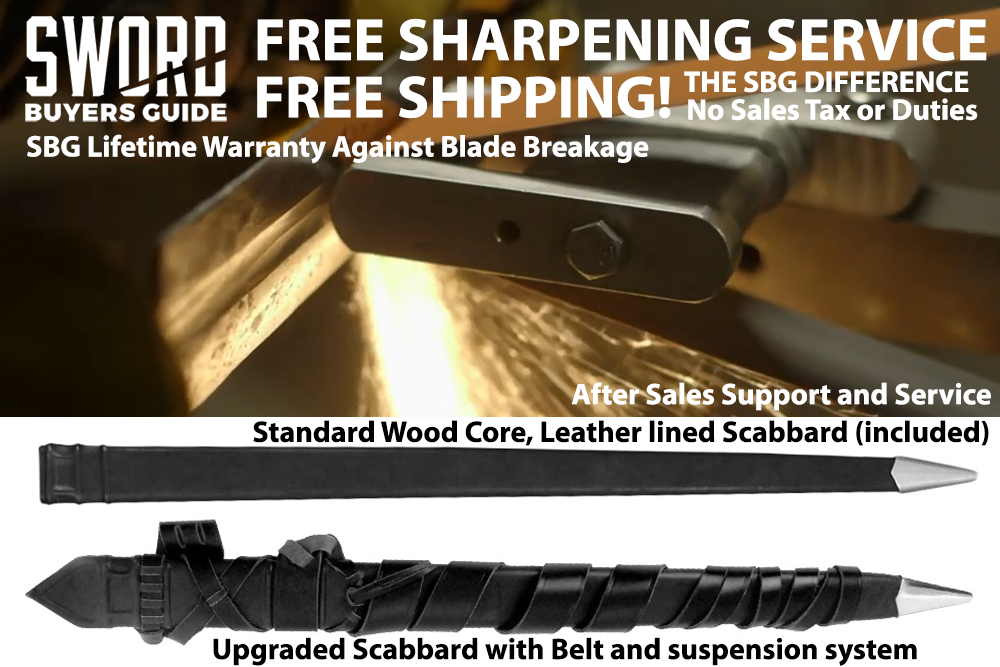 How to Use
Sharpened and Battle Ready - suitable for heavy duty backyard cutting and display.
Blade Length: 34" Handle Length: 11" Point of Balance: 3.5" Weight: 4lbs 10oz
Materials and Construction
5160 Hand Sharpened Spring Steel Blade, Dual Tempered with an edge HRC of 60 and core HRC of 50. Mild Steel Fittings. Wood core leather wrapped handle and scabbard with optional upgrade to wearable belt and suspension system.
IMPORTANT NOTE: Made to order, typically ships in 6-8 weeks
FREE SHIPPING to the USA and Canada from Manufacturers warehouse in Quebec, Canada via Fed Ex. We apologize for the inconvenience, but due to the extreme shipping costs Darksword Armory swords can no longer be shipped outside of North America (USA and Canadian Orders only)
Warranty Info
Each sword is guaranteed to be as described and 100% genuine product. Each sword is also covered by in full by the Manufacturers Warranty PLUS our extended LIFETIME Warranty against blade breakage.
Click here for detailed warranty information
Return Policy
Satisfaction Guaranteed.
We proudly stand behind every product we sell. If you are not pleased with your purchase you can return it to us within 30 days of purchase in
original, unused condition
for a full refund minus shipping and 10% restock fee.
Click here for more info on our guarantees
Featured positive reviews:
DArksword- Armory Guardian review
06/09/2014



The Guardian sword Is a design I had been working on back when I was doing sword design work for FactoryX On there Sleepy hollow line and the Underworld items.. My Name'Woodard"was originally derived from the Old English words"wode",meaning wood,and ward,meaning"Guardian".A name given to a forester, a guard,or a protector.An historical usage of the name goes back to the battle of Hastings,where one Commander"Woodard", was granted lands by King William for his assistance during the battle . Funny I have owned my security guard business for over 15 years and enjoy hunting and hiking in the woods. It must run in the family?!? .. The Guardian was something I would want it a sword If I could have it my way. I worked on the design many times re drawing in maybe more than thirty times?? I`d change things here and there til I thought I had come up with a great well balanced sword. Last year when the sword competition was started at the sword buyers guide forum. I mailed in my full size drawings of the Guardian to "Jason" at "ArmsofValor". He told me he did not have a way to scan the full size drawing for the others to vote on but he loved it and that it would be made after the winners swords were finished. Well time passed. And with "Jason's' blessing I sent the design to "Darksword-armory" Eyal the owner loved it also and the rest is history.. Eyal helped me make some improvements to the design a larger fuller,longer grip we did everything we could to make the best balancing blade we possible with such a large powerful sword..... I came up with the Reseeding cutouts myself back when I was working on the Sleepy hollow sword.I always thought that would be the one weak spot of that sword.So I came up with the reseeding ones. This helped to drop a little weight and not weaken the blade at all,Plus it just looks cool!! I think this is the first sword that has this?? On to the review... I was away from home when UPS dropped it at the house. When I got home I could not wait..Would the Guardian be everything I had dreamed of in my design?Would DSA get it right?? OOOYEAHH!!! After removing the heavy packing and re moved the heavy amount of oil protecting the blade I took it outside in the sunlight The leather grip has a cross pattern and fells so nice when swung about.. the sword also comes with the matching scabbered with the same cross leather patteren I Got a good feel for it.. Swung it a bit I was very impressed with how balanced it turned out.. You can use one or both hands with this sword.. It balances about 3 inches from the guard!! For a large sword it recovers well and flows like a much lighter sword. I used my "accusharp" on a vice .This sword seems to have a thinner blade at the edge. It only took about 18 to 20 min`s each side and I was ready to roll.. Now I was ready for some testing.. First I set up not my standard 5 but 7 one gallon jugs of water to see if My Guardian was a cut above the rest...I cut threw them all in one swing. Swoosh!!! It felt like I was cutting threw butter.. Next up was a seasoned hickory stump.. I gave it 3 or 4 good hits.. It sank in pretty deep each time..The blade was fine!! .Next I set up a 5 gallon impact resent water jug filled to the top.. I did make a mistake and hit the wrong button on the video camera.. So the impact was missed.. I did take a pic to show how deeply the Guardian sank into the bottle with one swing.. After testing this sword. I`m so proud!! It held up !! fittings all stayed tight. Cuts deep and can take the punishment that a sword should not have to.. My Guardian... Thank you " Darksword-armoy" for making my sword and bringing my design to life I`m very thankful.... Jason Woodard total lenght 43 blade 32, blade width 2.5 weight 4 lbs 3 oz POB 3 verdict Historical A N/A Fit and finsh