Dragon King Pine Crane Katana

Be the first one to write a review
IN STOCK & ON SPECIAL ALL NOVEMBER
Differentially Hardened T10 tool steel blade with Prominent, Real Hamon. Rich Bronzed Steel Earth Tone colored Fittings. Match it with the Pine Crane Wakizashi to make a matching Daisho set. 28" 1/4 Blade, Fast and lightweight at 2lbs 6oz. MSRP $1,149.00
$

806.39
$895.99
You Save $89.60
The artisans of Dragon King offer us another exquisite piece of revered symbolism from Japanese culture with the Pine Crane Daisho Set. The red-crown crane holds profound respect and power in the Japanese mythos believed to live for a thousand years. As a symbol of authority, a Japanese idiom says, "one word from the crane" referring to the final word that isn't challenged. Marrying the symbolism of the pine tree, another icon of power, longevity and wisdom, Shinto beliefs state that the gods of heaven reside in the ancient pines. Often used in wedding attire, the red-crown crane mates for life which make sense to pair this theme with a matching wakizashi (HERE).
The Pine Crane motif carries throughout both pieces in stirring flows of earth tones. The embossing on the bronzed steel tsuba, fuchi and kashira is so finely detailed, echoing life in art. The black cotton ito (handle wrap) is beautifully contrasted by the white same (rayskin), silver crane menuki, seppa, habaki and the bronzed fittings. The 27 7/8" forged T10 blade boasts a gorgeously prominent hamon with a mirror finished ji and mune. The 1 ½" kissaki pierces quick and deep as the bill of crane. Like the crane, this katana is long yet very light considering the blade length and the 12" tsuka (handle). The textured brown saya contains all this majesty and power highlighted by the first 8 ¼" black and matte striped paint with a charcoal and copper accented sageo and buffalo horn korikata and kojiri.
(Sageo colors may vary)
Collect the set; a samurai wore two swords, the matching Pine Crane Wakizashi is also available to complete your collection.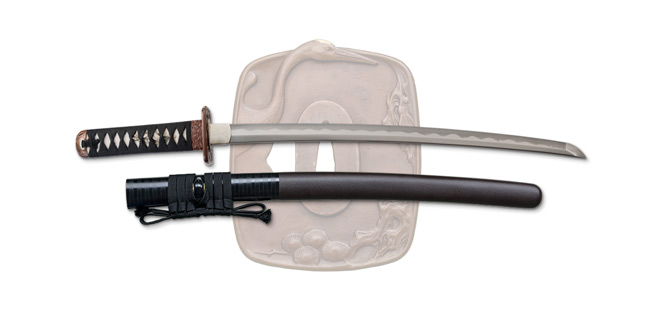 About Dragon King
The famed artisans of Dalian have returned to show to the sword world what quality, craftsmanship and ingenuity can produce under the superlative leadership of a true avant-gardist. By the guidance of master designer, Frenchie Jin, the next generation of cutlery enthusiasts will taste the steel of the fabled golden age of swords.
Ever the student of the arts, Frenchie Jin combined the processes of contemporary mechanical construction and modern science with the classic arts, ancient aesthetics and philosophical imagery to produce many of the legendary pieces known today. Having designed over 600 different cold weapons in his 20-year career, to say that he and his team have mastered and advanced their craft would be an understatement.
The Dragon King brand does not represent a company that just manufactures products but embodies a group of artisans who have been adeptly trained to duplicate ancient skillsets that can't be automated by machines on an assembly line. Not every blade that is forged becomes a sword. Not every casting that is poured becomes a component of a greater piece. The goal for improvement and innovation starts every day under Frenchie's guidance.
Not confining their talents to sword making alone, the Dragon King team plies their abilities also to the production of knives, jewelry and other high end art-crafts. And not just in steel alone, these artisans craft wood and leather among many other materials and alloys. Our journey together has only begun, but the fruits of that labor are coming to bear.
How to Use
Designed as a frequent use backyard cutter, high end display or dojo sword.
Overall: 41 1/4" Blade Length: 28 1/4" Handle Length: 12" Weight: 2 lbs 6 oz Thickness at Guard: .26" Thickness at Tip: .18" Sori: 5/8"
Materials and Construction
T10 Tool Steel, Differentially Hardened Blade with High Level Polish. Earth Tone Bronzed STEEL Fittings. Premium grade black cotton ito over authentic rayskin. Textured Black Saya with glossy striping effect, buffalo horn rimmed koiguchi (scabbard mouth) and kurikata with hard wearing black cotton sageo. Traditional Construction with Exceptional Attention to Detail.
Shipping only the newest stock direct from the manufacturers warehouse in Tennessee within 1-2 business days. $20 Flat Rate Shipping for 1-2 Swords or FREE if 3 or more swords ordered at the same time. International shipping currently unavailable due to the length Shipping only the newest stock direct from the manufacturers warehouse in Tennesse within 1-2 business days. $20 Flat Rate Shipping for 1-2 Swords or FREE if 3 or more swords ordered at the same time. International shipping currently unavailable Sorry, US orders only (
click here
for the workaround).
Click here for more shipping information
Warranty Info
Each sword is guaranteed to be as described and 100% genuine product. Each sword is also covered by in full by the Manufacturers Warranty PLUS our extended LIFETIME Warranty against blade breakage.
Click here for detailed warranty information
Return Policy
Satisfaction Guaranteed.
We proudly stand behind every product we sell. If you are not pleased with your purchase you can return it to us within 30 days of purchase in
original, unused condition
for a full refund minus shipping and 10% restock fee.
Click here for more info on our guarantees