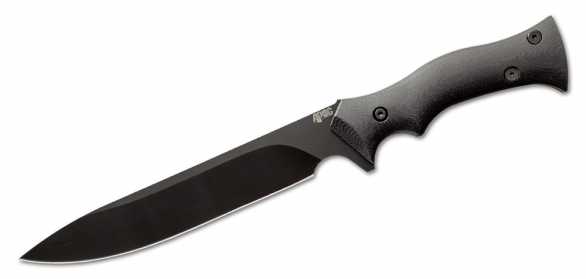 APOC Wayward Camper Knife
(2)
IN STOCK & ON SPECIAL

15% off All November 2023
Ultra durable 9260 Spring Steel Tactical camping knife - for when the going gets extra rough.. MSRP $89.00
$

63.70
$74.95
You Save $11.25
On the darker back side of Armageddon, there's a fine line between craftiness and folly. Under certain circumstances your cleverness must be as sharp as your will to survive. Last minute makeshift shelters and sneaky traps for interlopers can keep you from oblivion's edge. You need versatility in your tools as much as you need in it your tactics. Our 12 5/8" long, full tang Wayward Camper Knife slices the fine line between utility and tactical knife.
The 6 5/8" black coated blade features a finger notch that allows you to choke up on your grip for more intricate cuts and carving duties. The sloping handle with milled black G10 scales and 5mm blade thickness provides for a secure grip when thrusting, chopping or slicing motions. In those tactical moments that require stealth you can slip the knife from the Kydex sheath with a gentle snap of the button. Being Molle compatible you can place this knife wherever you find it to be most convenient to access.
How to Use
In case of Zombie Apocalypse, Break Glass.. Designed for frequent and abusive chopping and slicing.
Overall: 12 5/8" Blade Length: 6 5/8" Handle Length: 5 1/4" Weight: 14.5 oz Thickness at Guard: 6mm
Materials and Construction
Monotempered 9260 Spring Steel sharpened blade with black oxide coating. Full tang, triple riveted G10 handle. Light fiberglass scabbard with Molle compatible platform.
Shipping direct from the distributors warehouse in Tennessee within 1-2 business days. Shipping in the USA is $5 for one knife, FREE if two or more or are ordered at the same time. Sorry, US orders only (
click here
for the workaround).
Click here for more shipping information
Warranty Info
Each sword is guaranteed to be as described and 100% genuine product. Each sword is also covered by in full by the Manufacturers Warranty PLUS our extended LIFETIME Warranty against blade breakage.
Click here for detailed warranty information
Return Policy
Satisfaction Guaranteed.
We proudly stand behind every product we sell. If you are not pleased with your purchase you can return it to us within 30 days of purchase in
original, unused condition
for a full refund minus shipping and 10% restock fee.
Click here for more info on our guarantees
Featured positive reviews:
Absolute tank of a knife
09/10/2020
So this thing is a absolute tank of a knife. Just as advertised thick and I mean THICC and heavy. I don't see anyone ever breaking one of these short of using it as a crowbar. Just be aware of what your buying it's going to be big thick and heavy. The kydex sheath that comes with it is barebones but serviceable. Retains the blade with a good snug fit. Has molle holes you can run malice clips through or holes for mounting with paracord also a belt loop with button for belt mounting. As for the blade the finish is well done and it came sharp enough for my need's and as I said earlier this thing is durable go ahead and chop away at anything reasonable. Geometry is a well designed compromise between durability and usability but a bit long for finer handling. Grips are tight and comfortable. I personally hate finger grooves but they work well to index the balance point forward or backward for different tasks. The point of balance is just barely in front of the index finger groove on the handle but behind the finger groove on the blade itself, allowing you to choke up for better tip control or use the standard grip for a slightly blade heavy grip. It also has a flared pommel and a palm swell that helps keep it snug in your hand. If your hand fits, I wear large or extra large gloves depending on brand for reference, you can also choke down below the index finger groove and shift the balance very far foreward and really dig into the flared pommel and palm swell for good chopping action. The butt end is broad and solid for pounding on stuff with a indented lanyard hole for retention. So with all this good we get to the bad part, whoever ground my blade didn't finish the left side. If you place it right side facing up its flawless, flip it over to the left side and the grind runs about a quarter of a inch longer and gets all wobbly at the end with two grind marks running up onto the spine. The tip geometry is also different from the right to left but not enough to make any functional difference. think this is a quality control issue. I don't personally care and dont drop the rating because to me functionality is king, but I mention it because I know there are people out there that get all bent around the axle about looks and want to let you know ahead of time what type of product your getting. If you want a tough chopper/stabber that is also versatile enough to do some more nimble tasks but not the most nimble'est of tasks this is for you. If you want a showpiece I would stay away because you might get a slightly goofy looking one on one side.