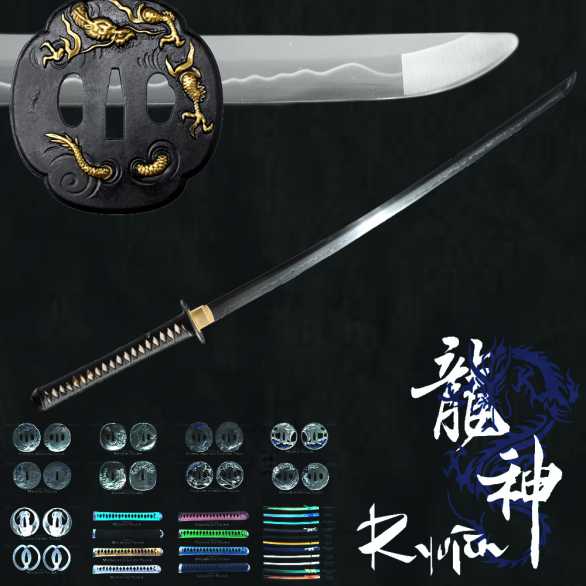 Ryujin 65mn Spring Steel Iaito - solid bodied blade (STEEL BLUNT)

Be the first one to write a review
SOLD OUT

Solid bodied blade/no-hi Version.

65mn Spring steel with real hamon. Unsharpened (1.3mm edge thickness) high quality training blade with blunted tip - finally a Japanese training sword capable of light steel on steel contact under standard training conditions.

Exactly the same options as the sharpened Ryujin Custom Katana. Ships within 1 week!!
$

229.99
$279.99
You Save $50.00
Select Your Custom Design from the images above: One Low Price
- Assembled and Shipped within 1 week from Los Angeles!
(CLICK ON the THUMBNAILS FOR MAXIMUM SIZE, FULL DETAIL RESOLUTION PICS)
FINALLY, an unsharpened iaito training sword made tough enough for steel on steel contact AND is balanced exactly the same as the cutting versions - all available with your choice of customization options exactly the same as its sharpened T10 tool steel cousin, the Ryujin T10 Custom Katana - solid bodied blade/no-hi.
The blade is outstanding for a training sword in this price range, and unlike most other iaito, the hamon temper line is not cosmetic but is the result of differentially hardening the unsharpened 65mn Spring Steel blade - with an edge HRC of approx 55 and a softer, shock absorbent spine of 40 HRC, like a real Shinken (live bladed Katana) they tend to bend rather than snap when encountering an unintentional and overly strong target.
Unlike most iaito made intentionally from materials unsuitable for medium to heavy blade on blade contact, this sword can handle it - and while the tip is blunted, these swords should only be used for pre-arranged kata and not for free sparring without full armor as they are still capable of delivering a potentially fatal blow or thrust (though because of how strong the blades are, they are also probably one of the only training swords in this price range that can also be safely used for stage or realistic steel on steel re-enactment purposes - though no sword is indestructible and care should be taken at all times - the blades have a lifetime warranty against breakage under normal usage conditions).
As mentioned, each iaito is unique and can be closely matched to its live bladed cousin - allowing you the unique opportunity to own a cutting sword and a safer sword for training purposes that are close in both appearance and handling (it is generally recommended that if you have one of each type, you should stick to the same general theme but have one point of difference, such as a different tsuba or different saya or handle color, for the training sword and the live blade so you don't easily mix up which one is which).
The custom options available have up to date component availability and utilize only the best available fitting options at the lowest possible price.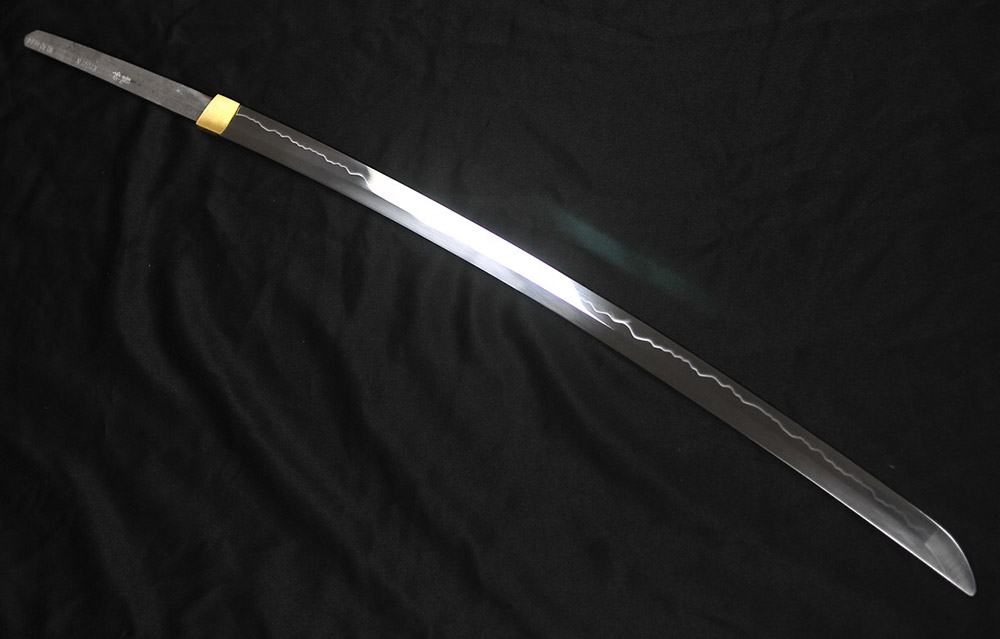 CUSTOMIZATION OPTIONS
1) Select which Tsuba you wish to be mounted. All tsuba are made from solid iron and all but the Double "C" Ring Musashi and Black Crane tsuba feature REAL gold accents to give the design a splash of color at NO additional cost to you (normally $75 more!). The 'Front' is the Omote and is the side that faces the tsuka, the 'Back' is the Ura and faces the tip of the blade. This is so that when the sword is worn or displayed, the more attractive side faces onlookers, and when drawn, the less attractive part faces the opponent..
2) Select tsuka (hande) ito color from 8 different color choices with either iron or brass fittings (Iron for maximum durability, brass - less durable but more attractive).
3) Select saya style and color. T920322 has a wood-grain finish. T920911 is the natural wood with clear lacquer finish. T920111 is a standard glossy black, T920121 has a textured finish to minimize finger prints and scratches.
NOTES:
Click the thumbnail to open a high resolution picture of each option or hover your mouse over a thumbnail for a quick view.
This version is only available with a solid bodied (no-hi) blade.
Fuchi and Kashira are available in generic black iron or brass and will match your overall design and the tsuba you select.
Sageo wrap tends to be black and cannot be specified as it is made at the forge.
No hidden costs, one price for any and all customization selected.
Over 30,000 combinations possible, meaning your sword can be almost as unique as your own personal tastes!
Assembled and shipped from the Ryujin workshop in Los Angeles within 1 week after ordering!
Click here for a gallery of the customization options
How to Use
Suitable for iaito practice, formwork and unlike 99% of other iaito on the market, is strong enough for steel on steel contact (though never full force edge to edge blows). Traditional blade - select your own fittings. Slightly heavier, forward balanced blade for more forceful attacks.
27.5" blade with 11" handle. Weight 2.5lbs (no-hi).
Materials and Construction
Differentially hardened unsharpened (1.3mm edge) 65MN Spring Steel blade with real hamon. No bo-hi/solid bodied blade. Iron fittings with iron tsuba and REAL gold inlay. Rayon wrapped ito in your selected color over authentic rayskin. Wooden lacquered saya in your choice of color and style. Display Box Not Included.
Shipped from the Ryujin workshop in Los Angeles within 2 business days. $20 flat rate USA shipping for up to 2 swords, FREE shipping if 3 or more swords ordered at the same time. International shipping via USPS, $60 to selected international destinations by USPS.
Click here for more shipping information
Warranty Info
Each sword is guaranteed to be as described and 100% genuine product. Each sword is also covered by in full by the Manufacturers Warranty PLUS our extended LIFETIME Warranty against blade breakage.
Click here for detailed warranty information
Return Policy
Payments made on custom orders are non refundable and cannot be cancelled once work has commenced as they are made to order to YOUR personal tastes and the expenses incurred making it are non refundable to us as well. If there is a problem with your custom order we will work with you to provide a fair and satisfactory outcome, up to and including remaking the sword and in general going the extra mile to ensure that at the end of it all, you are pleased with your purchase.
Click here for more info on our guarantees