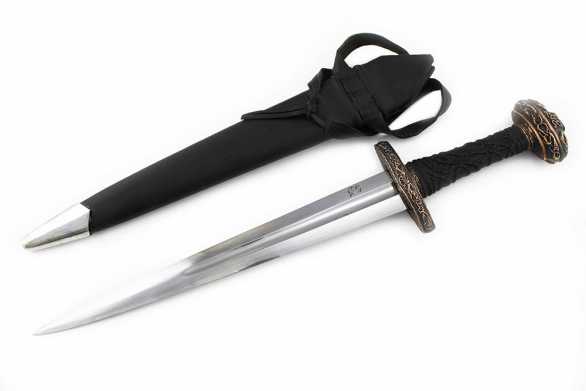 Darksword 1817 - Einar Fantasy Viking Dagger (Sharpened)

Be the first one to write a review
MADE TO ORDER

FREE SHIPPING IN CANADA AND THE USA!
Matching Fantasy Viking Dagger to the Einar Sword. Includes free scabbard. Made to order, typically ships in 6-8 weeks.
Vikings were known to be proud and courageous warriors with a myriad of weapons at their disposal. A culture that elevated war to both an art and a form of religious expression, it is no surprise that the weapons they carried would be adorned with intricate and sacred designs. The Darksword Armory Einar is an example of the heights to which this art form could attain, and this – its companion dagger – shows similar artistic reach.
The Einar Dagger has a short 5160 spring steel blade, like all DSA products, fully battle ready – but like all daggers would also be suitable for everyday or camp duties. The bronze fittings and carved oak handle are identical to its full sized counterpart, making it an ideal piece to match the Einar sword. The scabbard has a belt loop, and it will sit comfortably on the integrated sword belt available for the Einar. This is one of our best and most popular designs – we hope you like it.
How to Use
Sharpened and Battle Ready - suitable for heavy duty backyard cutting and display.
Total length: 18″ Blade length: 12″ Grip: 4″ Hilt: 6.5″ Weight: 1 lbs. 5 oz.
Materials and Construction
5160 Sharpened Spring Steel Blade, Dual Tempered with an edge HRC of 60 and core HRC of 50. Solid Bronze Fittings. Wood core leather wrapped handle and scabbard with optional upgrade to wearable belt and suspension system.
IMPORTANT NOTE: Made to order, typically ships in 6-8 weeks
FREE SHIPPING to the USA and Canada from Manufacturers warehouse in Quebec, Canada via Fed Ex. We apologize for the inconvenience, but due to the extreme shipping costs Darksword Armory swords can no longer be shipped outside of North America (USA and Canadian Orders only)
Warranty Info
Each sword is guaranteed to be as described and 100% genuine product. Each sword is also covered by in full by the Manufacturers Warranty PLUS our extended LIFETIME Warranty against blade breakage.
Click here for detailed warranty information
Return Policy
Satisfaction Guaranteed.
We proudly stand behind every product we sell. If you are not pleased with your purchase you can return it to us within 30 days of purchase in
original, unused condition
for a full refund minus shipping and 10% restock fee.
Click here for more info on our guarantees