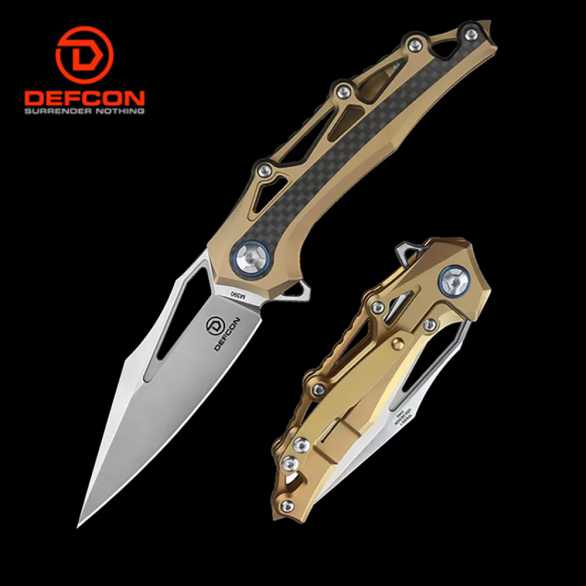 DEFCON Valkyrie Series - Titanium Gold M390 Steel Folder
(1)
SOLD OUT

High end folding knife made from Bohler M390 (one of the most desirable knife steels around) and state of the art manufacture and materials.

$5 SHIPPING to the USA - FREE SHIPPING if two or more knives are ordered at the same time. Sorry, US Orders Only.
$

129.99
$179.99
You Save $50.00
Currently one of THE most popular premium knife steels is Bohler Uddeholm M390. According to Blade.com here:
"Bohler M390 is widely revered as being the best all-around knife steel, which has led top companies to widely utilize it in higher end knives. M390 exhibits excellent edge retention, corrosion resistance, and high level toughness."
The only downside, the steel holds its edge SO well and is so hard that its really difficult to sharpen. But you may never need to..
Truly a stunning design made using only the best materials - now available at just a fraction of the price it is really worth. Fantastic out of the way, but ready at a moments notice, it's perfect for EDC.
ABOUT DEFCON
DEFCON brand is created by founder Sam Sung whom created several trademark and patents during his 20 years career in the swords and knife industry. Their focus is to bring high quality products through research and development with innovating and exciting design (including Ryujin Swords, Sparkfoam, Saber Shogun and many more). With Sam's unique experience in the industry, we are able to improve on the knife manufacturing process as well as building a stronger connection and foundation with our friends and families in the knife industry including many great knife smiths from the American Bladesmith Society.
This spirit of innovation and improvement will continue into the future and will result in new and exciting products such as the products recently released and also new products that are currently being developed.
How to Use
Suitable for EDC (Everyday Carry)
Overall Length: 7.1", Blade Length: 3", Handle Length: 4.1", Overall Weight: 2.7oz
Materials and Construction
Bohler M390 Steel blade, drop point, manually opening folding blade. Frame lock with caged bearing. 6AL4V Milled Titanium + Forged Carbon handle. Pocket clip.
Shipping direct from the DEFCON central warehouse in California within 1-2 business days. Shipping in the USA is $5 for one knife, FREE if two or more or are ordered at the same time. The same deal applies to Canadian customers, though the price for a single knife is $15 and FREE if two or more are ordered at the same time. Sorry, but these items cannot be shipped outside of North America (
Click here
for the workaround)..
Click here for more shipping information
Warranty Info
Each sword is guaranteed to be as described and 100% genuine product. Each sword is also covered by in full by the Manufacturers Warranty PLUS our extended LIFETIME Warranty against blade breakage.
Click here for detailed warranty information
Return Policy
Satisfaction Guaranteed.
We proudly stand behind every product we sell. If you are not absolutely pleased with your purchase you can return it to us within 30 days of purchase in original condition for your choice of an exchange or refund (excluding shipping fees).
Click here for more info on our guarantees
Featured positive reviews:
Very small and light pocket knife
02/15/2021
I call it a pocket knife but this is the first pocket knife I bought and use.

It has a handle locking mechanism, which feels really safe. A nice gold finish, although my quartz crystals easily scratch it so I can't keep them together in the same pocket. Quartz is Mohrs hardness 7, compared to 10 of diamond or 4-5 of glass.

This little package is very interesting. The handle fits very well to my smallish/medium hand size. The top is flat so I can apply two hand techniques for increased leverage. I use it mostly to slice through boxes and tape, so the superior edge retention and abrasive resistance, I cannot judge. The blade is more than sharp enough to get the job done, paper cutting sharp.

The pros are the extremely light and compact frame, that allows it to be kept in a pocket or concealed. The magnetic lock keeps it in the handle sheathe, reducing the moving parts.

Cons: the blade length is only 3 inches, afaik. The blade is straight, so using the point is what makes it slice or penetrate through a lot of material. There is almost no curve, and definitely no recurve, so don't expect Kukri/karambit levels of friction cutting. Chopping? Ah, no, probably not. Maybe vegetables on a cutting board.

For those using a dual wielding system of one firearm and one melee tool, the melee arm is used to balance the firearm and to prevent targets from getting too close. I use an aluminum flash light for utility, albeit with no firearm. Due to the compactness of this device, it can easily be used as an off hand device for utility or defense limitations.

As a "cloak hiding the dagger" style method, it is very good, other than the metal detection factor. For my hand, you can barely see the handle when retracted.