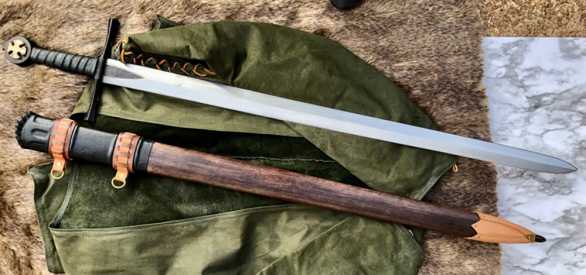 Kingdom of Arms Crusader Medieval War Sword

Be the first one to write a review
SOLD OUT

FREE SHIPPING IN THE USA
5160 Spring Steel Replica of an actual crusader period War Sword from the Arsenal at Alexandria. MSRP $736.00

Crusader Era Medieval War Sword - The First Crusade took place between 1096 and 1099. Led by the Roman Catholic church, under Pope Urban II, as a military expedition. The goal was to regain the holy lands lost to Muslims in the conquest of Levant (632-661 A.D.).
It is not an exact replica of this antique sword from history that was in the Arsenal in Alexandria, but you can see it is a very close replica.

As such, there is no doubt that this is truly a sword from the time of the Crusades. This Oakeshott typology type XII sword will do better than the 3 previous ones attempted before.

Here is what is in the article concerning this Alexandrian Arsenal sword..
"A rare medieval sword taken from the Mamluk Arsenal at Alexandria was the top item in Bonhams sale of Antique Arms and Armor on November 28th in London. The medieval Crusader Italian-made sword was given as a gift to the Mamluk rulers of Alexandria by the Christian ruler of Cyprus and Jerusalem, King Peter I as part of a gift sealing a treaty. King Peter I, the King of Cyprus and Jerusalem, launched the last Crusade in 1362 against the Muslim Mamluk Empire in the region. A fleet set out from Cyprus and proved victorious, taking the city of Alexandria with immense amounts of plunder returned to Cyprus, including this sword. Such was the treasure and weapons taken from the captured city that many of the overloaded ships had to jettison cargo."

David Williams, Head of Bonhams Antique Arms and Armor Department, says: "The fascination of this sword is that it has survived some six centuries having been gifted by a Christian King to a Muslim ruler and kept in the famed Alexandrian armory and then taken by force by Crusaders and returned to Europe. It is a remarkable survivor of the Crusader period."
The elite Kingdom of Arms Crusader Medieval War Sword features a hand hammered 5160 carbon steel blade as the originals were made, full tang, heat treated and tempered as the originals, for a strong yet flexible blade that will hold a very sharp edge, with a leather wrapped handle and blued pommel with brass cross inset in the pommel, and blued quillons. Comes with a wooden scabbard with leather accents and with hangers attached.
How to Use
Fully functional sword designed for frequent test cutting practice
Blade Length: 33.25" Overall Length: 41" Handle: 7.75" Grip Length: 5.0" Weight: 3.6 lbs P.O.B.: 5.75'' Below Hilt
Materials and Construction
5160 Spring Steel Sharpened Blade. Blued Steel fittings with leather wrapped handle. Brass cross shaped insert in pommel. Wood stained dark scabbard with leather accents. Premium Quality Construction.
FREE SHIPPING in the USA direct from the Kingdom of Arms warehouse in Jackson, Tennessee. International shipping currently unavailable (
click here
for the workaround).
Click here for more shipping information
Warranty Info
Each sword is guaranteed to be as described and 100% genuine product. Each sword is also covered by in full by the Manufacturers Warranty PLUS our extended LIFETIME Warranty against blade breakage.
Click here for detailed warranty information
Return Policy
Satisfaction Guaranteed.
We proudly stand behind every product we sell. If you are not pleased with your purchase you can return it to us within 30 days of purchase in
original, unused condition
for a full refund minus shipping and 10% restock fee.
Click here for more info on our guarantees