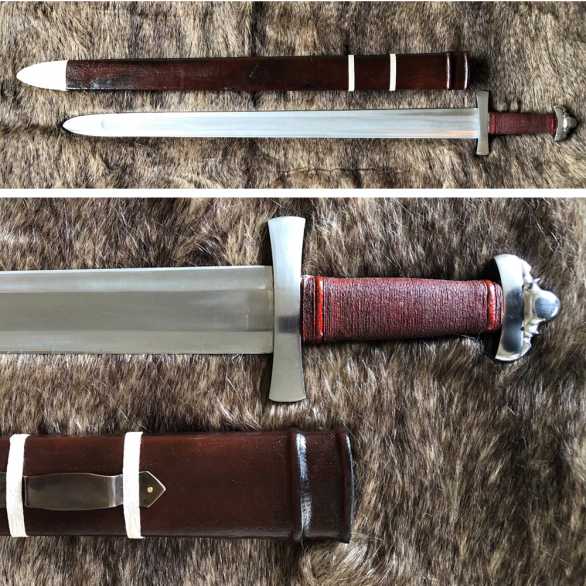 Kingdom of Arms Hjalmar Viking Sword
(1)
IN STOCK & ON SPECIAL ALL NOVEMBER

FREE SHIPPING IN THE USA
5160 Spring Steel Replica based on and a tribute to the Norse Saga, the Legend of Hjalmar. MSRP $776.00

$

578.00
$680.00
You Save $102.00
The Legend of Hjalmar is a well known Norse saga of true love, brotherhood, battle, Berserkers, curses, magical swords and everything else you would expect from a tale that has survived the centuries.
Kingdom of Arms has sought to create a version of this fabled Viking sword.
Hjalmar himself had a reputation as being unbeatable, yet was in love with the Kings beautiful daughter Ingeborg, who forbade his Housecarl from marrying her on account of his lack of noble blood. However, his reputation as a courageous and valiant warrior reached the very upmost parts of Norway. So another mighty warrior Örvar-Oddr decided to travel all the way to Sweden to test Hjalmar in battle...
It is said they fought an honorable duel for two days without rest - and in the end, covered in blood, they declared each other as equals and remained loyal friends and blood brothers until Hjalmars eventual demise, where the Viking Örvar-Oddr he carried his friend to his grave on his back..
It's a fantastic saga so if you don't know it, look it up!
Kingdom of Arms sought to create a handmade sword fit for the hero! It is hand forged from virgin 5160 carbon steel. Tempered and fully functional (Battle Ready) it is a classic example of an Oakeshott Type X Viking sword - with wide fuller extending almost the entire length of the blade, a more rounded tip (as Viking swords were primarily used for CUTTING) and a 3 lobed pommel with type 2 guard.
Weighing only 2.5lbs, it is balanced towards the tip so can generate a lot of cutting momentum without tiring you out - ideal if you need to fight a Holmgång lasting 2 days!
How to Use
Fully functional sword designed for frequent test cutting practice
Blade Length: 30.0" Overall Length: 36.5" Handle: 6.5" Grip Length: 3.75" Weight: 2.5 lbs P.O.B.: 7.75'' Below Hilt
Materials and Construction
5160 Spring Steel Sharpened Blade. Steel fittings with oxblood colored leather wrapped handle. Leather covered, wood core scabbard with belt mounting points. Premium Quality Construction.
FREE SHIPPING in the USA direct from the Kingdom of Arms warehouse in Jackson, Tennessee. International shipping currently unavailable (
click here
for the workaround).
Click here for more shipping information
Warranty Info
Each sword is guaranteed to be as described and 100% genuine product. Each sword is also covered by in full by the Manufacturers Warranty PLUS our extended LIFETIME Warranty against blade breakage.
Click here for detailed warranty information
Return Policy
Satisfaction Guaranteed.
We proudly stand behind every product we sell. If you are not pleased with your purchase you can return it to us within 30 days of purchase in
original, unused condition
for a full refund minus shipping and 10% restock fee.
Click here for more info on our guarantees
Featured positive reviews:
The Legend of Hjalmar Sword
02/04/2023
Please watch the video I made for this sword on my youtube channel and also read my review review on SBG Forums following this link...

https://sbg-sword-forum.forums.net/thread/69076/swedish-sagas-viking-hjalmar-kingdom