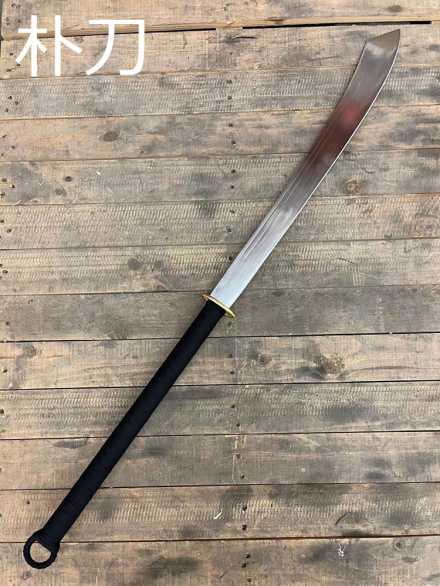 65MN Spring Steel Pudao Polearm

Be the first one to write a review
IN STOCK & ON SPECIAL

Amazing Value - Fully Functional Hand Forged 65MN Spring Steel Blade of this powerful front line infantry polearm.

$

149.99
$279.99
You Save $130.00
In one form or another, polearms like the Chinese Pudao were in frequent usage on the battlefield and developed independently throughout Asia - for example in Japan it is the equivalent of the Naginata, or in Korea, the Hyeopdo - but seemed to be a natural evolution of the sword as similar weapons also appeared in Europe, Africa, the Middle East and pretty much in every culture that developed sword blades..
Naturally, extending the reach of a blade like this makes a lot of sense and is very versatile and effective on the battlefield, evening the odds between cavalry and the footsoldier and clearing a path through the enemy with forceful and nearly impossible to parry blows.
Unlike most other Pudao in this kind of price range, this piece has a totally functional 65mn Spring Steel cutting blade (while almost all other's are floppy stainless steel 'Wushu' blades) allowing almost anyone to be able to affordable, and very effective, long range fighting sword.
Includes a protective faux leather blade cover.
How to Use
Suitable for backyard cutting or display (functional but affordable sword art)
Overall: 49 1/2", Blade length: 27 3/4" Handle length: 21 3/4", Weight: 4 Lbs
Materials and Construction
65MN Spring Steel Hand Forged and Factory Sharpened Blade. Cotton Wrapped wood core handle. Zinc Aluminum hand guard. Faux leather blade cover included.
Shipped from the Ryujin workshop in Los Angeles within 2 business days. $20 flat rate USA shipping for up to 2 swords via UPS or USPS, FREE shipping if 3 or more swords ordered at the same time. International shipping via USPS, $60 to selected international destinations by USPS.
Click here for more shipping information
Warranty Info
Each sword is guaranteed to be as described and 100% genuine product. Each sword is also covered by in full by the Manufacturers Warranty PLUS our extended LIFETIME Warranty against blade breakage.
Click here for detailed warranty information
Return Policy
Satisfaction Guaranteed.
We proudly stand behind every product we sell. If you are not pleased with your purchase you can return it to us within 30 days of purchase in
original, unused condition
for a full refund minus shipping and 10% restock fee.
Click here for more info on our guarantees