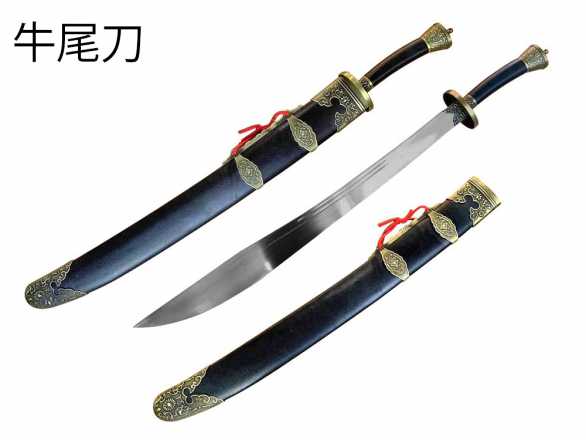 65MN Spring Steel Oxtail Dao
(1)
IN STOCK & ON SPECIAL

Amazing Value - Fully Functional Hand Forged 65MN Spring Steel Blade. Fast one handed niuweidao.

$

199.99
$329.99
You Save $130.00
A sword design first influenced by the curved swords of the Mongol invaders and later evolving on its own, the Oxtail Dao is a late period Qing Dynasty civilian fighting sword that is balanced and optimized to cut soft or unarmored targets to - and through - the bone..
Alongside the Dadao, this blade was frequently found amidst the chaos and the carnage of the 19th and 20th centuries and has also starring in many a Kung fu movie as it slashes and cuts its way through multiple opponents like a knife through hot butter. The 30.5" blade weighs approx 2.3lbs and is balanced 9.5" out from the handgaurd to achieve truly frighting cutting velocities.
Unlike most other replicas currently on the market this is no flimsy 'Wushu' blade but instead has the same characteristics as the historical originals it is based on - in a word, it is great value for money.
How to Use
Suitable for backyard cutting or display (functional but affordable sword art)
Overall (without scabbard): 39", Blade length: 30 1/2", Handle length: 8 1/4", Weight (without Scabbard): 2.3 lbs Point of balance (from guard): 9.5"
Materials and Construction
65MN Spring Steel Hand Forged and Factory Sharpened Blade. Wooden scabbard with zinc aluminum cast fittings. Hex nut assembly for easy tightening or customization.
Shipped from the Ryujin workshop in Los Angeles within 2 business days. $20 flat rate USA shipping for up to 2 swords via UPS or USPS, FREE shipping if 3 or more swords ordered at the same time. International shipping via USPS, $60 to selected international destinations by USPS.
Click here for more shipping information
Warranty Info
Each sword is guaranteed to be as described and 100% genuine product. Each sword is also covered by in full by the Manufacturers Warranty PLUS our extended LIFETIME Warranty against blade breakage.
Click here for detailed warranty information
Return Policy
Satisfaction Guaranteed.
We proudly stand behind every product we sell. If you are not pleased with your purchase you can return it to us within 30 days of purchase in
original, unused condition
for a full refund minus shipping and 10% restock fee.
Click here for more info on our guarantees
Featured positive reviews:
65mn spring steel oxtail dao
12/13/2021
Well I received this today
we will start with the good
the sword is very sturdy well built and amazingly balanced and very beautiful.
Now to the bad
The sheath is loose it doesn't grip the sword very well and all and it slides
The fittings on the sheath are glued on and mine came with both hanger brackets sliding where the glue didn't hold
Now all in all great sword but the sheath is defiantly lacking