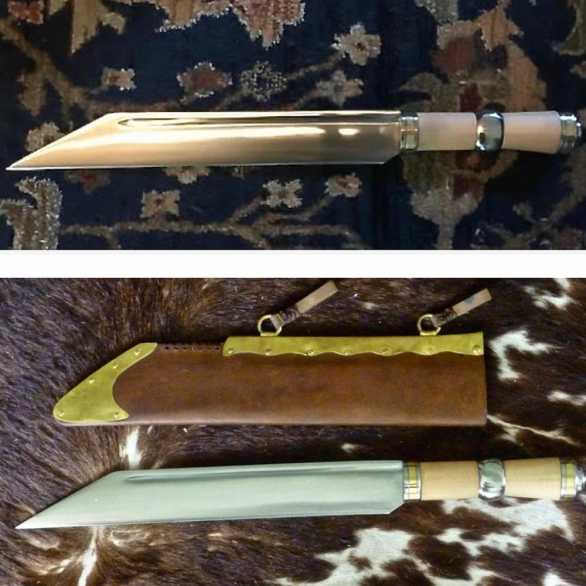 Kingdom of Arms Battle Ready Large Viking Scramasax

Be the first one to write a review
IN STOCK & SPECIAL ALL NOVEMBER

FREE SHIPPING IN THE USA
5160 Spring Steel Battle Ready Scramasax - based on the blades popularized by the Scandinavians but also in frequent use throughout all of Dark ages Europe. Designed by Bruce Brookhart. MSRP $440.00

$

339.15
$399.00
You Save $59.85
This is the large fighting style of the Nordic seax. Carried hanging in the front or at the back of the belt but always within easy reach the knife was effective in a heavy cut or long devastating draw cut. The blade points varied greatly on the amount of drop off, this example being the broke back type. The alternating steel, brass and wood grip is peened to the very sharp flat ground 5160 tough carbon steel blade. Brown leather with brass ascents and belt loops is Kevlar lined and swallows the front of the grip for secure carry.
The Viking Scramasax by Bruce Brookhart Design is far and away, one of our most popular items. People can't seem to get enough of it.
About the designer, Bruce A. Brookhart
Hello my name is Bruce Allen Brookhart and I have actively been researching edged weapons for the last 50 years.
During that period I worked with Hank Reinhardt for over 17 years and consulted with Ewart Oakeshott for about 10 years until shortly before his passing. I am proud to be able to say that these two late, great gentlemen were my friends and I have gleaned, I felt, a lot of knowledge about the subject from this association and my own research.
For the past 30 years I have made literally hundreds of prototypes of edged weapons both exact replicas of museum pieces and pieces from private collections along with my own Fantasy designs. The weapons in this collection are all my own designs that are heavily related to weapons that were used in history but are all "of a type known" and not per say replicas of any certain weapon.
Cheers,
Bruce A. Brookhart
How to Use
Fully functional blade designed for frequent test cutting practice
Overall Length: 18" Point of balance: 1 ¼" below guard Weight: 1.24 pounds
Materials and Construction
5160 Spring Steel Sharpened Blade. Alternating Steel, Brass and Wooden Handle. Brown leather with brass ascents and Kevlar belt loops.
FREE SHIPPING in the USA direct from the Kingdom of Arms warehouse in Jackson, Tennessee. International shipping currently unavailable (
click here
for the workaround).
Click here for more shipping information
Warranty Info
Each sword is guaranteed to be as described and 100% genuine product. Each sword is also covered by in full by the Manufacturers Warranty PLUS our extended LIFETIME Warranty against blade breakage.
Click here for detailed warranty information
Return Policy
Satisfaction Guaranteed.
We proudly stand behind every product we sell. If you are not pleased with your purchase you can return it to us within 30 days of purchase in
original, unused condition
for a full refund minus shipping and 10% restock fee.
Click here for more info on our guarantees