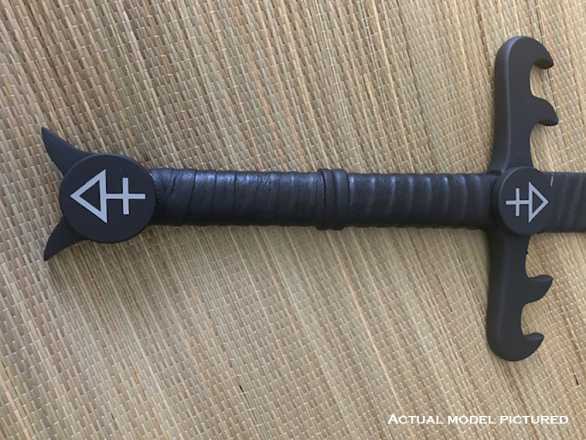 BCI - Legendary Swords - Brand of the Fallen

Be the first one to write a review
IN STOCK & ON SPECIAL

From the Legendary Swords Project, the massive Two handed Kris Blade Flamberge, the Brand of the Fallen. 5160 Spring Steel Blade with premium fittings. No scabbard. Designed by SBG contributor Daniel Dacombe. FINAL (WELL) BELOW COST CLOSEOUT SALE - Your one and only chance to own this unique blade design!

$

379.99
$899.99
You Save $520.00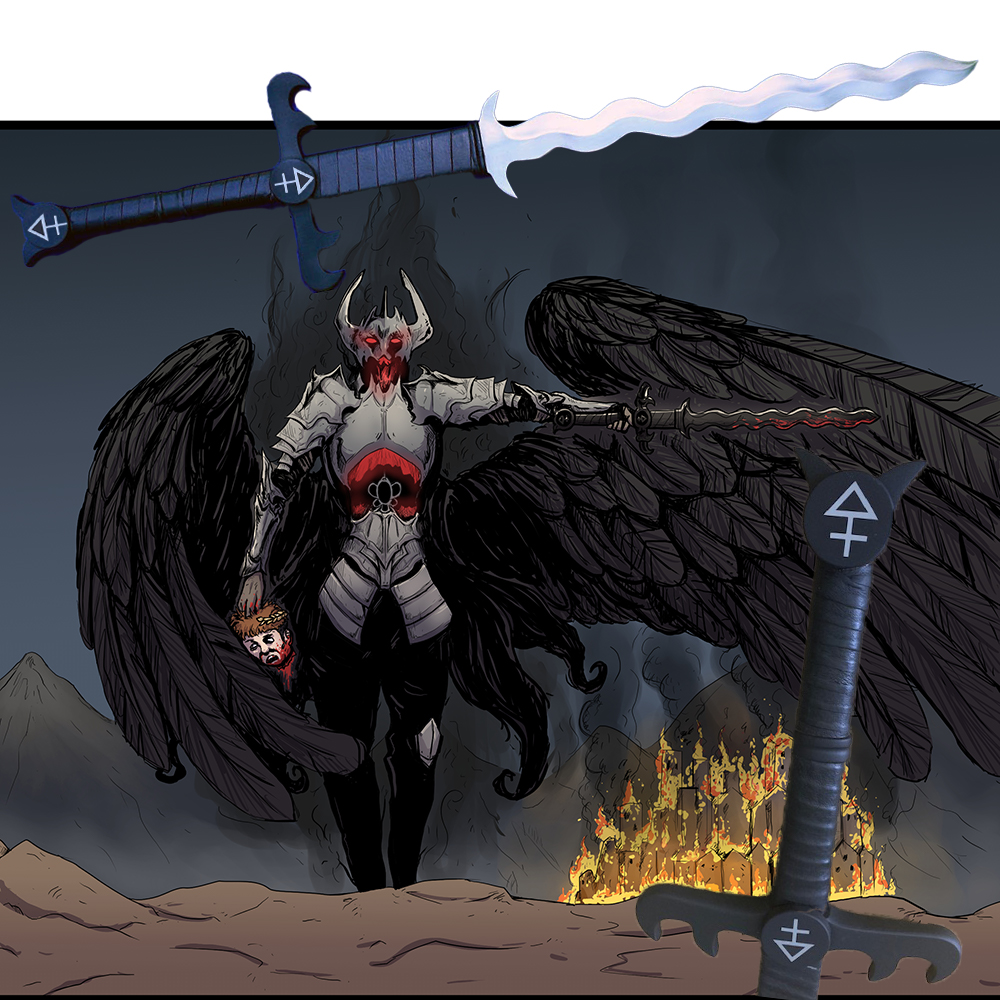 45" from tip to pommel, the blade of the Brand of the fallen is made from 5160 spring steel and is a fantasy Flamberge combined with elements of German Zweihänder (two handed) War Swords and Scottish Two Handed Claidheamh Mór. Massive Swords like this were not for dueling but rather were truly a battlefield weapon, and were typically carried over the shoulder and used more like a halberd than a sword - shattering the hafts and knocking aside enemy pikemen.
There are several ways to grip the sword, a standard two handed grip will bring its full force to bear on a target, but when more speed or finesse is required, it can be half sworded by gripping the leather bound ricasso demi-scabbard.
The Kris blade itself is exceptionally sharp and cuts in a distinct and unusual way - during the production and sharpening of these swords, it is very hard to avoid getting nicked and because Kris blade can bite in unusual and unexpected ways, caution is advised when handling the blade.
Truly unique and very limited, it is completed by black leather handle wrap with blackened fittings and sinister white sigils engraved on the hilt. Because the swords this model is loosely based on were carried over the shoulder, no scabbard is included with this sword.
BLADE CULTURE INTERNATIONAL
As BCI is a traditional sword forge, they do not mass produce their blades - so the time between restock can be many months. As these swords are in very limited supply and priced well below usual industry markups, it is highly recommended that if you want to secure one and they are in stock, you order as soon as possible to avoid disappointment.
How to Use
Can be gripped in the normal way or half sworded by gripping it at the leather wrapped ricasso. Caution - Kris Blades are NOTORIOUS for causing accidental injury. Please handle with care at all times.
Overall Length: 45″, Blade Length: 24″, Handle Length: 22″, Weight: 6.99lbs, Point of Balance: in the hilt PLEASE NOTE: As these swords are hand made specs will vary slightly from piece to piece.
Materials and Construction
5160 Spring Steel Sharpened Blade. Blued (blackened) steel fittings. Genuine leather wrap over handle and leather wrapped demi-scabbard at ricasso.
Shipped from the BCI warehouse in Connecticut, USA. USA $20 Flat rate shipping for up to 2 swords and FREE shipping for 3 or more. $60 to selected international destinations by USPS.
Click here
for additional information on shipping.
Warranty Info
Each sword is guaranteed to be as described and 100% genuine product. Each sword is also covered by in full by the Manufacturers Warranty PLUS our extended LIFETIME Warranty against blade breakage.
Click here for detailed warranty information
Return Policy
Satisfaction Guaranteed.
We proudly stand behind every product we sell. If you are not pleased with your purchase you can return it to us within 30 days of purchase in
original, unused condition
for a full refund minus shipping and 10% restock fee.
Click here for more info on our guarantees