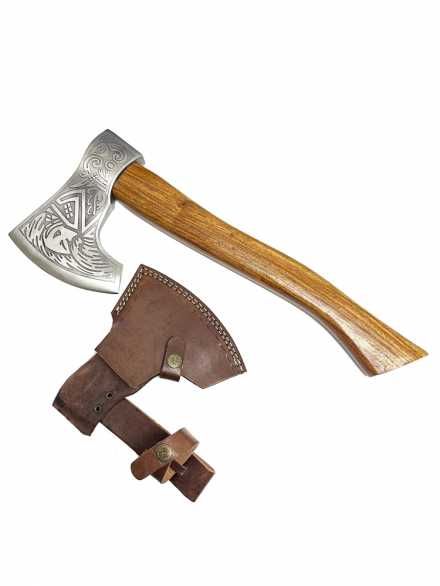 Bearded Viking Skegg°x Axe

Be the first one to write a review
IN STOCK & ON SPECIAL

10th century bearded Viking Hand Axe, carbon steel blade with leather sheathe.
$

69.99
$99.99
You Save $30.00
One of the most common and effective Viking weapons was not the sword (which was usually reserved for the nobility) but the bearded hand axe, the Skeggøx. With a protruding 'beard' the axe crescent is extended without adding unnecessary extra weight and can also be used to hook and grapple an opponents shield. Historically, it was also a much more versatile everyday tool - used not only in war, but also in the woods to harvest timber for Longship repair, around the camp and back home in Scandinavia on the family farm in times of peace..
Highly versatile, both in the hand and thrown at short range, the 5 1/4" carbon steel axe head is decorated with an embossed pattern reminiscent of 10th century Jellinge Style Viking engravings.
How to Use
Suitable for backyard chopping, axe throwing practice and/or as a display piece.
Blade length: 5 1/4", Handle length: 14 1/4", Weight: 2.5 LBS
Materials and Construction
Sharpened and Tempered Carbon Steel Blade. Wooden handle with leather sheathe. Made in Pakistan.
Shipped from the Ryujin workshop in Los Angeles within 2 business days. $20 flat rate USA shipping for up to 2 swords, FREE shipping if 3 or more swords ordered at the same time. International shipping, $60 to selected international destinations by USPS.
Click here for more shipping information
Warranty Info
Each sword is guaranteed to be as described and 100% genuine product. Each sword is also covered by in full by the Manufacturers Warranty PLUS our extended LIFETIME Warranty against blade breakage.
Click here for detailed warranty information
Return Policy
Satisfaction Guaranteed.
We proudly stand behind every product we sell. If you are not pleased with your purchase you can return it to us within 30 days of purchase in
original, unused condition
for a full refund minus shipping and 10% restock fee.
Click here for more info on our guarantees