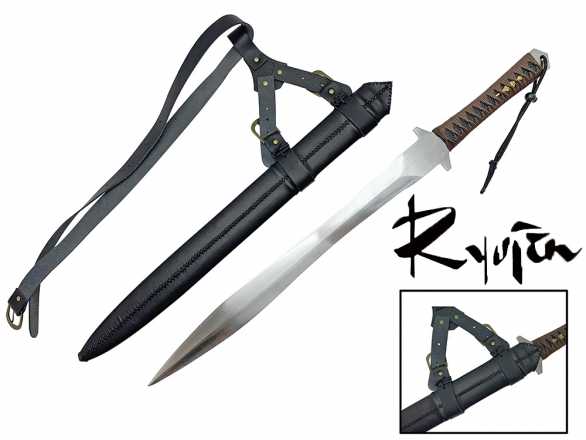 Ryujin 1060 Carbon Steel Tactical Wasp Waisted Gladius

Be the first one to write a review
IN STOCK

Monotempered 1060 carbon steel, paracord wrapped full tang construction tactical single handed wasp waisted gladius. Includes bonus lanyard and leather wrapped, wood core scabbard with belt and suspension system.

Well known for the quality of their Japanese style blades, Ryujin has branched out into the Tactical Sword market with their interpretation of a wicked looking (and highly effective) wasp waisted gladius sword design.
Based on classic leaf blade designs of antiquity with Japanese elements in the hilt, the monotempered 1060 carbon steel blades leverage the purity of modern crucible steel to the hilt, which in this case is as simple, and as sturdy as can be and ensures that the design itself has no weak points. For the hilt is gripped by the tang itself, made to fit the hand ergonomically with synthetic black rayskin, brown rayon and menuki risers to make it stylish and as comfortable and secure in the hand as possible.
Designed to be used single handed, with the off hand free for a high lumen flashlight, firearm or other blade, the Tactical Wasp Waisted Gladius is balanced between offense and defense, and while the leaf shaped blade is clearly a powerful thrusting sword, the angles of the blade and its inherent heft ensures it is no slouch in the chopping and slicing departments either. Made from monotempered 1060 carbon steel, the Tactical Wasp Waisted Gladius is balanced between hardness and flexibility - ensuring it will not fail at the critical moment.
The sword is completed with a lanyard hole and paracord lanyard to ensure that it stays close at hand no matter what happens in the chaos of combat - and is complimented by a detailed leather over wood core scabbard, leather belt and suspension system giving you the complete package at a fraction of its true value. Definitely a must have item for any 'bug out' bag - especially with the current introductory special pricing (available while stocks last).
How to Use
Suitable for backyard cutting - zombie apocalypse ready
Overall length: 32 3/4", Blade length: 23 1/4", Handle length: 8 3/4", P.O.B: 4", Weight: 2.5lbs
Materials and Construction
Monotempered 1060 Carbon Steel Hand Forged and Factory Sharpened Blade. One piece, full tang construction with brown rayon wrapped handle over synthetic black rayskin. Includes bonus lanyard and detailed, leather over wood core scabbard with belt and suspension system.
Shipped from the Ryujin workshop in Los Angeles within 2 business days. $20 flat rate USA shipping for up to 2 swords, FREE shipping if 3 or more swords ordered at the same time. International shipping via USPS, $60 to selected international destinations by USPS.
Click here for more shipping information
Warranty Info
Each sword is guaranteed to be as described and 100% genuine product. Each sword is also covered by in full by the Manufacturers Warranty PLUS our extended LIFETIME Warranty against blade breakage.
Click here for detailed warranty information
Return Policy
Satisfaction Guaranteed.
We proudly stand behind every product we sell. If you are not pleased with your purchase you can return it to us within 30 days of purchase in
original, unused condition
for a full refund minus shipping and 10% restock fee.
Click here for more info on our guarantees