Darksword 1335 - 11th Century Viking Sword (sharpened)

Be the first one to write a review
MADE TO ORDER

FREE SHIPPING IN CANADA AND THE USA!
Darkswords version of the famous Viking 'Suontaka' Sword - a stunning example of historical Viking art and design with a fast, practical Oakeshott Type X blade. Made to order, typically ships in 6-8 weeks.

Viking swords, like the Vikings themselves, have reputations for being brutal and utilitarian devices, simplistic hacking weapons with little in the way of grace or beauty. This view has been perpetuated pop culture. For those who study Viking history and culture, though, they know that is simply not the case. Many Viking weapons that have remained for us to examine were not only functional but beautifully decorated. One such example is this sword, based on a find in Finland that dates back to the 11th Century.
The long blade has a deep, wide fuller common among swords of this type, and which is an attractive offset to the intricate hilt design.
The hilt itself is extremely attractive and authentic, with solid bronze fittings and genuine leather wrap handle.

This 11TH c. Viking sword has a type AE pommel and guard according to Petersen's viking sword typology. This very unique style is accented by the knotwork commonly seen in Viking art from the same period. Visible in the scrolling design on the hilt are two dragons, which resemble the dragon-prowed ships the vikings would sail off on raids. The pommel also shows the image of the dragon in the intertwining loops.

This is a beautiful sword! DSA continues to try and raise the bar with this latest Viking sword. The stunning bronze fittings promise to make this sword a conversation piece while it hangs on the wall – and the solid construction promises to make it a functional sword as well.
Unlike Darksword blades we sold in the past, the sword is automatically also given a thorough sharpening until it is paper cutting sharp (normally costing an extra $35) and is also shipped FREE in North America - giving you the very best deal possible.
This sword comes with a wood core scabbard as standard with the option to upgrade it to include a premium quality sword belt with suspension system - allowing it to be worn or for an extra flourish when not in use hung on the wall (see below for a comparison).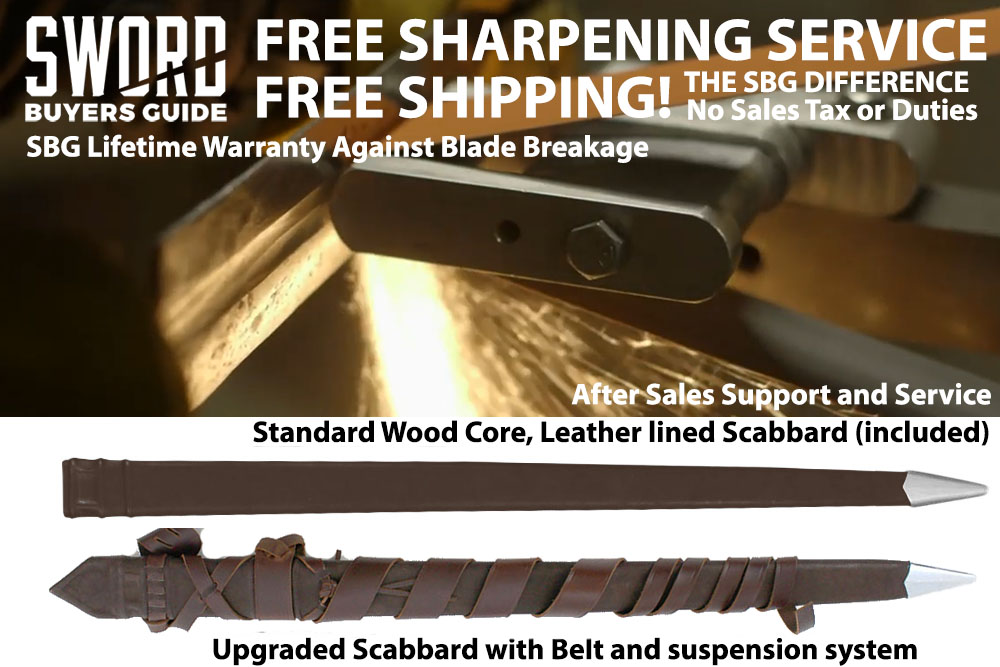 How to Use
Sharpened and Battle Ready - suitable for heavy duty backyard cutting and display.
Blade Length: 30" Handle Length: 6" Weight: 3lbs 13oz
Materials and Construction
5160 Hand Sharpened Spring Steel Blade, Dual Tempered with an edge HRC of 60 and core HRC of 50. Solid Bronze Fittings. Wood core leather wrapped handle and scabbard with optional upgrade to wearable belt and suspension system.
IMPORTANT NOTE: Made to order, typically ships in 6-8 weeks
FREE SHIPPING to the USA and Canada from Manufacturers warehouse in Quebec, Canada via Fed Ex. We apologize for the inconvenience, but due to the extreme shipping costs Darksword Armory swords can no longer be shipped outside of North America (USA and Canadian Orders only).
Warranty Info
Each sword is guaranteed to be as described and 100% genuine product. Each sword is also covered by in full by the Manufacturers Warranty PLUS our extended LIFETIME Warranty against blade breakage.
Click here for detailed warranty information
Return Policy
Satisfaction Guaranteed.
We proudly stand behind every product we sell. If you are not pleased with your purchase you can return it to us within 30 days of purchase in
original, unused condition
for a full refund minus shipping and 10% restock fee.
Click here for more info on our guarantees