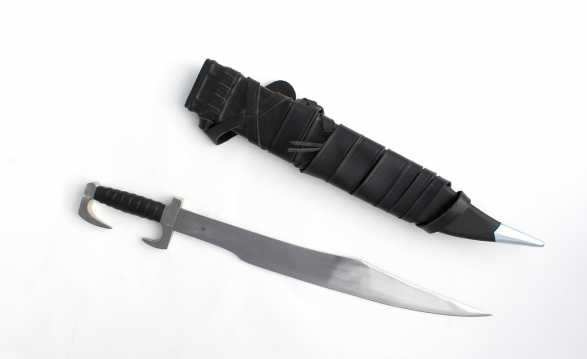 Darksword 1363 - Spartan Sword* (sharpened)
(2)
MADE TO ORDER

FREE SHIPPING IN CANADA AND THE USA!
Authentic and extremely strong functional replica of the Sword from Frank Miller's Graphic Novel and Movie Adaptation of King Leonidis's sword from '300'. Made to order, typically ships in 6-8 weeks.

If you want a SERIOUS replica of the Spartan sword inspired by the 300 movie, this sword was made just for you..

With an almost unbreakable 21" 5160 Spring steel blade (dual tempered for maximum) and weighing in at a meaty 2lbs 5oz, with this blade in your hand you really do feel that you could cut your way through an army of Persian warriors, blades, spears, armor and all...

The hilt itself is extremely attractive and authentic, with a solid steel crossguard and genuine leather wrap handle.
Unlike Darksword blades we sold in the past, the sword is automatically also given a thorough sharpening until it is paper cutting sharp (normally costing an extra $35) and is also shipped FREE in North America - giving you the very best deal possible.
This sword comes with a wood core scabbard as standard with the option to upgrade it to include a premium quality sword belt with suspension system - allowing it to be worn or for an extra flourish when not in use hung on the wall (see below for a comparison).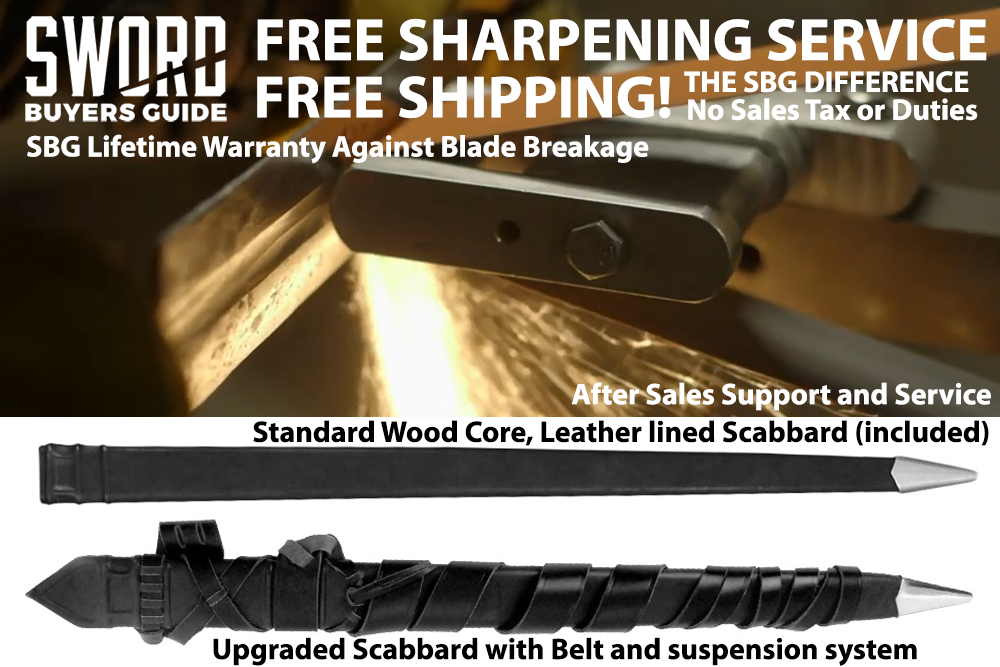 How to Use
Sharpened and Battle Ready - suitable for heavy duty backyard cutting and display.
Blade Length: 21" Handle Length: 6" Weight: 2lbs 5oz
Materials and Construction
5160 Hand Sharpened Spring Steel Blade, Dual Tempered with an edge HRC of 60 and core HRC of 50. Mild Steel Fittings. Wood core leather wrapped handle and scabbard with optional upgrade to wearable belt and suspension system.
IMPORTANT NOTE: Made to order, typically ships in 6-8 weeks
FREE SHIPPING to the USA and Canada from Manufacturers warehouse in Quebec, Canada via Fed Ex. We apologize for the inconvenience, but due to the extreme shipping costs Darksword Armory swords can no longer be shipped outside of North America (USA and Canadian Orders only)
Warranty Info
Each sword is guaranteed to be as described and 100% genuine product. Each sword is also covered by in full by the Manufacturers Warranty PLUS our extended LIFETIME Warranty against blade breakage.
Click here for detailed warranty information
Return Policy
Satisfaction Guaranteed.
We proudly stand behind every product we sell. If you are not pleased with your purchase you can return it to us within 30 days of purchase in
original, unused condition
for a full refund minus shipping and 10% restock fee.
Click here for more info on our guarantees
Featured positive reviews:
Darksword Armory`s Sparta sword review
06/09/2014
Jason Woodard`s review of Darksword-armory`s one handed Sparta Sword. Made from 1060 High Carbon Steel. Tempered to a Rockwell of 53. The guard and pommel are made from mild steel.Total length:27,Blade length:21,Blade width at base:1 1/2-2.5" mid blade,Weight:2 lbs.11oz The new Sparta sword design from Darksword-armory is very different and unlike any from them before. Like many of you I`m sure after seeing the movie "300" I really loved the idea of having a battle ready sword
something like the one `s used in the film. I could just see myself Back in that time as a "spartan" fighting off all those invader`s. anyway.I was very happy to have the chance to review one from DSA`s first batch. As with every DSA I`ve ordered before. This one came very well packed and and the blade covered in a thick oil.Note this one came with some what of a edge on it.So putting the edge on it to my taste only took about fifteen minutes of so. After sharping I gave DSA`s Sparta a good going over.It feels more than sold in the hand, it is not to heavy.It has a very nice spiral wrapped leather grip.The sword has a pinned pommel.It also comes with a nice leather wrapped sheath that fits very snug and tight. Now this sword is by no means historically based but still managed to become an extremely popular model in reproduction. The sword is short and single edged,narrow at the shoulders and widening towards the tapered and curved tip.The unique looking
curved guard and pommel provide partial hand protection. I would say holding this sword is kind of like holding the toughest machete you will ever own. Time for testing. I started off with testing the Sparta on a older white grand AM car.. I was able to go threw the trunk and roof of the car with ease.It was harder to stab threw the car with a one handed sword because you can`t get as much weight behind your thrust or swing. But I was able to stab threw the steel at those places in the car.I did get some good pic`s of the after math on the car. For my next test I set up a orange construction barrel I just so happen to come across ;) I just know you all love seeing those thing`s on the roads.I nailed the barrel down so it would not move. They are surprising made from a think hard plastic. I was able to stab the Sparta right threw it with not much effort. It was to easy. I made some hacking and deep downward cuts to the barrel. Not a challenge at
all. For the next few tests I set up some one gal jugs filled with colored water to show the sharpness of this sword.All the cuts I made came out clean.I was also able to sink the Sparta deep into a seasoned hardwood tree stump. For the last test I hacked and slashed at what was left of the orange barrel and a galvanized steel trash can. I made hard thrusts and downward cuts into the can. After all the tests I made on this sword. It held up very well. no real damage or edge rolling. Just scratches that I was able to buff right out. The fitting remain tight after all that shock and stress. A great battle ready version of the film "300`s" Sparta sword from Darksword-armory.. Pro`s. Well tempered blade with tight fitting after more than hard abuse by me.Very nice spiral leather wrapped grip which really helps make the sword feel tight and snug in your hand. Cons. Having large hands can make the shape of the guards of this sword feel a bit tight and
constrained across the knuckles. Over all a great one handed sword. I would like to thank Eyal at Darksword-armory again for letting me test another DSA blade and Paul at The swordbuyersguide for his great sword and review site. Thank you for your time. Jason Woodard.