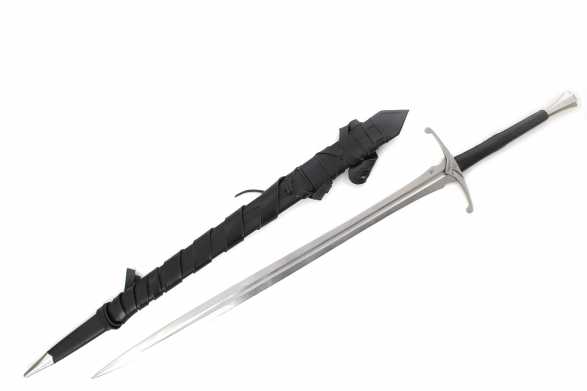 Darksword 1351 - FŽanor's Two Handed Sword (sharpened)
(3)
IN STOCK

FREE SHIPPING IN CANADA AND THE USA!
Fully Functional Elven Fighting Sword of Fëanor from J.R.R. Tolkien's Lord of the Rings
In J.R.R. Tolkiens Silmarillion, Fëanor was the most powerful elf who ever lived, so powerful that the dark lord Melkor was afraid of his might. Fëanor ("Spirit of Fire" in Sindarian) was one of the Noldor, the elves who lived in Valinor under the light of the two Trees (Laurelin and Telperion) that existed before the Sun and the Moon. He was such a mighty craftsman of jewels that he was able to place the light of the Trees into the three Silmarils, gems of such surpassing beauty that the wars fought over them changed the face of the world forever. Fëanor also was the first of the elves to forge weapons, and created the first swords that were used by elves to slay their own kin. Because of these deeds much evil entered into the world.

The long fullered blade is well balanced and tapers sharply to a point an evokes a graceful elven feel to it.

The genuine leather wrapped mild steel hilt itself is extremely attractive and looks organic, as does the leaf like pommel.

Weighing 3lbs 10"oz its well balanced and powerful, it combines speed with raw power to great effect.

A great choice for fans of LoTR, functional fantasy sword lovers or anyone looking for something REAL but also unique.
Unlike Darksword blades we sold in the past, the sword is automatically also given a thorough sharpening until it is paper cutting sharp (normally costing an extra $35) and is also shipped FREE in North America - giving you the very best deal possible.
This sword comes with a wood core scabbard as standard with the option to upgrade it to include a premium quality sword belt with suspension system - allowing it to be worn or for an extra flourish when not in use hung on the wall (see below for a comparison).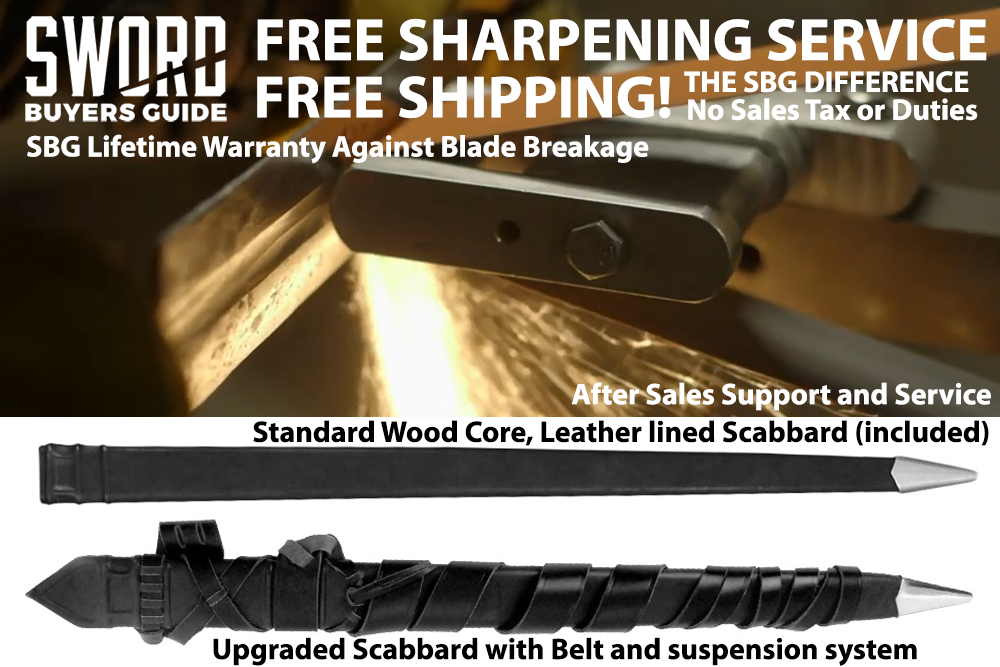 How to Use
Sharpened and Battle Ready - suitable for heavy duty backyard cutting and display.
Blade Length: 36.5Ē Handle Length: 12.75" Weight: 3lbs 10oz Point of Balance: 3.75" from guard
Materials and Construction
5160 Hand Sharpened Spring Steel Blade, Dual Tempered with an edge HRC of 60 and core HRC of 50. Mild Steel Fittings. Wood core leather wrapped handle and scabbard with wearable belt and scabbard suspension system.
IMPORTANT NOTE: A recent increase in orders has resulted in wait times of 3-4 weeks to process and ship new orders on top of standard processing time.
FREE SHIPPING to the USA and Canada from Manufacturers warehouse in Quebec, Canada via Fed Ex. Please allow up to a week for sharpening and shipping. We apologize for the inconvenience, but due to the extreme shipping costs Darksword Armory swords can no longer be shipped to non USA or Canadian addresses.
Warranty Info
Each sword is guaranteed to be as described and 100% genuine product. Each sword is also covered by in full by the Manufacturers Warranty PLUS our extended LIFETIME Warranty against blade breakage.
Click here for detailed warranty information
Return Policy
Satisfaction Guaranteed.
We proudly stand behind every product we sell. If you are not pleased with your purchase you can return it to us within 30 days of purchase in
original, unused condition
for a full refund minus shipping and 10% restock fee.
Click here for more info on our guarantees
Featured positive reviews:
Darksword Armory`s sword of Feanor review
06/09/2014
Jason Woodard`s review and testing of Darksword Armory's new sword "The two handed battle ready sword of Feanor. The blade is made from 1060 high carbon steel, guard and pommel are made from mild steel, total length 45.5, blade length 34, blade width at base 2, weight 2 lbs 11 oz the balance point is 4 inch's from the guard .This sword comes with a very nice leather wrapped sheath that fits the sword well. This new sword design from DSA is based from the character "Feanor" from JJR Tolkien's book"The Silmarillion".. My Favorite book by the way ;) As you can imagine I was very happy to see this design brought to life. Once this sword arrived. I could not wait to unpack it and give it a good once over. As do all swords shipped from DSA. They come very well packed and covered in thick oil to protect the swords from rust.This sword is a work of art if I do say so myself.. It`s a very clean and flowing design, elegant yet strong and sure. It's not heavy in the hand and feels as if it could be used with one hand with no problems.it has a very nice leather wrapped two handed grip with a tight wire like raised core under the leather which helps it feel more secure when holding or swinging around. This sword is over 45 inch's long and yet is under 3 lbs making this a very fast blade indeed. The blade its self has a nice blood groove running the full length of the blade.The guard has a very nice thin design.The fittings are all tight and well balanced. The pommel is in a Fleur-de-lis design. A very nice touch. The blade can be bent over ten inch's from the center and return to true with no problems.. A good sign of great tempering. This sword came unsharpened. I like putting my own edge on my swords myself. Over the past few years DSA has improved their blades and the are easier now to add a edge in a shorter time.. Putting the edge on this sword took me about eighteen minutes from each side.I use a Accsharp on a vice then I use sand paper up to a 1200 grit.. I don`t like my swords any sharper than that myself.. Now I was ready to do some hands on testing on the Feanor sword.. Seeing how this sword is more about speed and balance I went a bit easy on the hard testing on this model.. No stabbing any cars this time around ;) I kept it simple.. I set up some one gallon jugs and did some cutting. I did this 4 or five times.. One the last test cutting jugs I set up four cutting threw them with no problem at all. This is a very fast and smooth responding sword. I true joy to use. I then cut a few pumpkins with no problems.. for the last test to check the tempering I stabbed and made some heavy cuts to a old fifty gallon water heater I stabbed at the water over 25 times the tip of the blade stabbed deep into the water heater. over six inches.. The tip of the blade held up very well after all those stabs.. No bending at the tip or rolling at all. Just some small marks to buff out. After cutting into the side or the water heater. the sword made some good deep cuts and dented the water heater pretty good. The blade had not damage or edge rolling at all.. I`m giving this new design a big thumbs up.. It`s a very well balanced sword with great tempering a joy to use and is such an attractive design. I would recommend this sword to any one looking for a great two handed battle ready sword under three lbs. You can`t go wrong! Pro`s Very well made, great tempering and balance a joy to use, very fast blade. Cons The 'Fleur-de-lis ' designed pommel has two shape points that point down at the grip and your hand. While I was testing the sword on the jugs of water I made four fast cuts with both hands and my right hand slipped down into one of these points cutting my hand a bit. I would like to thank Eyal and Darksword-Armory for all the hard work they do and the great swords they make.. Thank you for the chance to review this fine sword.. Jason Woodard