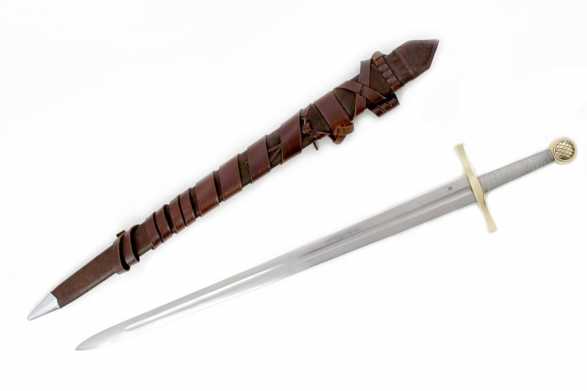 Darksword 1524 - Excalibur Sword* (sharpened & deluxe scabbard)
(3)
SOLD OUT

FREE SHIPPING IN CANADA AND THE USA!
This limited edition sword (500pcs worldwide) has been a labor of love for Darksword and their team.
Made of dual tempered 5160 spring steel steel hardened on the Rockwell Scale to a hardness of HRC 53 – this sword is a very personal tribute to the 1981 classic 'Excalibur' by John Boorman, which was the favorite film of Darksword Armory owner, Eyal Azerad, and his first introduction to "the middle ages".

A heavy, but exceptionally well put together piece (peened at the pommel for extra durability) this is a sword that looks fantastic on display, but it is far from a purely decorative piece - giving it more presence than any display sword could ever hope to achieve.
In their own words:
"Making yet another "decorative" Excalibur was not an option. Our recreation had to be classically elegant, vibrant, and faithfully crafted from the original prop. Our goal was not only to produce a finely hand forged sword, but to produce a lasting legacy of the film."
This sword comes with a wood core, deluxe scabbard as standard and includes a fully wearable, premium quality sword belt with suspension system - allowing it to be worn or for an extra flourish when not in use hung on the wall.
Unlike Darksword blades we sold in the past, the sword is automatically also given a thorough sharpening until it is paper cutting sharp!
The hilt itself is extremely attractive - with solid brass fittings and a wire wrapped handle, true to the movie prop original.
As mentioned, this is a limited edition collectible, with only 500 pieces to be made. With our special reduced pricing and free shipping in the USA and Canada, this sword is certain to sell out fast, so get it while you can!

How to Use
Sharpened and Battle Ready - suitable for heavy duty backyard cutting and display.
Blade Length: 34" Handle Length: 6" Weight: 3lbs 6oz
Materials and Construction
5160 Hand Sharpened Spring Steel Blade, Dual Tempered with an edge HRC of 60 and core HRC of 50. Solid Brass Fittings. Wood core wire wrapped handle. Wood core leather wrapped scabbard with wearable belt and scabbard suspension system. Peened pommel for additional durability.
IMPORTANT NOTE: A recent increase in orders has resulted in wait times of 3-4 weeks to process and ship new orders on top of standard processing time.
FREE SHIPPING to the USA and Canada from Manufacturers warehouse in Quebec, Canada via Fed Ex. Please allow up to a week for sharpening and shipping. We apologize for the inconvenience, but due to the extreme shipping costs Darksword Armory swords can no longer be shipped to non USA or Canadian addresses.
Warranty Info
Each sword is guaranteed to be as described and 100% genuine product. Each sword is also covered by in full by the Manufacturers Warranty PLUS our extended LIFETIME Warranty against blade breakage.
Click here for detailed warranty information
Return Policy
Satisfaction Guaranteed.
We proudly stand behind every product we sell. If you are not absolutely pleased with your purchase you can return it to us within 30 days of purchase in original condition for your choice of an exchange or refund (excluding shipping fees).
Click here for more info on our guarantees
Featured positive reviews:
Sword of Power
09/27/2018
since seeing Boorman's Excalibur for the first time, I have wanted this sword. DSA did not disappoint. it's everything I expected in appearance. the scabbard is just right in it's simplicity and easily fitted and secured. fit/finish, it feels quite solid. tried to loosen the pommel, but looks like no one will be ended rightly with it. there is a gap on one side of the blade, not being centered, but it's not something that'll take anything away from it, although it should've benn caught on inspection. the peen is rather nice, in that it's squared off, unlike being rounded as I've seen in some pix, with five facets to it, so I suspect it's not crewed on then peened, but it's possible. quite nice, the peen is in appearance. the wire wrapping is very tight and I've had no movement, although granted I havn't swung it about. too low a ceiling, and the neighbors just wouldn't get it. also can't say much to handling as I don't see Excalibur as a sword to have the crap beaten out of it. there are vid clips where that happens so this sword can take it. there are absolutely no regrets in acquiring Excalibur, despite DSA should be able to do a better job on sharpening. the work they have done on this is impressive all the same