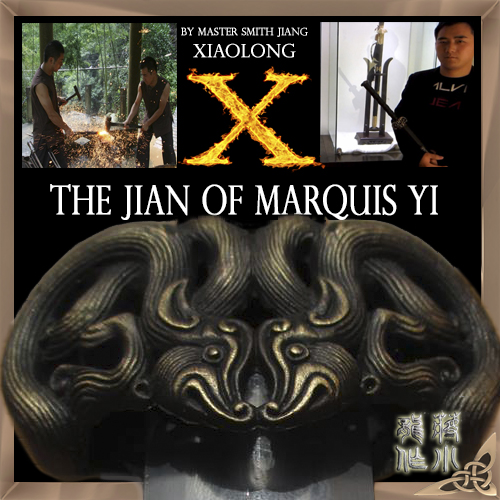 X Archive - Project X - The Jian of Marquis Yi

Be the first one to write a review
ARCHIVED - No Longer Available

Premium Quality, Master Smith Forged Soshu Kitae Blade.

EVERYTHING about this amazing master smith forged sword just exudes quality..

From the rich, sweet smelling Tanwood Scabbard (lined with a softwood core to protect the blade) to the hand carved brass fittings - this is a luxurious sword with an amazingly detailed, lovingly folded blade forged by and recommended by renowned Master Smith Jiang Xiaolong.

Discovered by Chris Scoggin from Ronin Katana during his February trip to Longquan, China - in the video below he interviews Master Jiang and the Master explains why THIS is THE sword every collector of high end Chinese swords MUST have.

Normally RMB15,800 (Approx US$2600+) but we negotiated the price down to just $1,999

Don't miss out, most Project X designs are one offs, this isn't a repeat design you will see time and time again.. (this is the third run, back by popular demand, which should be able to supply everyone who missed out the first time. But after that.. There are no guarantees or planned shedule).

Luxurious quality with a magnificent cutting blade. Project X Chinese.


SPECIFICATIONS

Length in Scabbard: 108CM
Handle length: 23CM
Scabbard: 82CM
Blade Length: 79CM
Blade Thickness 0.45CM
Material: Folded 1095 steel
Blade Engraved by Master Jiang Xiaolong Seal
How to Use
Suitable for sword practice in a traditional martial arts setting or high end display. Heirloom Quality.
Mastersmith Forged and Folded 1095 Carbon Steel blade with art finish polish. Premium tanwood and hand sculpted brass fittings. Heirloom quality.