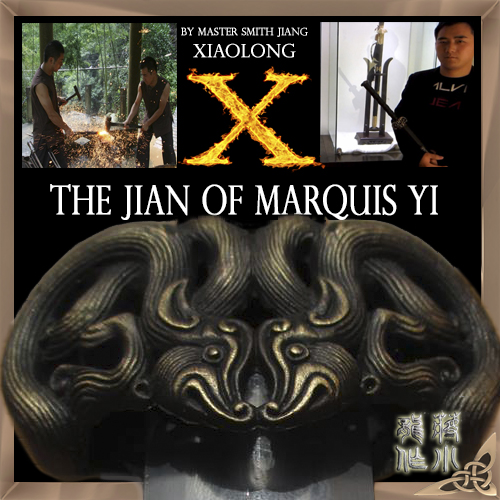 Project X - The Jian of Marquis Yi

Be the first one to write a review
LAST ONE EVER TO BE MADE!!

Premium Quality, Master Smith Forged Limited Edition release. Stunning attention to detail with a highly polished hexagonal profiled blade and premium fittings. This is the LAST one from the final production run of this heirloom quality blade.

Shipped Direct from the forge within 1 week.

$

1,299.99
$2,600.00
You Save $1,300.01
EVERYTHING about this amazing master smith forged sword just exudes quality..

From the rich, sweet smelling Tanwood Scabbard (lined with a softwood core to protect the blade) to the hand carved brass fittings - this is a luxurious sword with an amazingly detailed, lovingly folded blade forged by and recommended by renowned Master Smith Jiang Xiaolong.

Discovered by Chris Scoggin from Ronin Katana during his February trip to Longquan, China - in the video below he interviews Master Jiang and the Master explains why THIS is THE sword every collector of high end Chinese swords MUST have.

Normally RMB15,800 (Approx US$2600+) but we negotiated the price down to just $1,999

Don't miss out, most Project X designs are one offs, this isn't a repeat design you will see time and time again.. (to date it has only been released 3 times prior, with this run likely to be the last time before it is consigned to the annals of history).

Luxurious quality with a magnificent cutting blade. Project X Chinese.
How to Use
Suitable for sword practice in a traditional martial arts setting or high end display. Heirloom Quality.
Length in Scabbard: 42.5" (108CM) Handle length: 9" (23CM) Scabbard: 32.2" (82CM) Blade Length: 31" (79CM) Blade Thickness: 0.17" (0.45CM) Weight: 2.97lbs (1.35kg) Point of Balance: 6" (15CM)
Materials and Construction
Mastersmith Forged and Folded 1095 Carbon Steel blade with art finish polish. Premium tanwood and hand sculpted brass fittings. Heirloom quality.
FREE Worldwide Shipping from the Forge in Longquan, China.
Click here for more shipping information
Warranty Info
Each sword is guaranteed to be as described and 100% genuine product. Each sword is also covered by in full by the Manufacturers Warranty PLUS our extended LIFETIME Warranty against blade breakage.
Click here for detailed warranty information
Return Policy
Satisfaction Guaranteed.
We proudly stand behind every product we sell. If you are not pleased with your purchase you can return it to us within 30 days of purchase in
original, unused condition
for a full refund minus shipping and 10% restock fee.
Click here for more info on our guarantees